The addition of Alchemy to Logic Pro X's array of synths in the recent 10.2 update was greeted with gleeful reactions by those who were familiar with it. Camel Audio was its original developer and when Apple bought Camel Audio people wondered if their instruments might become part of Logic Pro. In the case of Alchemy that has indeed proven to be the case. Personally I was not familiar with it and my initial reaction was, "What, we really needed another synth?"
But after using it for even just a little while I now totally understand what all the fuss was about. To state it flat out, Alchemy sounds spectacular, is extremely versatile, deep and yet easy to use, and has some terrific features, like the one I am about to talk about, that is unique to its Logic Pro X incarnation unlike its previous Camel Audio version.
With Alchemy, you not only get a wealth of spectacular included sounds, indeed a little over 14 GB worth, to play in a very pristine sounding engine, you can also import audio files and apply its many synthesis and FX capabilities to them, which is great in itself. But what was surprising to me is that you also have the ability to import all your existing EXS24 instruments, which is a great way to take some realistic sounds and turn them into fantastic instruments that are unique for a more sound design approach or electronica. This is especially helpful for more traditional composers like me who do not have a lot of sound design experience but may be called upon to create soundscapes for scores.
Step 1 - Importing Audio
I will start by loading one of Logic Pro's factory EXS 24 instruments. (You can load just the EXS samples btw but I will load the whole instrument for this.)
In Pic 1 notice that I have clicked the Advanced tab so that I can Import Audio to Source A.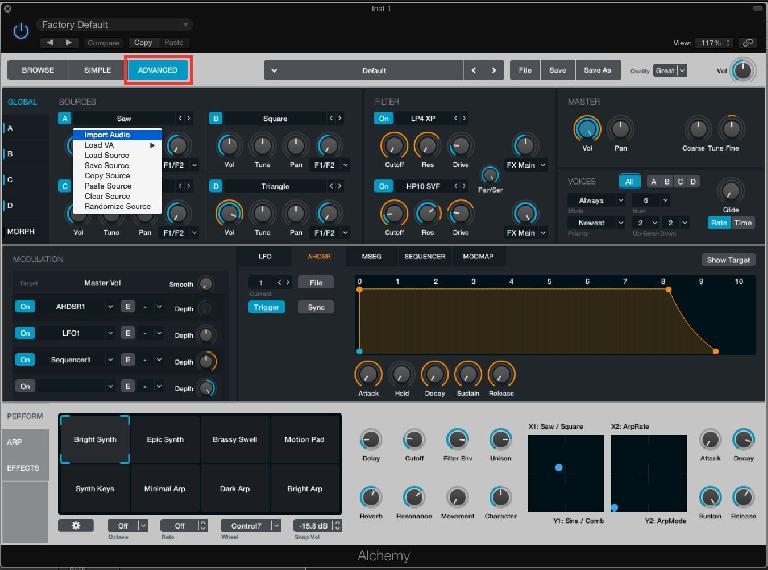 Step 2 - Peru
In the menu that now appears, I now navigate to the World folder > South American > Peruvian Panpipes, as you see in Pic 2, and double click on it to load it, bringing me to the view you can now see in Pic 3. (Be patient, these can take a while to load.)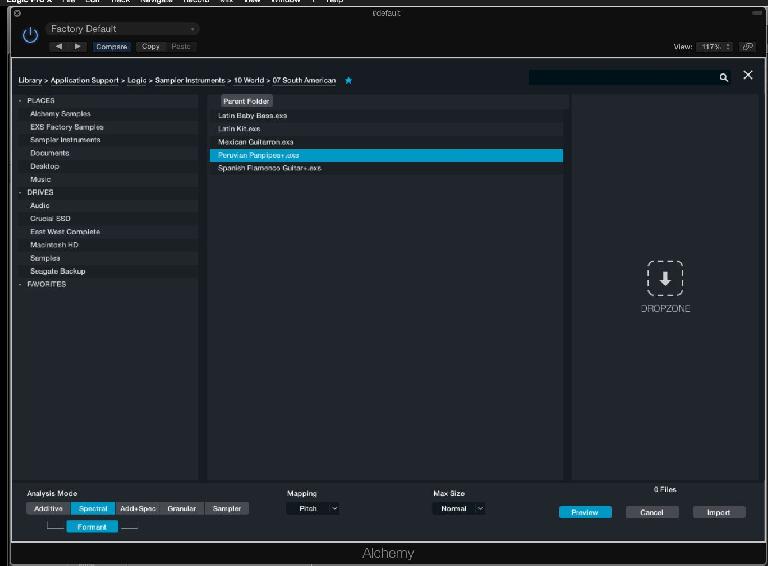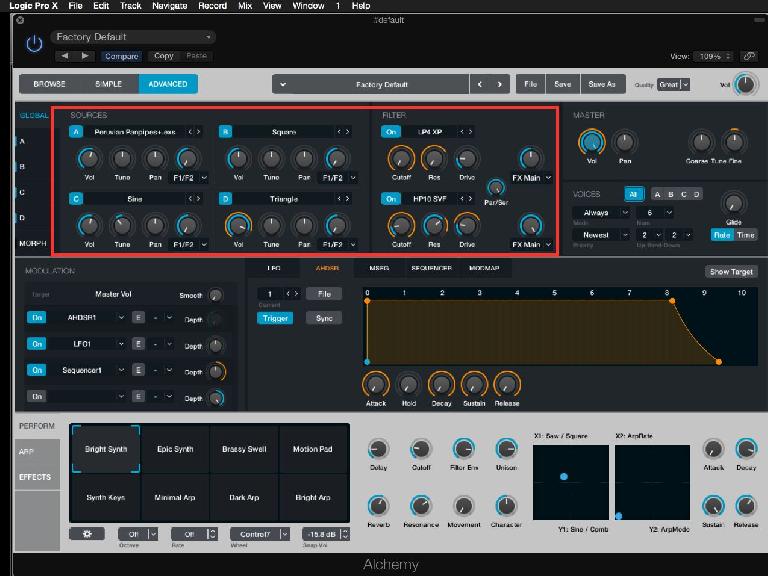 If you play the sound form your keyboard you will notice that is sounds totally different. That is because if you look at Pic 3, while the instrument is assigned to Source A, notice that there are other wave forms assigned to Sources B, C, and D, as well as a couple of filters. If I click on each of the Source letters and filter On buttons to turn them off, the sound now is pretty much as it is in the EXS 24. It sounds like what you can hear in Audio Example 1.
Audio Example 1:
Pretty, but not very sound design-ish. Let's get busy.
Step 3 - Getting More Complex
In Pic 4 below, notice that I am loading a "Complex" Source B sound.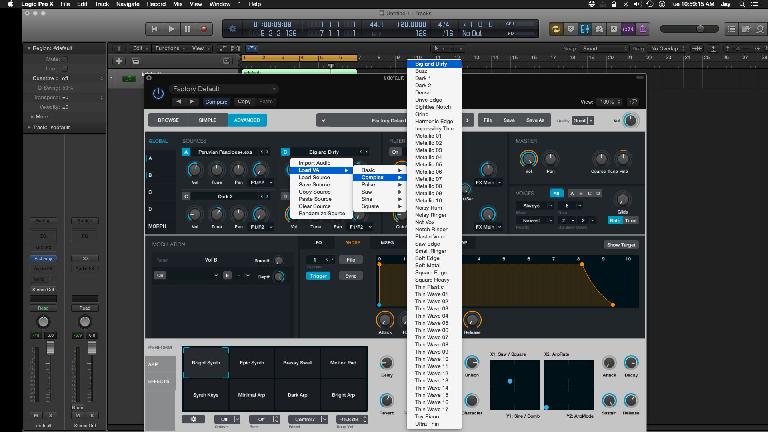 I can then adjust the volume, tune it higher, pan it, and send it to the HP10 SFV filter and in Audio Example 2, I think you will hear that the sound has already undergone quite a transformation!
Audio Example 2:
Cool, I dig it! But there is so much more I can do.
Step 4 - Morph it
Look at Pic 5. I have clicked on Morph and chosen the XFade Linear option and turned on the Modulation area to add an LFOI and a portamento. All of his is pretty arbitrary and as always, the ear is your guide. Listen to it now in Audio Example 3. Pretty much unrecognizable, right?
Audio Example 3:
One could easily spend hours playing with all these settings, choosing different sources to add to the original instrument, adjusting the relative volumes, retuning, panning, filtering, etc. Believe it or not however, I haven't even begun to scratch the surface of what I can do.
In Pic 5 you can see the lower right hand corner of the interface. There is a rectangle with a blue dot or puck and by dragging it around I can change the mix of the sources. Next to it is another similar rectangle where you can trigger some arpeggiation and next to that is an ADSR to shape how the sound evolves. In the left corner are lots of presets for arpeggiators with the ability to choose specific octaves, rates, volumes and controllers. If I click on the word Arp, I get the graphic display you see in Pic 6.
Step 5 - FInal FX
Clicking on the word Effects brings up all the choices you see in Pic 7. The hits just keep on coming.
Now I have arrived at a sound that you hear in Audio Example 4.
Audio Example 4:
I now spent about ½ hour simply using some Alchemy presets in three more Alchemy tracks to accompany my altered EXS24 instrument and the end result is what you hear in Audio Example 5.
Audio Example 5:
Conclusion
If you really spend some time with it, I think you can see that you will be able to create some truly spectacular and unique sounds that will not sound like anyone else's.
Please allow me to recommend to you a terrific tutorial by macProVideo / Ask.Audio's David Earl that will give you an in depth view of the power of Alchemy in Logic Pro X. I have already watched it twice and am still gleaning new information. Logic Pro X Alchemy Explored Video Course
As always, have fun!
Go deeper into this Logic Pro X super synth, Alchemy,
HERE