Reason's console is great for creating custom channel strip settings and this can include complex insert chains. These can be created, saved and recalled with a few clicks. Add to this customizable macro controls and you have a really powerful set of features.
Here we'll take a look at how to access the presets available, making your own combinations, adding macro controls and saving the whole thing for later use. By the end of this quick tutorial you should be well on your way to creating your own insert effects library. 

1 - Using Existing Presets
If you are reasonably new to Reason (or its console), then creating your own insert chains from scratch may seem like jumping in at the deep end. A great way to get your head around how inserts are handled in Reason is by taking advantage of the many multi-effects presets included in the Factory Library.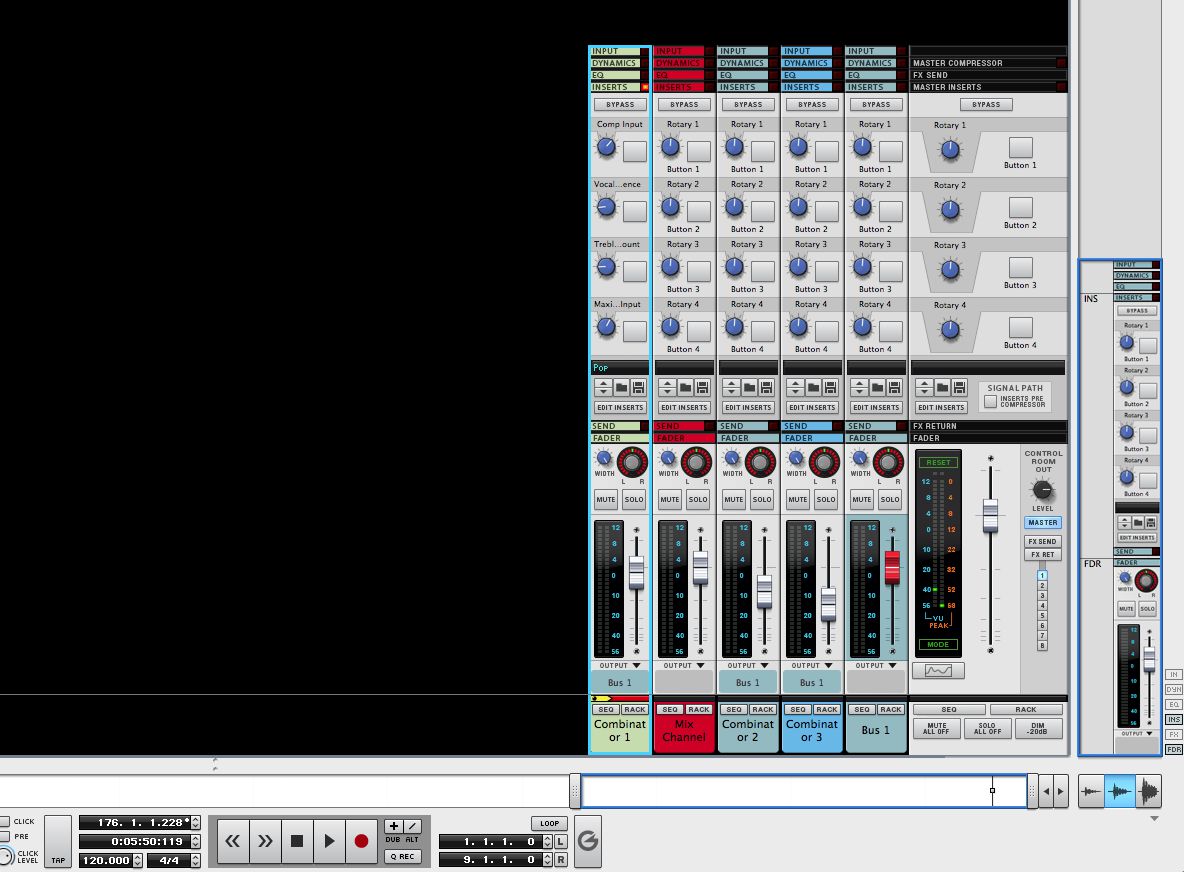 The Console's insert section.
You can load a preset by clicking on the small folder icon in the inserts section on the console or in the rack. Either of these buttons should take you to the Combinator effects patches in the Factory Library. The Mix Channel device is essentially a Combinator and therefore uses the same presets.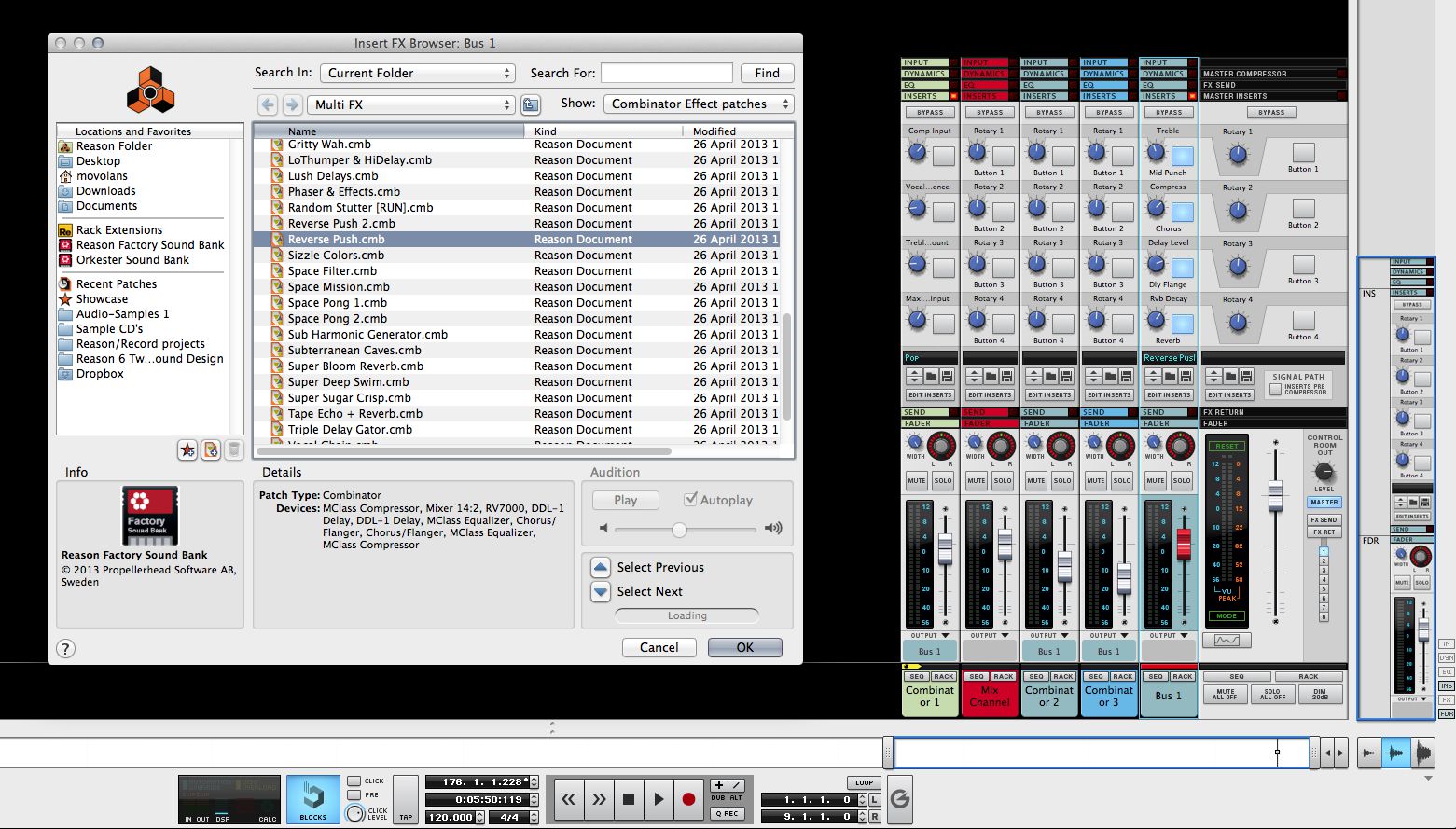 Loading insert chain presets.
A pretty simple synth-based loop:
The same loop with an interesting insert preset applied:
The real beauty of this system is that when you load up a chain of inserts in this way, you are often given a set of custom controls. These would otherwise be presented as Macro controls on the Combinator's front panel but here they are accessible via the console. Perfect for tweaking key parameters in your effects chains during a mixing or tracking session.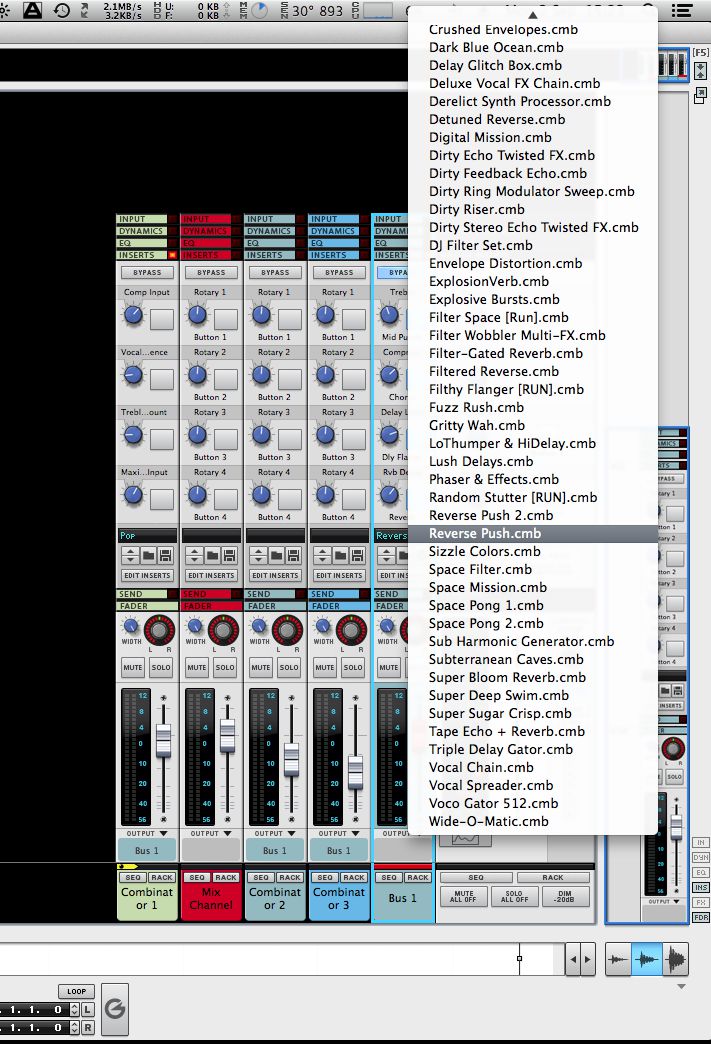 Once loaded you can easily scroll through insert presets.
2 - Inserting Your Own Devices
Once you've passed the point of using presets, you can start to construct your own chains. This is really as simple as placing processors in any other Combinator. The trick here is to hit the 'Edit Inserts' button on the console. This will teleport you to exactly the right place in the rack and even open the appropriate part of the Mix Channel.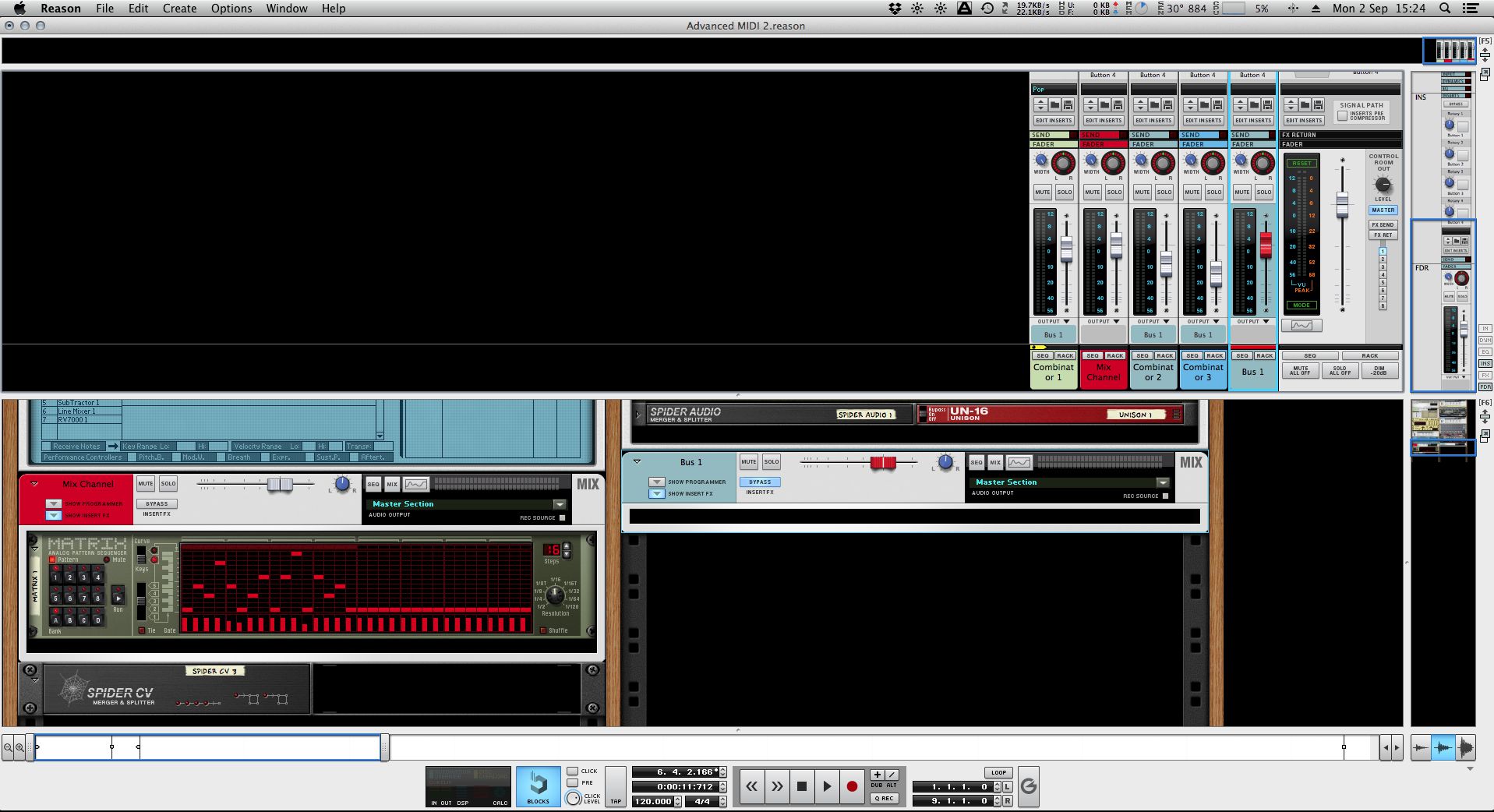 Navigating to the insert section of the Mix channel in the rack.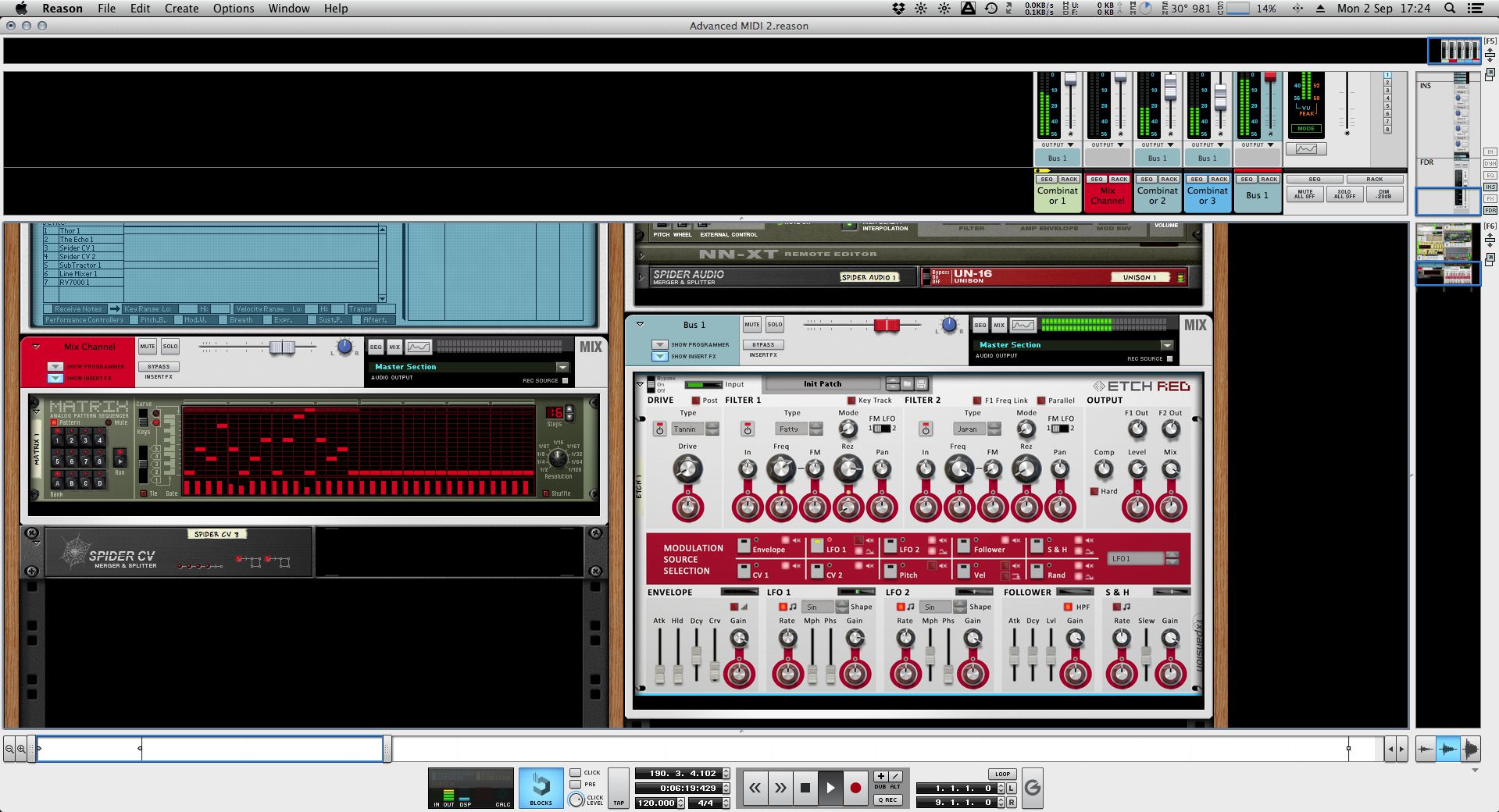 Inserting your first devices in the chain.
Once you are in the right place, you can start dropping your effects in place. The routing is taken care of automatically and the insert patch is created. There is pretty much no learning curve here and once your first effect is in place you should be ready to rock. Do make sure the Bypass is disengaged as this can be activated by default in some projects.
3 - Building A Chain
Continue to place effects in your chain to create the effect you are looking for. Think carefully about the order of the processors you use. You can see in this case I started to build a filter-based effect. This was then followed by an equalizer and finally fished with some room reverb from a Softube rack extension.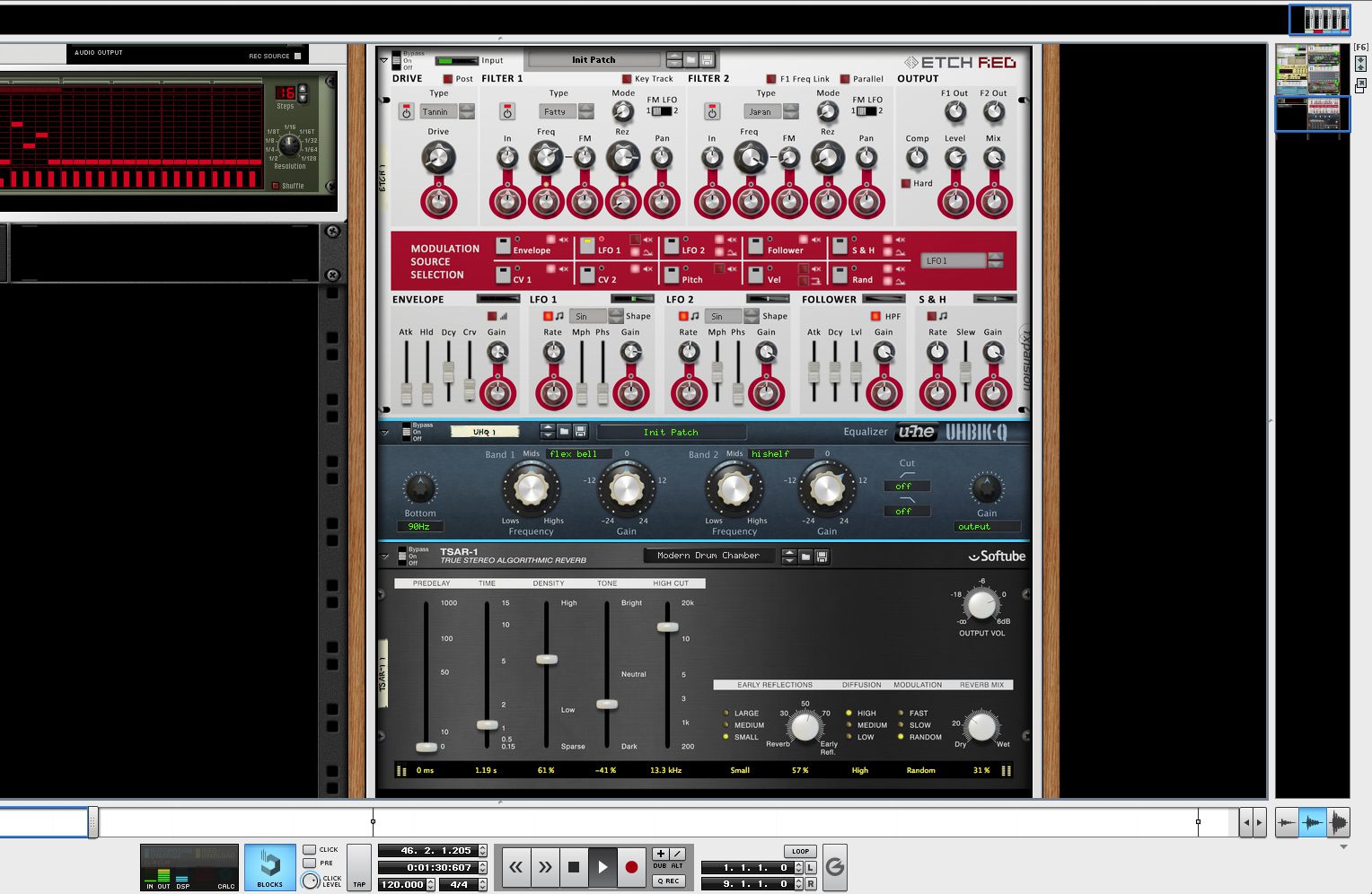 The chain starts to take shape with a number of devices in place.
Our new chain is applied to the original synth loop:
Experimenting with the order of powerful insert effects like this can yield drastically different effects. For instance switching the position of the reverb to pre-filter here would mean you lose the spatial effect created when the filter was moved to a lower frequency. Once you are happy with the overall sound you can move onto controlling the individual parameters using Macros.
4 - Creating Custom Macros
As I mentioned earlier, the Mix Channel devices are essentially Combinators and they also feature a Macro control programmer. Although the layout looks slightly different to a traditional Combinator, the process for mapping controls is more or less identical.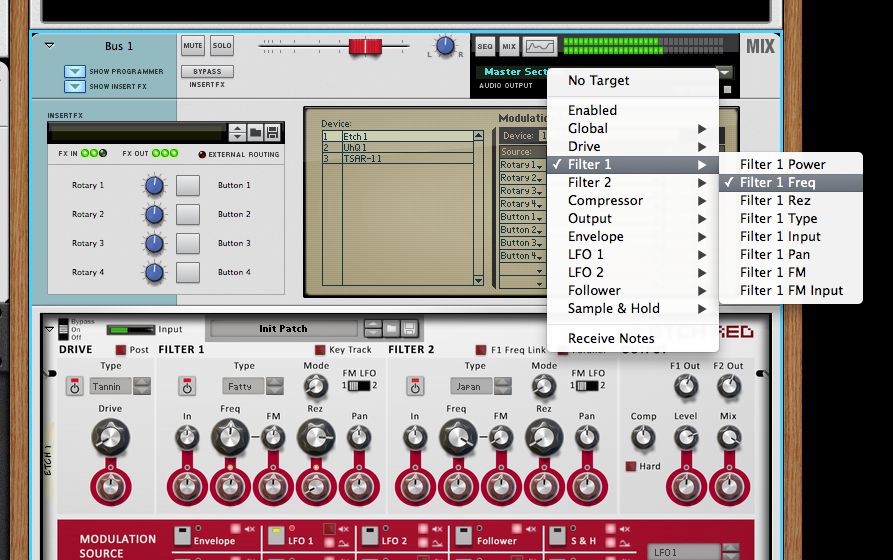 Assigning a single control to one of the insert Macros.


You simply choose one of the four Macro controls in the programmer and then select a parameter from the drop-down menu next to the relevant device. This means you can map multiple parameters from different devices to one knob. Perfect for making intense tweaks.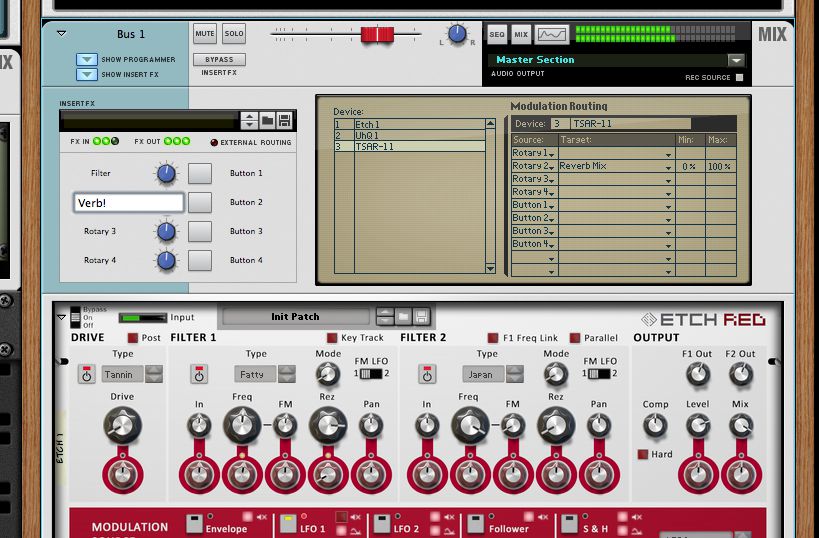 Using the Macros to control multiple parameters is easy.
In this case I've just mapped a few different controls from the filter and reverb to the first two Macro knobs, but this is a pretty simple example considering what is really possible here. Remember these controls can then be accessed from the console and automated just like any other parameter.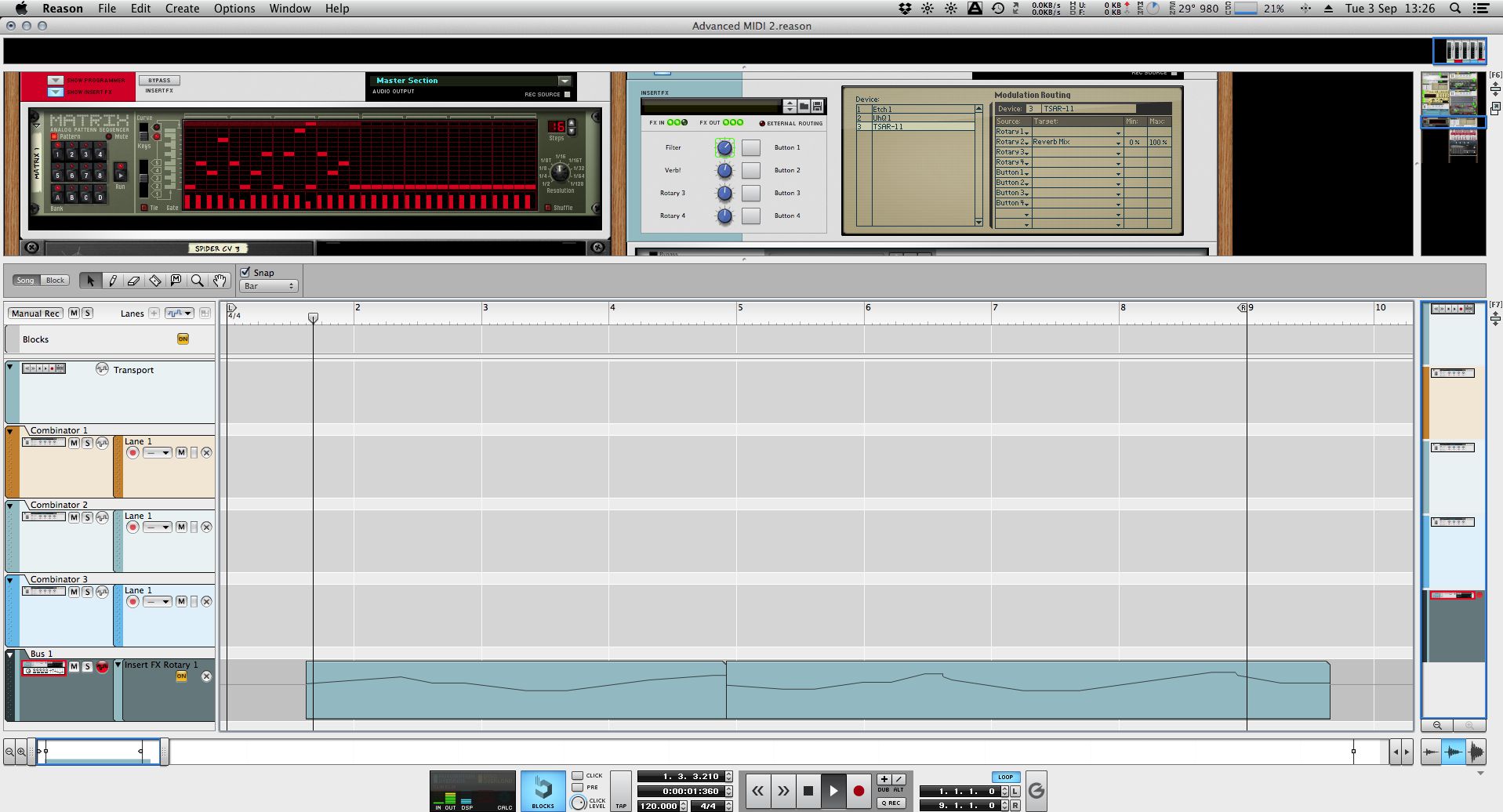 The Macros can be automated just like any other control.
The automation of Macros can have pretty powerful effects:
5 - Saving Your New Creation
Saving your new chain is really simple, right next to the load button there is a save function. Once hit you'll be directed to the browser and you can start to save your new effect chains anywhere you like. These can then be recalled instantly for future projects. Job done!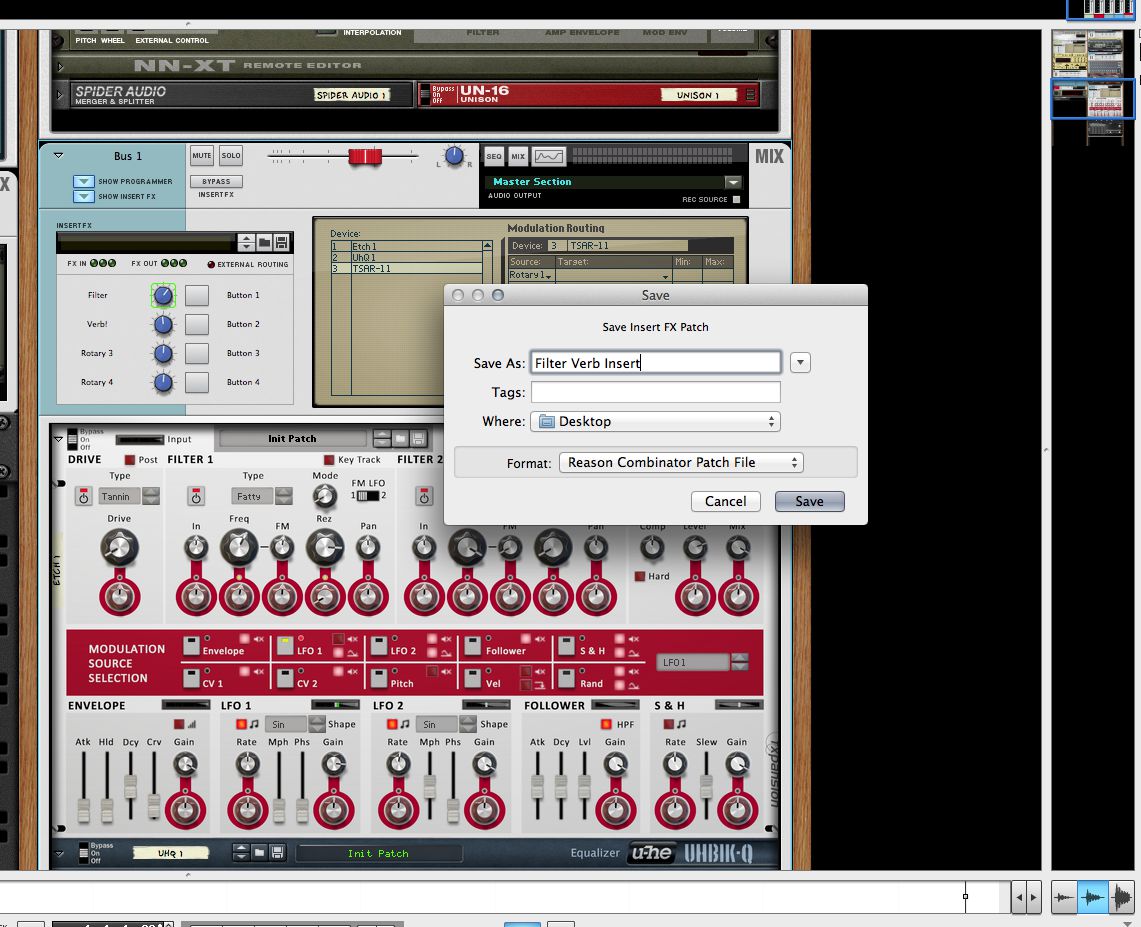 Saving your new effects chain complete with custom Macros.