I'm sure that quite a few of you use Apple loops in your productions. They are great for quickly finding exactly the right flavor of groove, in the right key and most importantly at the right tempo.
Although Apple's stock library, Jam Packs and third-party Apple loop collections are excellent, it's also useful to be able to create your own Apple loops. To do this you can take advantage of Apple's bundled Apple loop utility. Here's how...
The Apple Loop Utility
Surprisingly enough the Apple loop utility is neatly tucked away in the Utilities folder, within Applications. It's an extremely lightweight little app and the learning curve here is not too steep at all, so if you've never used it don't panic!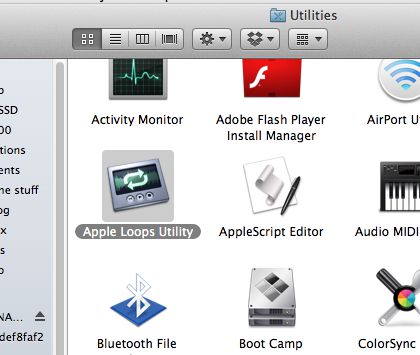 You'll find the Apple loop utility tucked away in your applications folder after a Logic Pro install.
On opening the app you'll be presented with a browser window, prompting you to open an audio file. As you can see here I navigated straight to a collection of wav loops on my drive. You can literally use any loop you like here and converting your own recordings or exported loops is a great way to get started.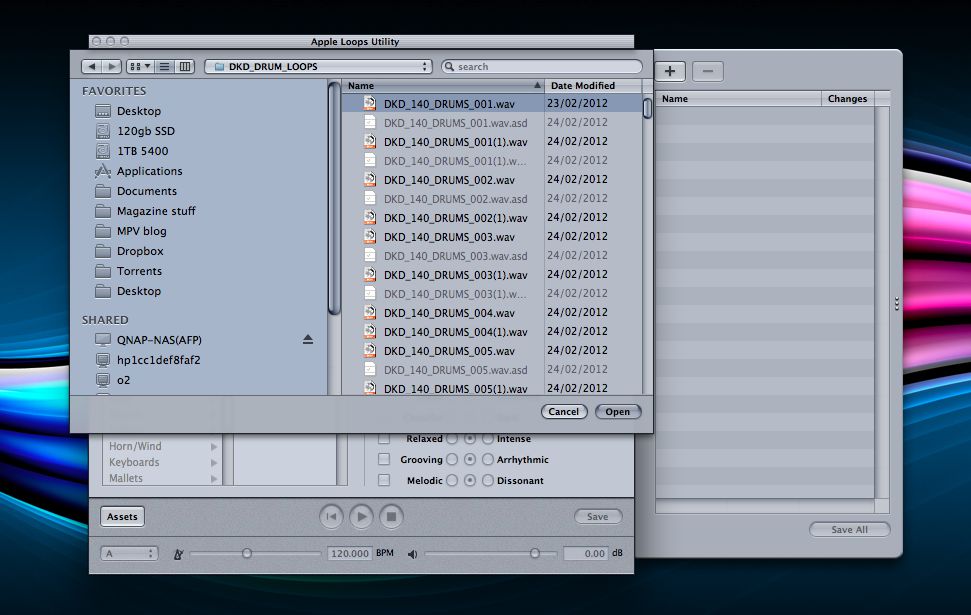 On opening the app you'll be presented with a browser window.
With your loop open you should see it on the right hand side of the utility, in the 'assets' area. You can now select it and you are ready to start creating your first Apple loop.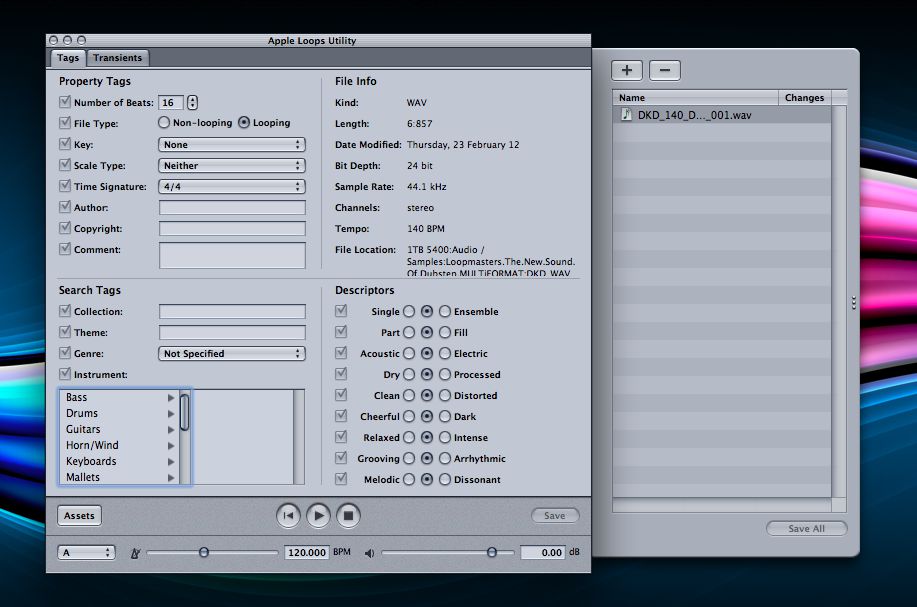 Our file is open and ready to edit!
Tweaking Properties
Apple loops contain a fair bit of data and it's not all related to time and pitch. The amount of varying metadata you can store in one of these loops is pretty impressive. To give you an idea of what's possible I've entered a few values of my own here.
I've started by filling in the author section, told the utility my Apple loop is a 'looping' sound and that it's got a 4/4 time signature. I also put a small note in the comments area to describe the loop.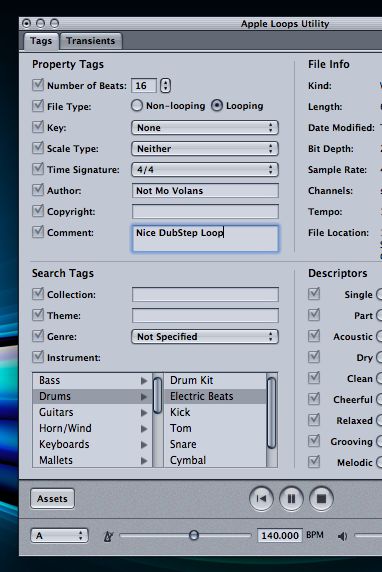 Some basic properties are entered.
I have also entered a small amount of data into the search tag area and filed the loop under Drums/Electric Beats. This will help us find the loop when searching categories. In fact the more time you spend here and the more data you enter the easier the loop will be to find later, especially in larger libraries.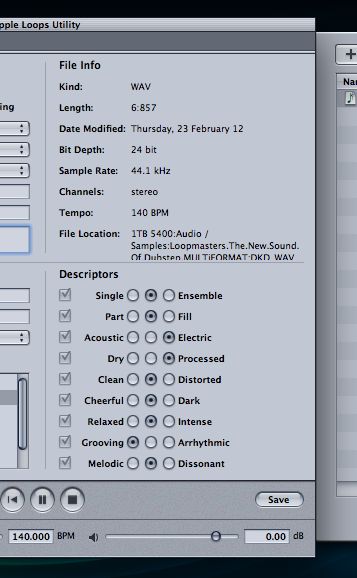 And a few descriptors.
I took a little time ticking some of the descriptors on the right hand side of the interface. Again this will help you identify your loop when searching for a specific kind of file either by mood, genre or type.
Editing Transients
Creating Apple loops isn't all about meta tagging and data entry, you also want to be sure that it will play back correctly at any tempo. To get this right you will want to head to the Transients tab.
You'll be presented with a compact sample editor here and there should already be a number of markers present. These can be manually deleted, moved or created by clicking in the upper timeline. The space in between in each marker represents a 'slice' of your Apple loop and the playback of your loops will be determined by the placement of these markers.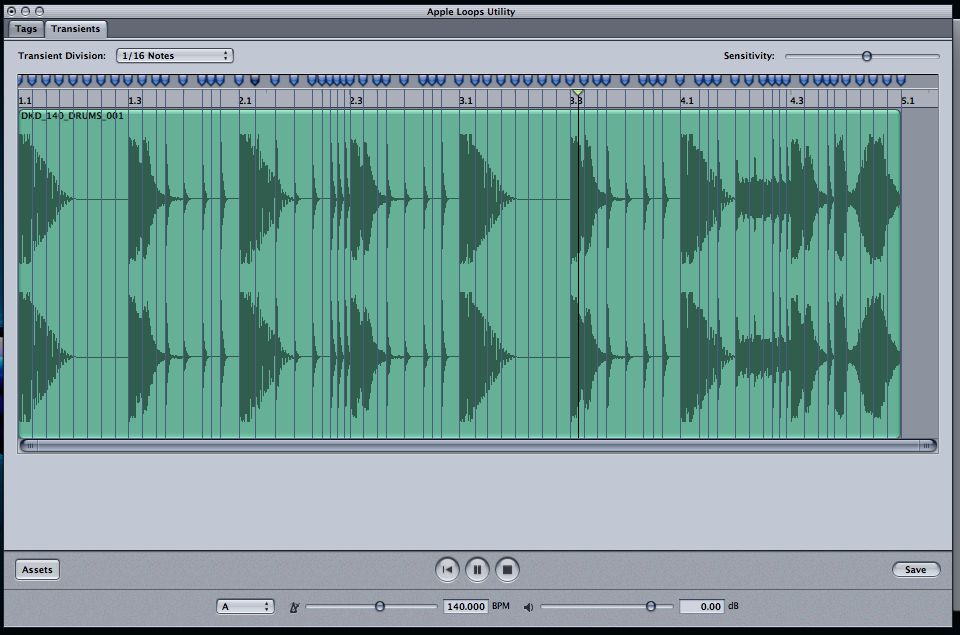 The Transients area.
Unlike many other slice based editors I tend to find that Apple loops work pretty well when the markers are at a uniform distance form each other and are repeated throughout the file. You should also take care to ensure there are markers at key points such as the start of kicks or snares.
Try starting with 1/16th placements and then go from there, adjusting the sensitivity as you go. This should allow you to populate your Apple loop with the correct amount of markers. Once finished be sure to hit save!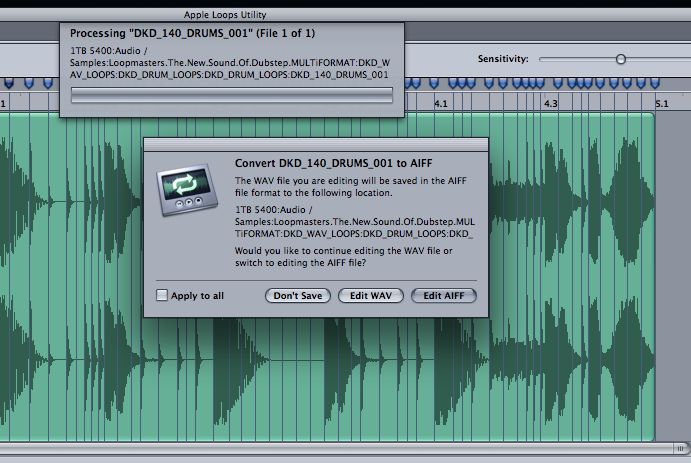 Once completed hit save!
Saving Your User Loops
In this case our wav loop was converted to Aiff or CAF (the format used for Apple loops) and once saved was automatically written to the same folder as the original sample. You can see from the shot below that a new folder has been created to house the newly converted loop.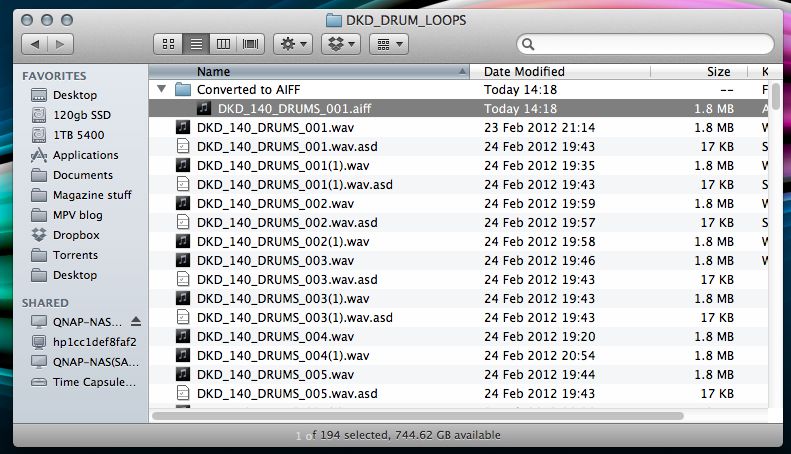 The newly converted loop is put into a new folder automatically.
You can now drag this into your Apple Loops user folder (located at User/Library/Audio/Apple Loops/User Loops/ Single Files) or alternatively you can store it in your own sample library and load it into Logic or Garage Band when you see fit.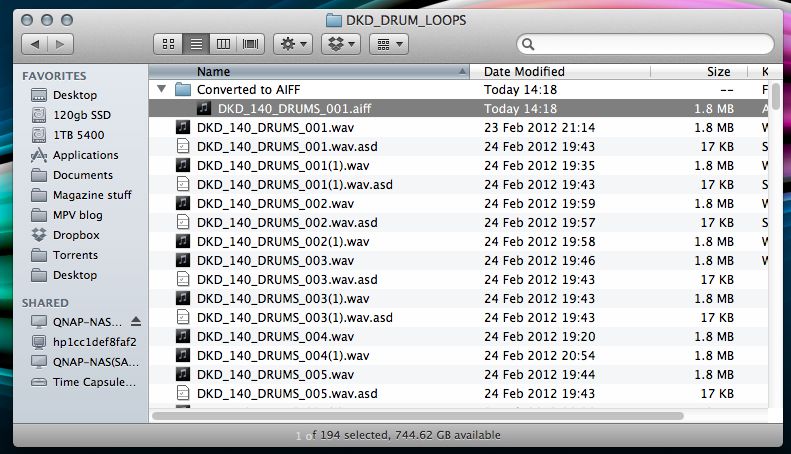 Moving the new Apple loop to the user loop area.
The advantage of the first method is that it will be automatically scanned by OS X and will appear in your Apple Loop browser. Let's see what that looks like in Logic Pro.
Opening Your Loops In Logic
Once in Logic you should be able to navigate to the Loop browser and pick up your newly added Apple loop by either searching for its name directly, or selecting the data tags that you entered in the utility.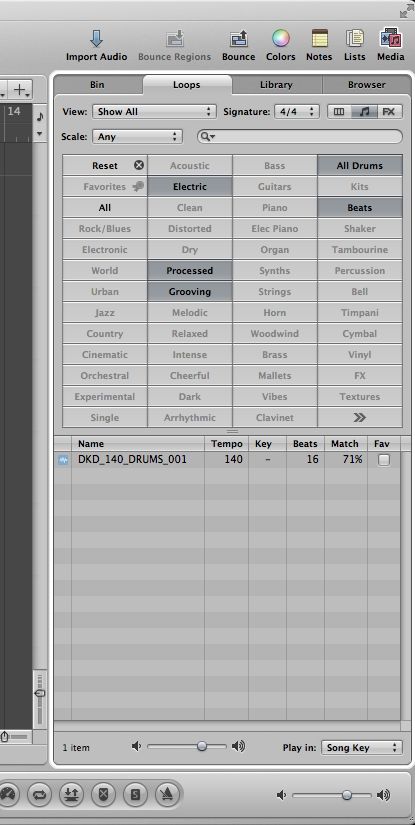 Our new loop in the Logic loop browser.

And imported into a new audio track.
Once you find the loop you are after you can drag and drop it into your projects in the same way as you would with any other audio file. It should play back at any tempo as well. Nice and simple... now start building your own custom Apple loop library!