The truth is I'm a helpful person. I know at this time of year your priorities are buying Christmas presents, decorating the tree, spending time with family and creating a horrible electro remix of a popular Christmas tune.
Well, don't panic. I've sorted one of these things out for you in this article. I've taken a much loved Christmas song (in this case Jingle Bells) and pumped it right up just in time for that Euro-themed electro Christmas dance party... you probably won't be having.
Grabbing And Importing A MIDI File
OK, so to start with you'll need a MIDI file of your favorite Christmas song. As previously mentioned I've opted for Jingle Bells here as it makes me feel all warm and fuzzy inside. There are loads of sites you can get these files from, just google Christmas MIDI files if you don't believe me.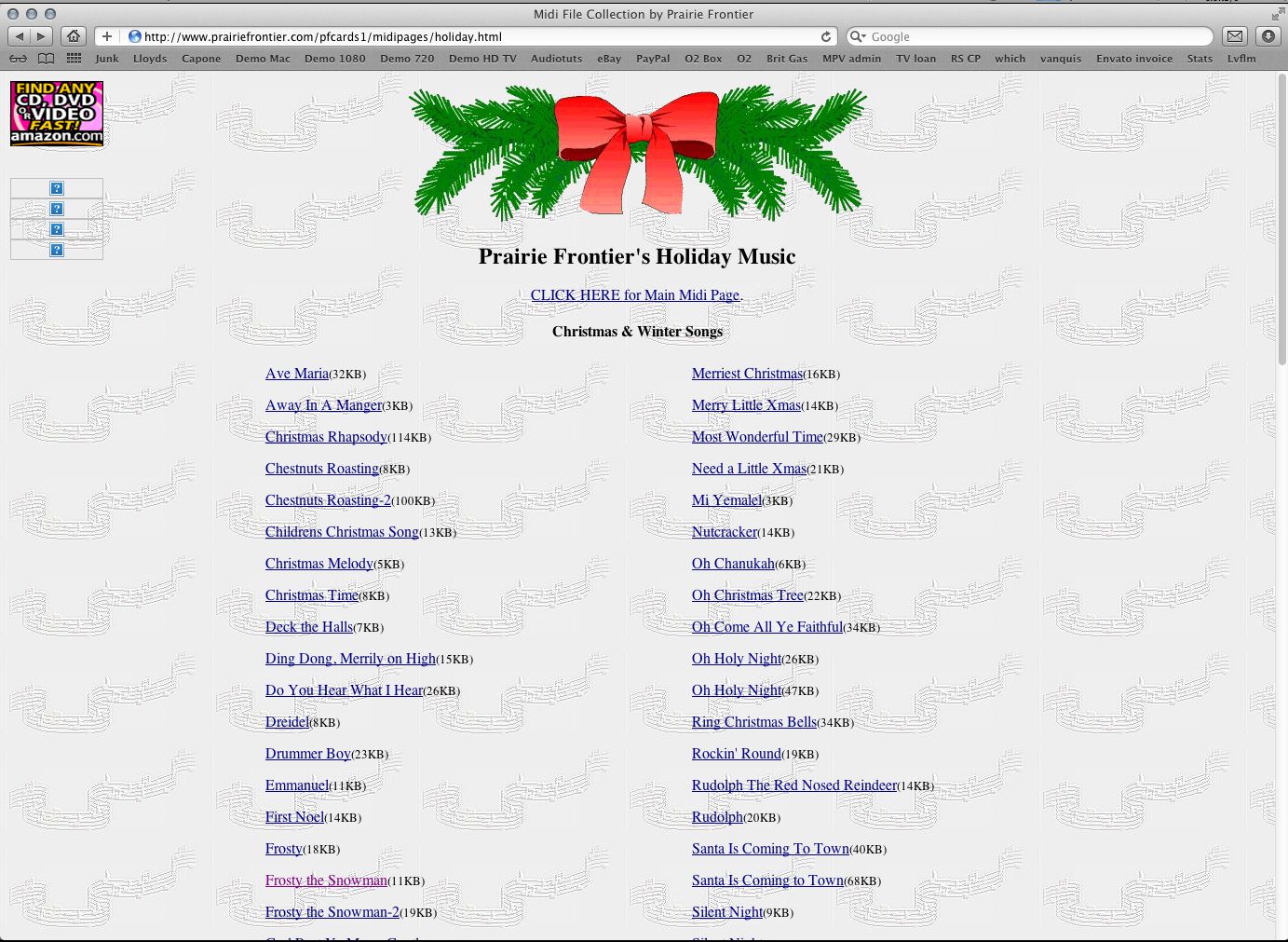 The MIDI file site I used.
Anyway, I got my MIDI file and imported it straight into Logic Pro 9 (the most festive DAW). Thanks to the internal General MIDI synth everything loaded up nicely and played back. I immediately felt 75% more festive at this point. You can hear the results below. I challenge you not to think of a snow-laden winter wonderland when you listen to it.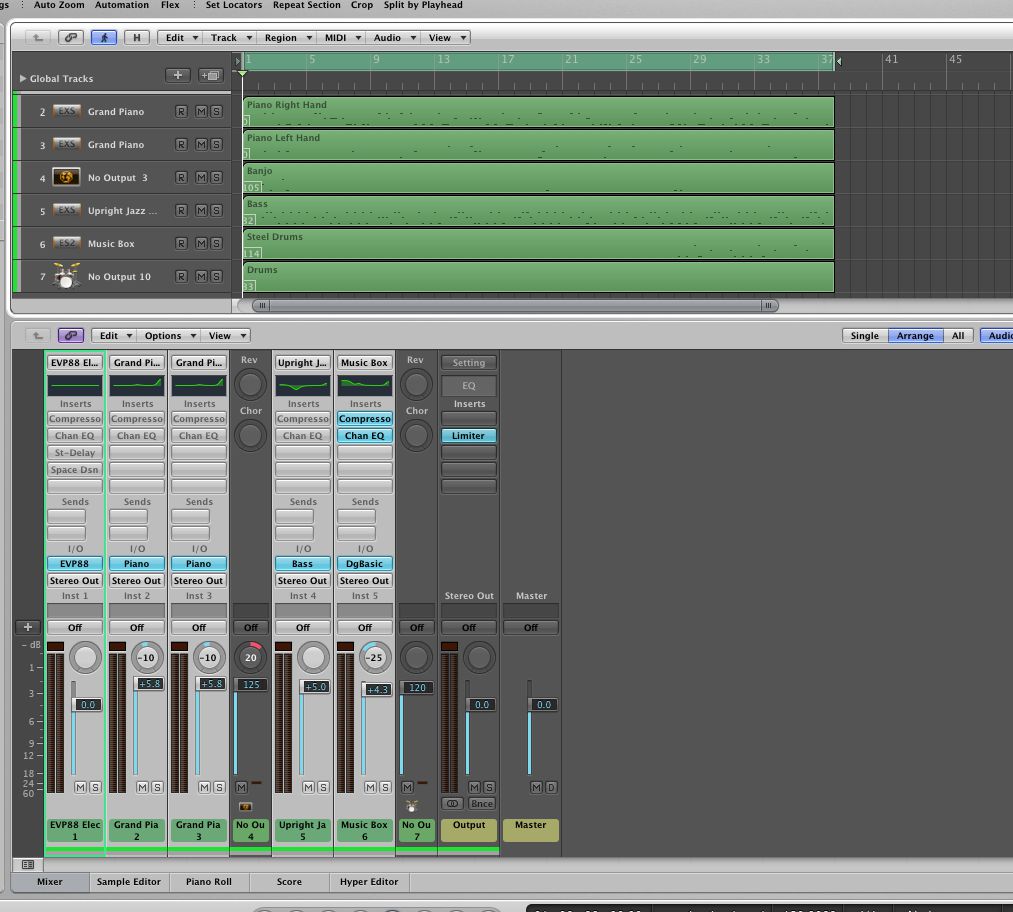 The MIDI File is loaded and vaguely mixed.
Of course I was extremely happy at this point but let's face it: this could be better. It needs tasteless synths, much more energy and a huge electro house beat. Obviously.
Changing All The Instruments
Time to tear this thing apart and completely switch all the instruments for something much louder and more commercial. The thought process behind this method is simple: if it sounds better, use it.
For example, I switched the main piano line for a huge arpeggiated euro synth (from Omnisphere), I switched other parts for computer sound effects, and piano chords were moved to a big fat Korg Polysix patch. At this point I started to seriously consider transforming Christmas tunes as a career.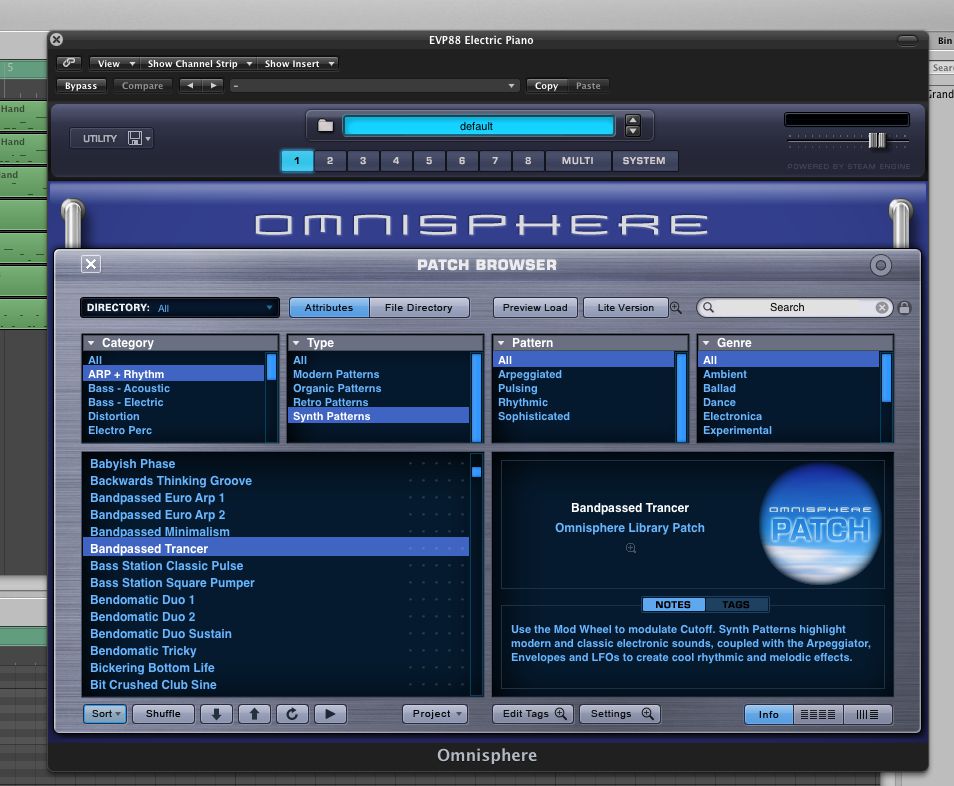 Omnisphere is probably the most festive synth I have, so it got hammered here.
You can hear the majority of the new kick-ass instruments playing back below. The funny thing is, it's still festive but now it's cool. Like me. Any patch can be used here as long as it's over the top, harsh and slightly tasteless.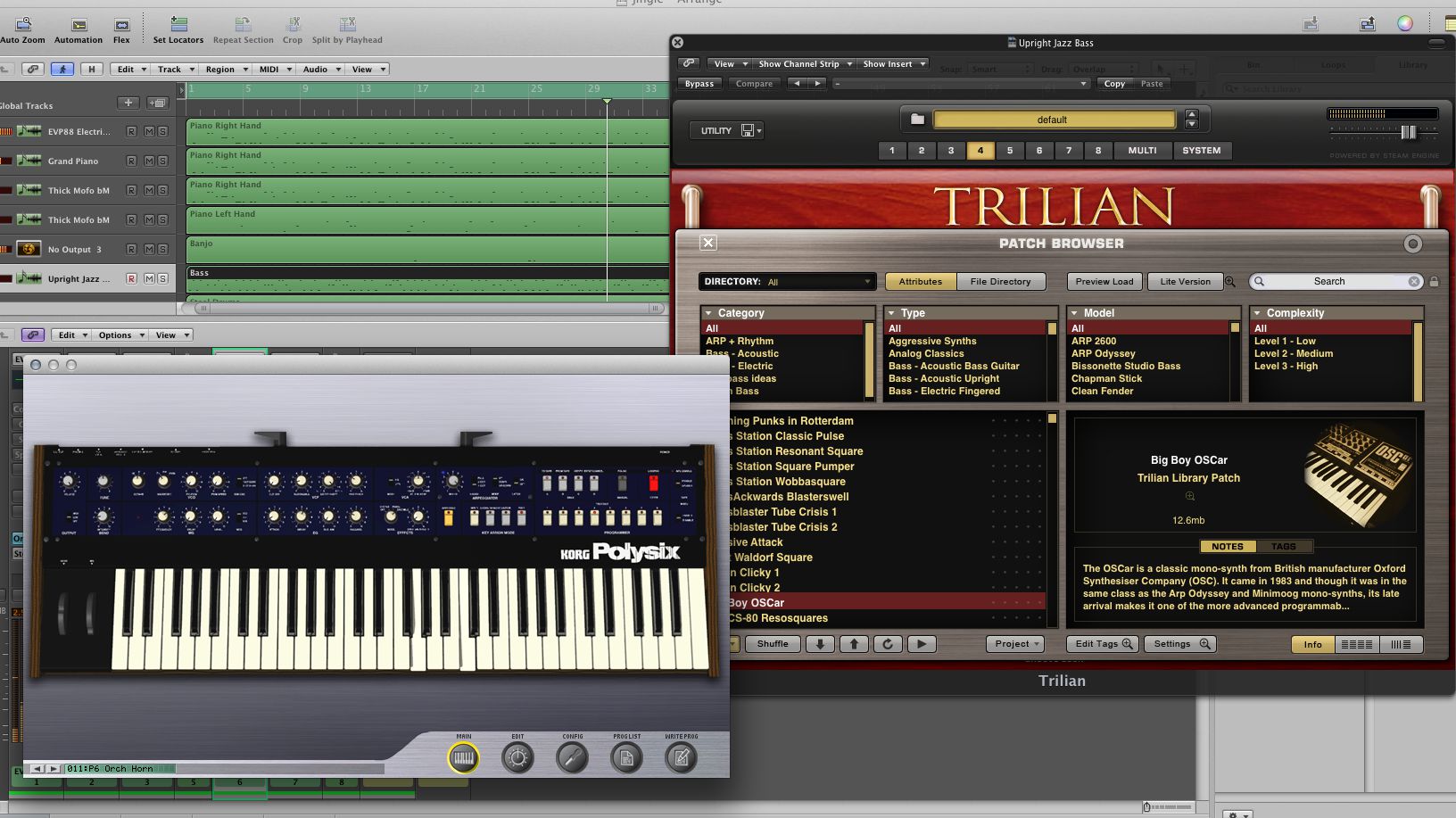 Trillian and the Korg Polysix also got the yuletide treatment.
Finally I switched the standard electric bass for a huge analog Imposcar-based patch from Trilian. Fat! (Turkey fat obviously).
Adding Stupidly Large Drums And Over Inflated Mastering
The next step involves taking things to the next level. Any high energy euro remix wouldn't be complete without some big drums. I decided to save time by using three (festive) house drum loops, as I had to pop out to buy mistletoe and Christmas pudding.

The three wise drum loops I used.
Once these were added I applied some completely over the top mastering courtesy of Dada Life's ridiculous 'Sausage Fattener' (sausages are sort of festive) and Logic's very own limiter.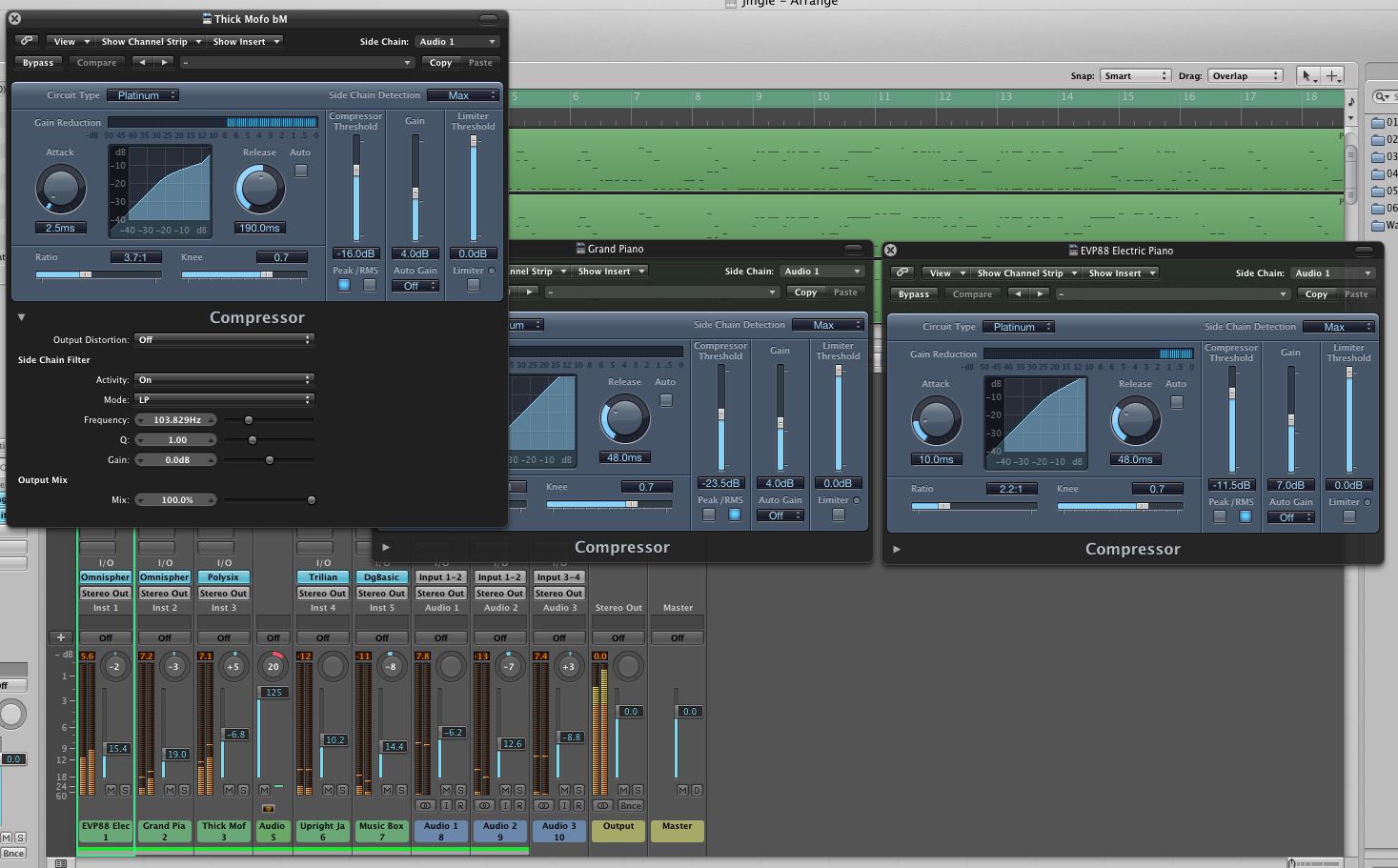 Some side chain compressors were used to make the whole thing 'jump'.
At any other time of the year I would be producing something much more tasteful (really? - Ed) but as it's Christmas I pushed everything really hard and squeezed just about all of the dynamic range out of it. This means the track will compete with Mr Blobby, Slade and any other meaningless rubbish you mix it with.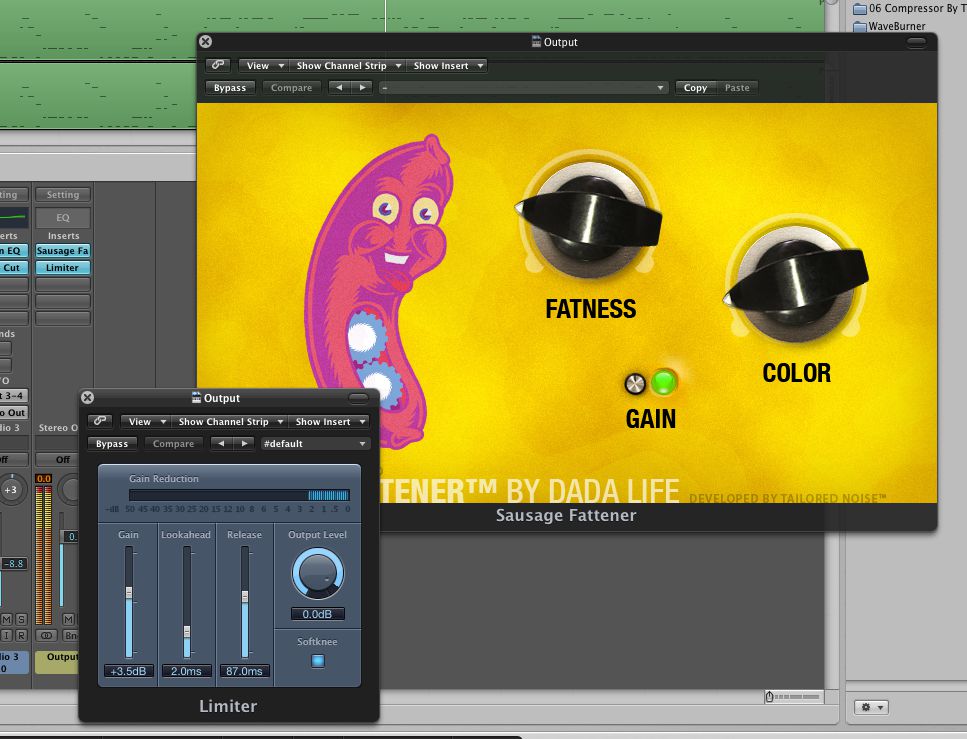 The stupid mastering settings.
The final festive offering:

Happy Christmas and get re-mixing, yuletide stylee!