Logic Pro X's Score Editor is a very deep and powerful tool for creating scores and parts for real players and I literally wrote a Logic Pro 9 book and short Logic Pro X e-book update about it. But when all you need to do is create a basic lead sheet, it really is rather simple.
In Pic 1, here is the melody to a song I wrote, entitled "Lovely" viewed in the score editor's default Linear View. Note that you cannot see the whole melody.

Pic 1
Entering the Lyrics and the Chords
My first task is to enter the lyrics. For this it would be helpful to see the whole melody. All I need do is to change the view mode to Wrapped View, as I am doing in Pic 2, with the result that I now see what is in Pic 3.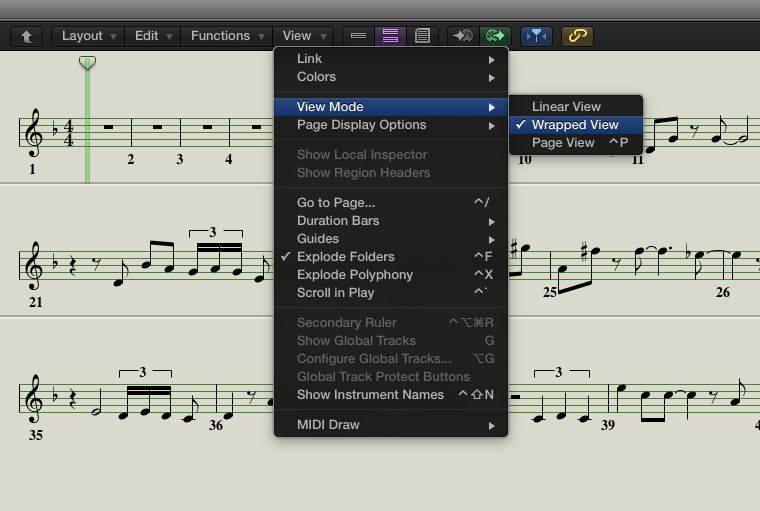 Pic 2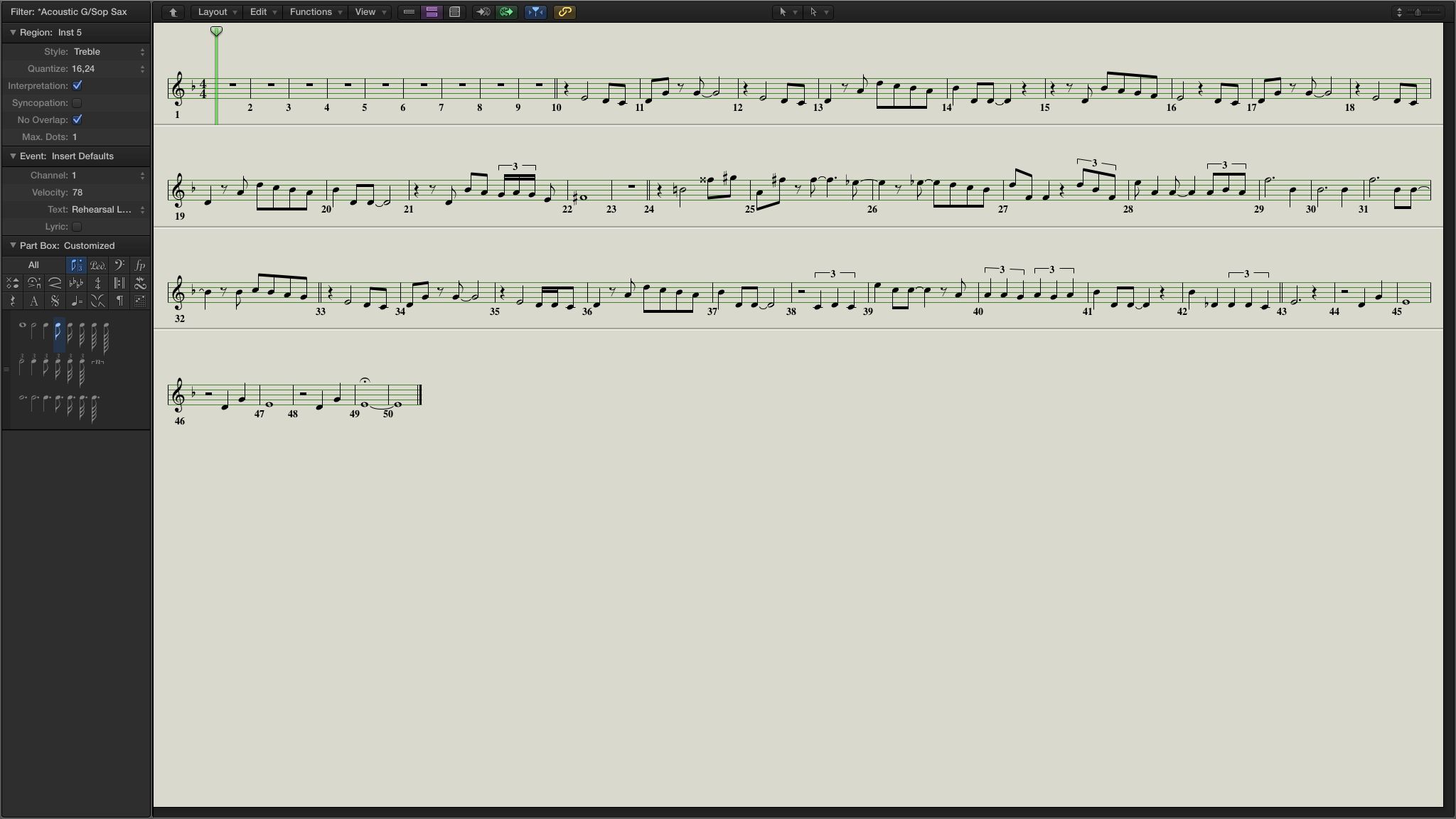 Pic 3
Now I go to the Part Box in the Inspector and click on the Text icon to select Lyric. See Pic 4.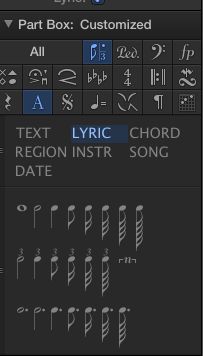 Pic 4
In Pic 5, I am dragging the Lyric box to the first note to begin entering the lyrics. I type in the first word (or syllable of the first word, and tab my way from note to note entering the desired words/syllables as I go until the whole lyric is entered as in Pic 6.

Pic 5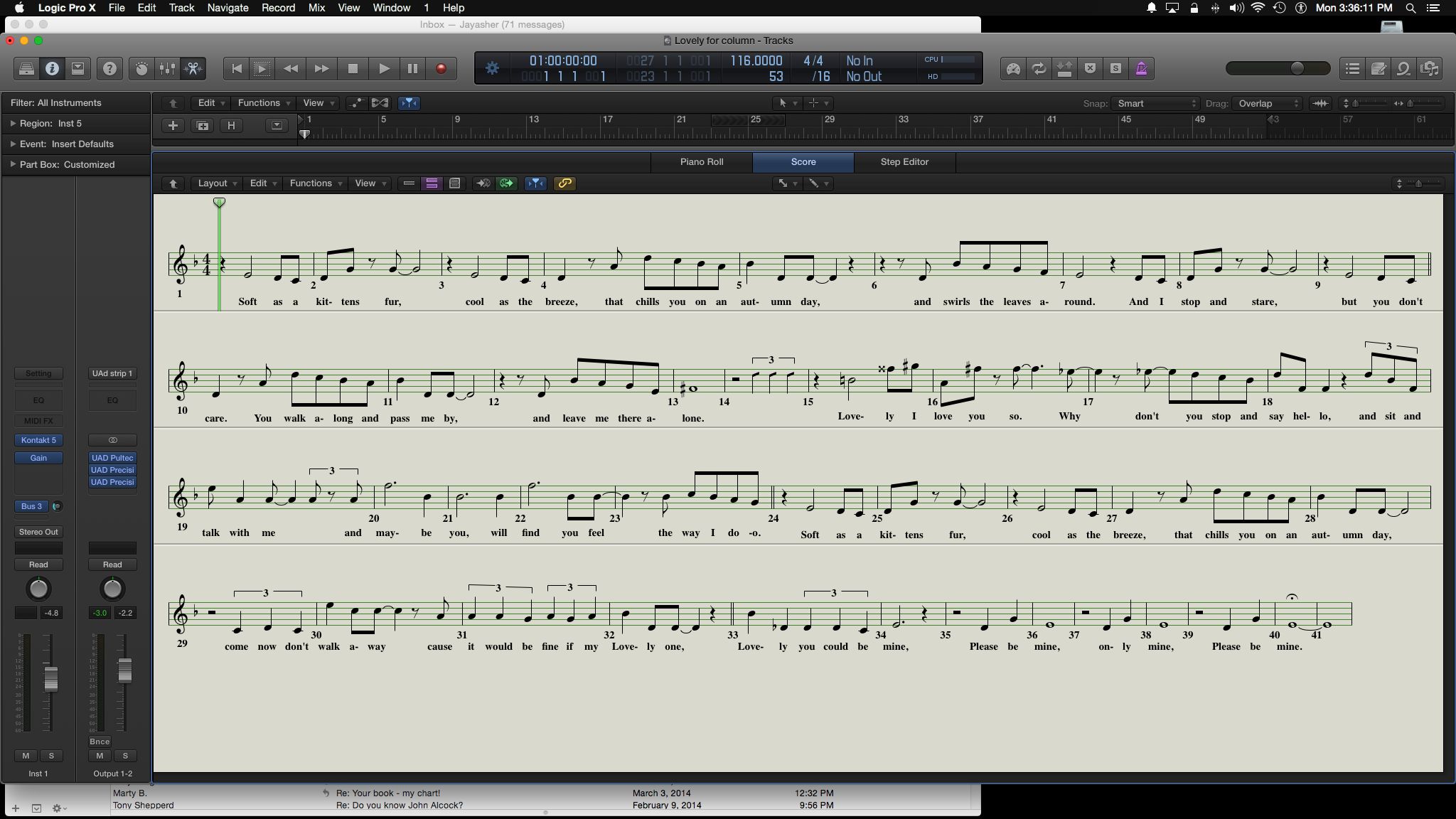 Pic 6
If you make a mistake, you can stop, double-click on the incorrect syllable and type it in correctly, then resume with the next note. Don't worry if they are not aligned properly as you can press Shift-S to select Similar Events and then press Control-Option-Command-V to align them vertically and Control-Option-Command-H to align them horizontally.
Now we need to enter the chords. The process is almost exactly the same as with the lyrics, choosing Chord instead of Lyric in the Part Box. See Pic 7.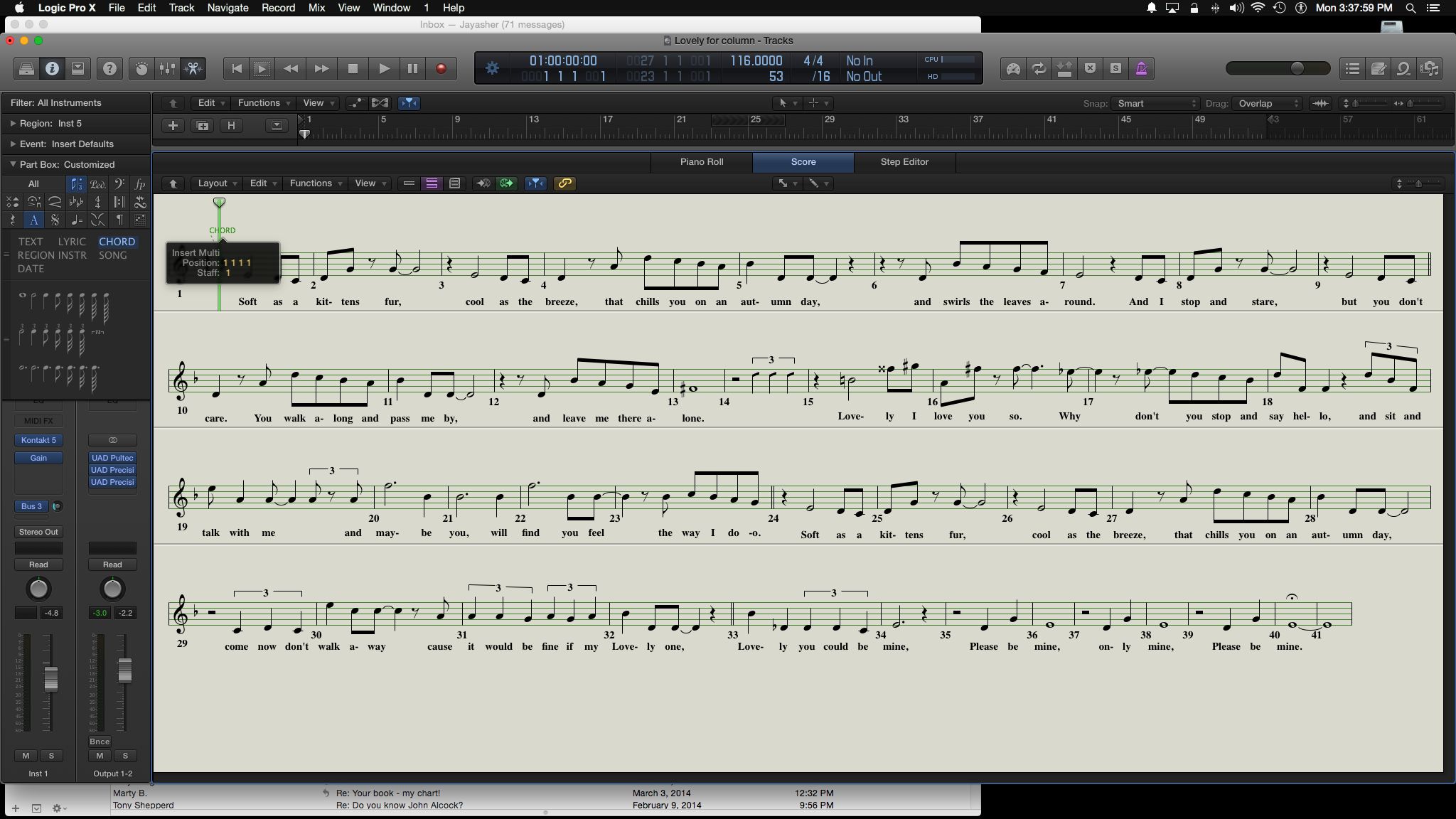 Pic 7
Here it is with the lyrics and chords completed in Pic 8. Pretty dreadful looking, eh? No worries, we will fix that.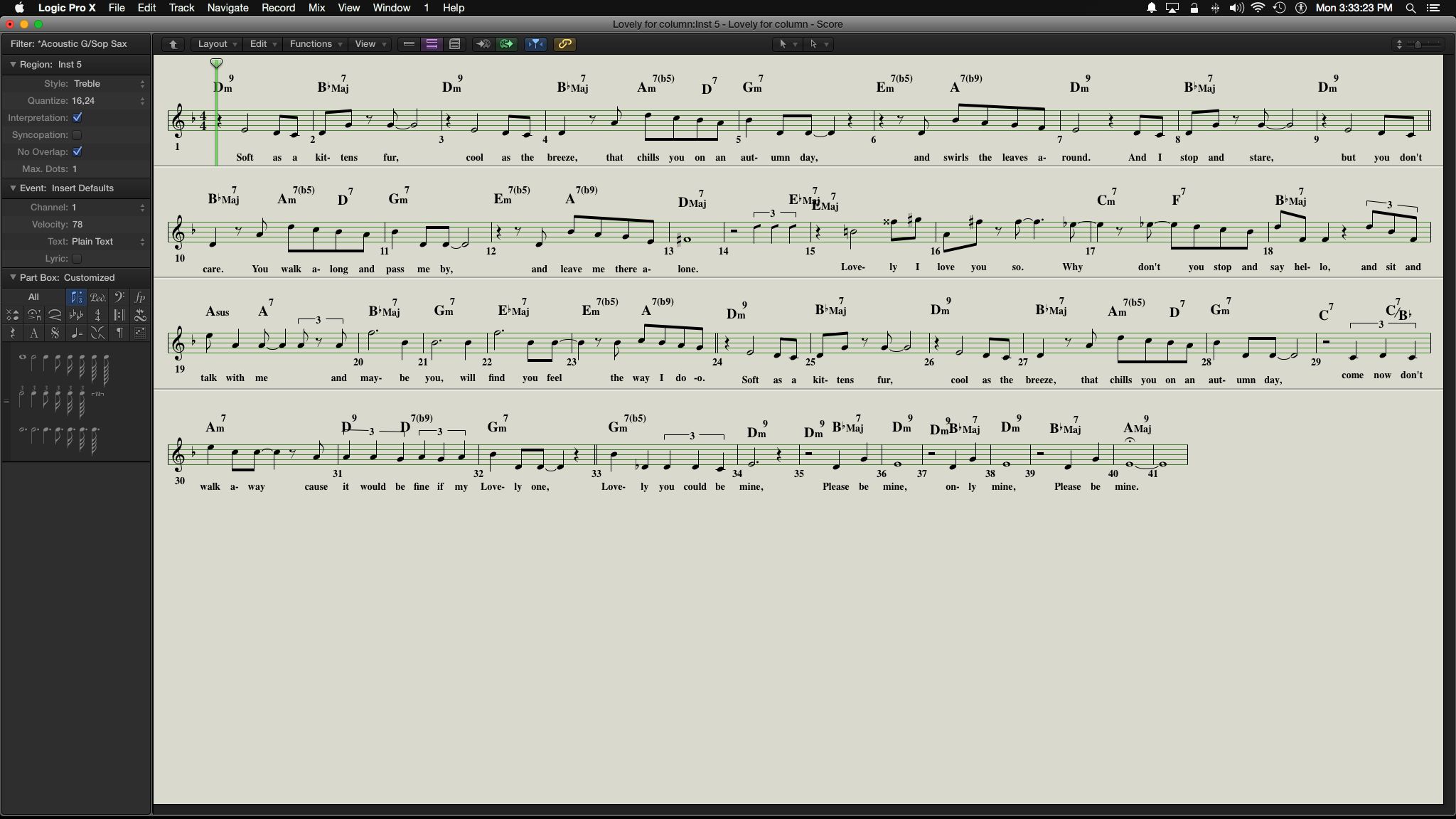 Pic 8
Formatting the Basic Lead Sheet
Now I need to switch from Wrapped View to Page View. I can do this in the same manner as before but simply pressing Control-P brings me that view, as you see in Pic 9.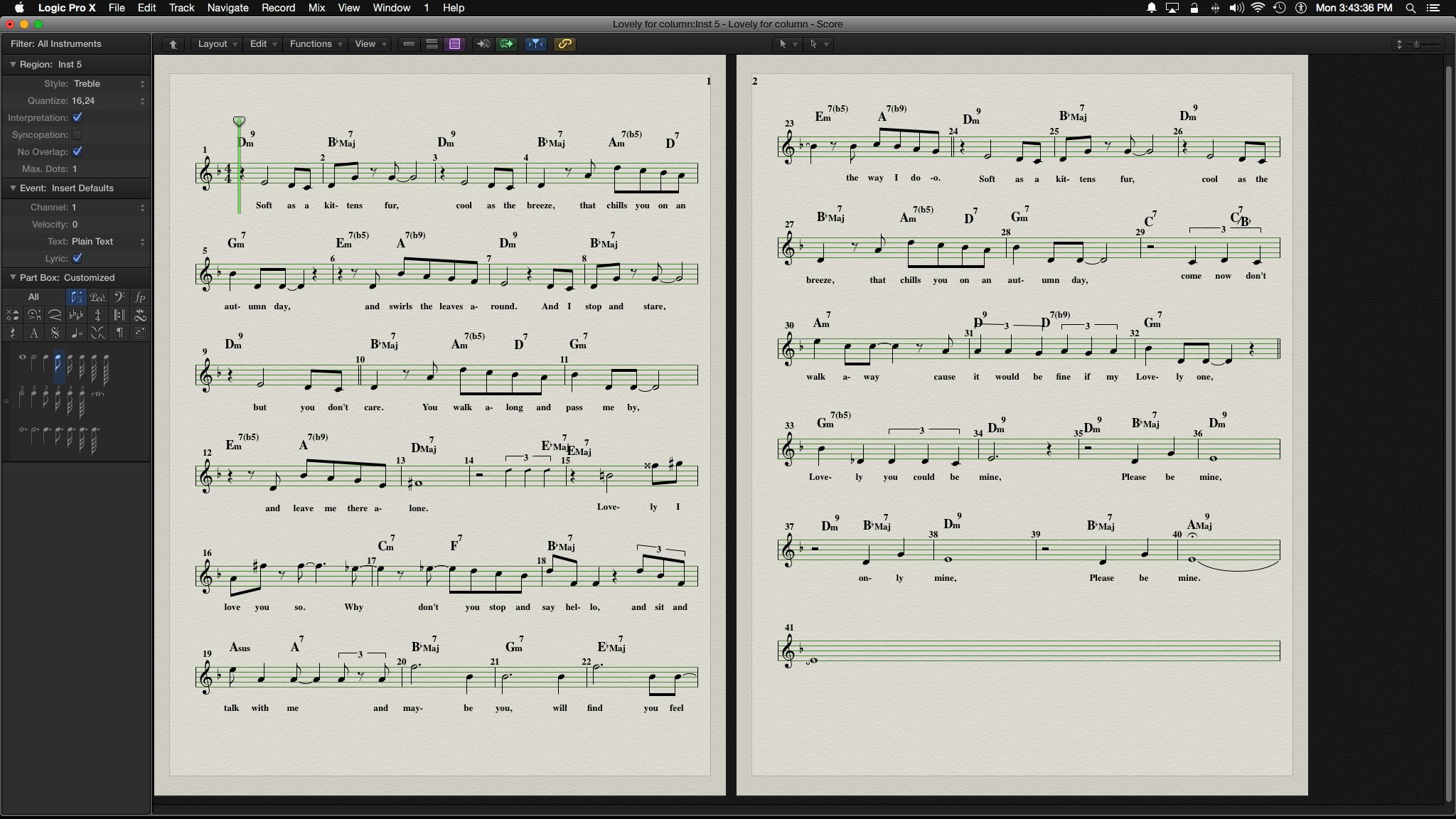 Pic 9
Much better but we still have a ways to go. I don't need to see bar numbers in a lead sheet except at the beginning of the line and I would prefer to see them under the clef. Also, I don't need to see the page number on page 1. If I go under the Layout menu, I see Numbers and Names, which is what I want and it looks like this. See Pic 10.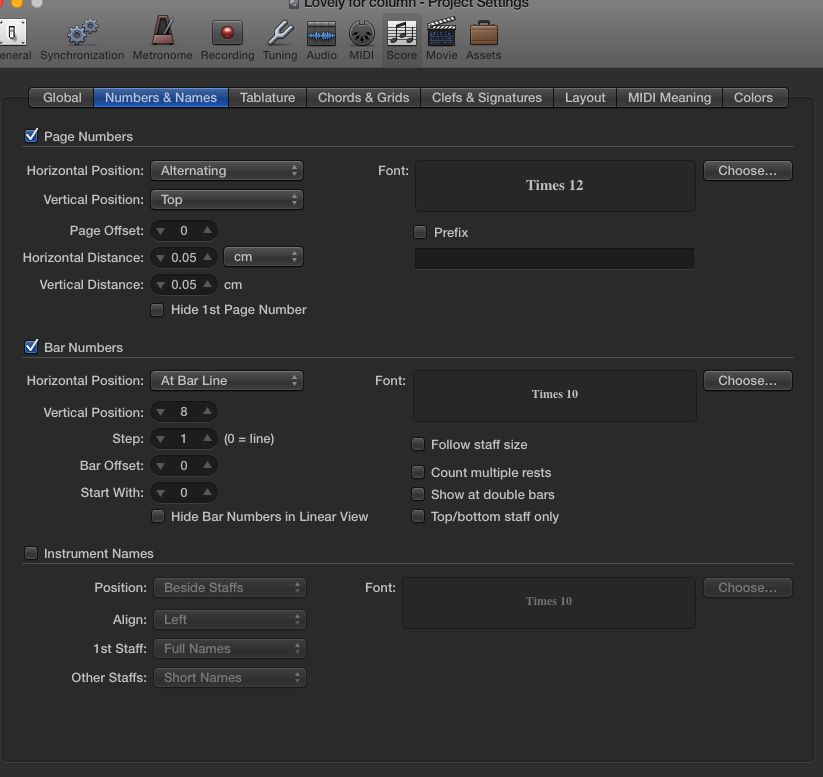 Pic 10
In Pic 11, you can see that I have made a few changes that will remove the page number from page 1 and that the bar numbers are now going to be under the clef and only at the beginning of the line. In Pic 12, there is where we are at.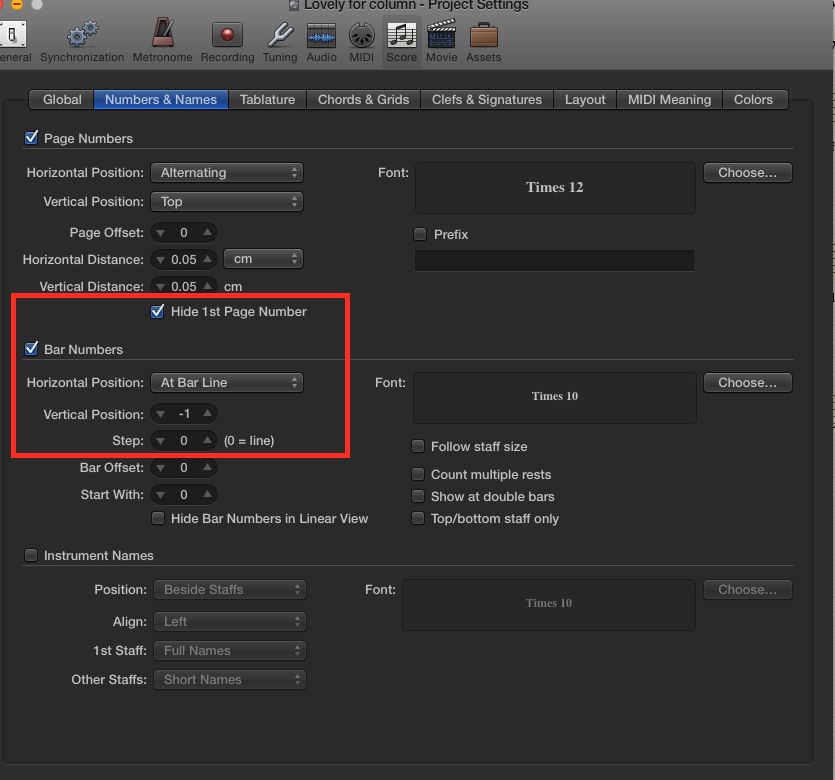 Pic 11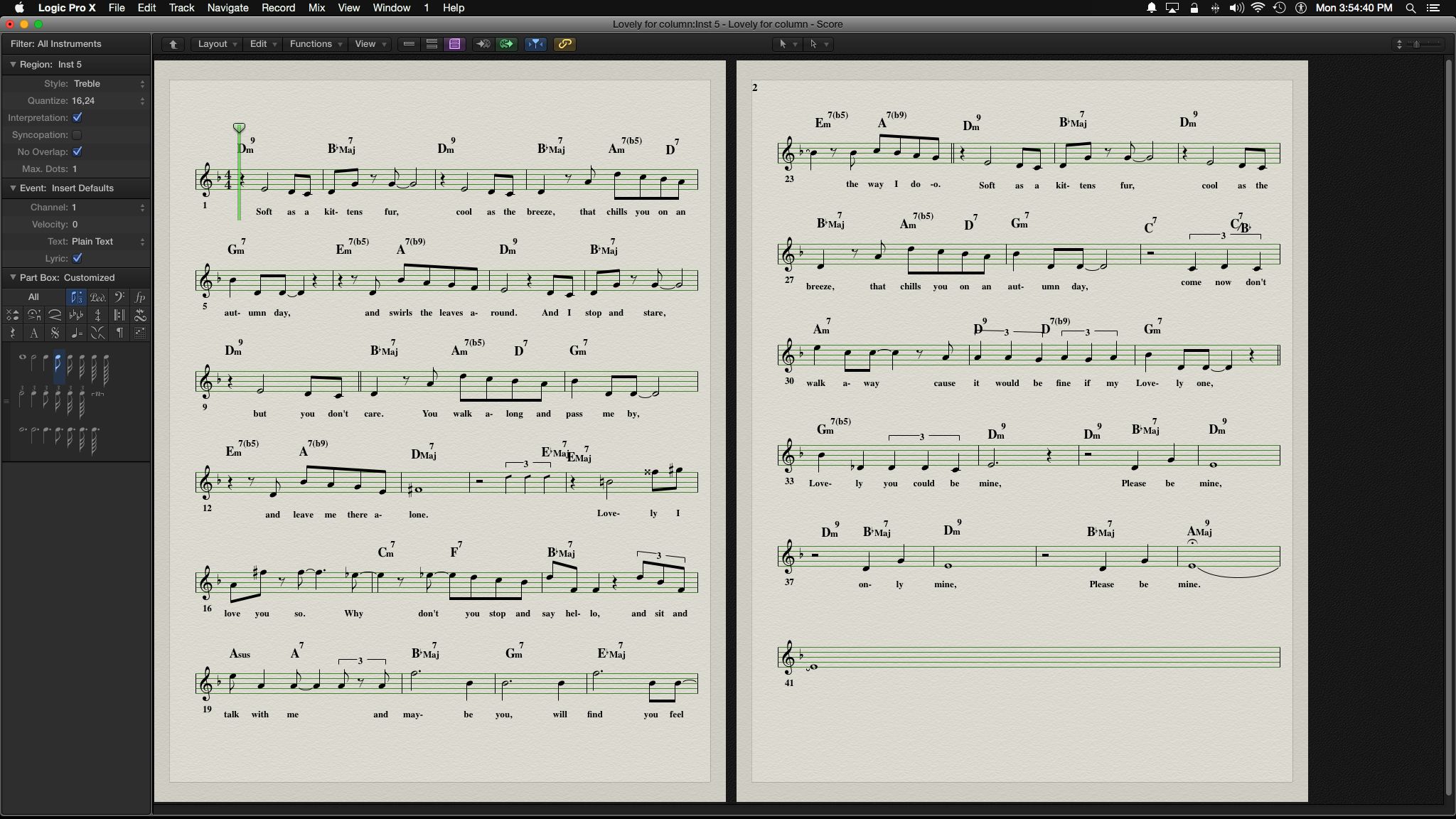 Pic 12
The Layout Tool is critical for what we will do next, so I assign my secondary tool, accessed by the Command key, to the Layout Tool. Utilizing it I can drag measures from one line to the next one previous or subsequent to make it look better, and I can also adjust chord symbols that may be too high or low when they were aligned without altering their MIDI position. If you look at Pic 13, I think you will agree it is much improved.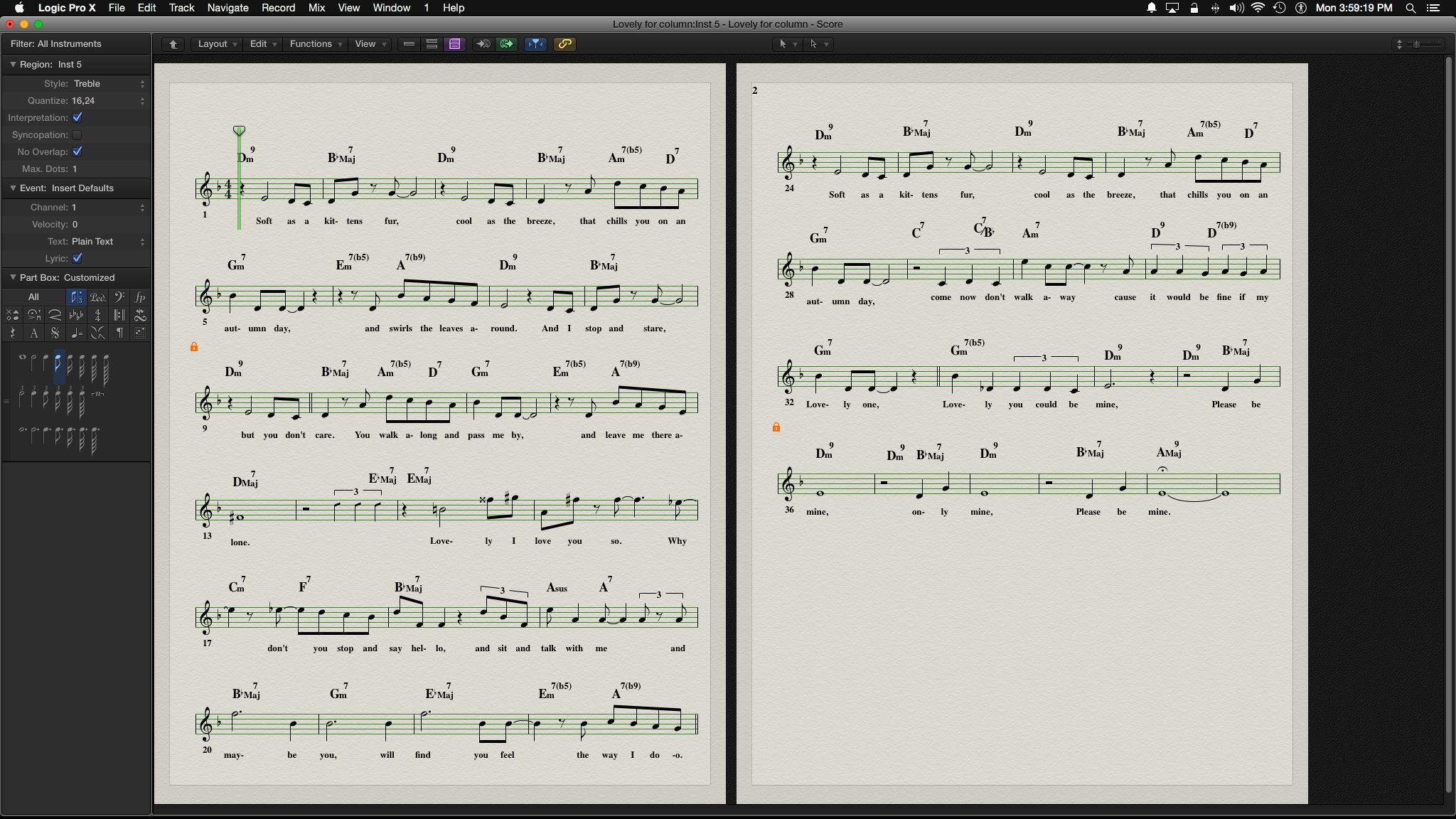 Pic 13
Creating and Assigning New Text Styles for the Basic Lead Sheet
All that remains is too create some Text Styles if I like for the lyrics, a title, and a composer, as you can see I have done in Pic 14. (These can be saved in a template or imported from project to project.)
Pic 14
I choose Text from the Part Box and drag in a title and a composer credit, which I break in half because I know from experience that I can then align it better.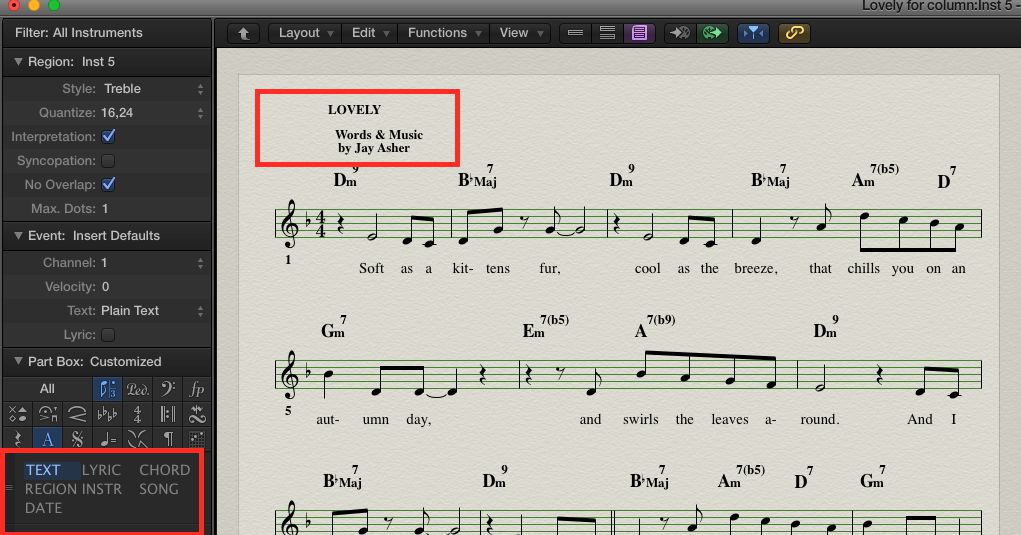 Pic 15
In Pic 16, notice that after choosing a lyric and pressing Shift-S to select them all, I am reassigning them to my newly created text style.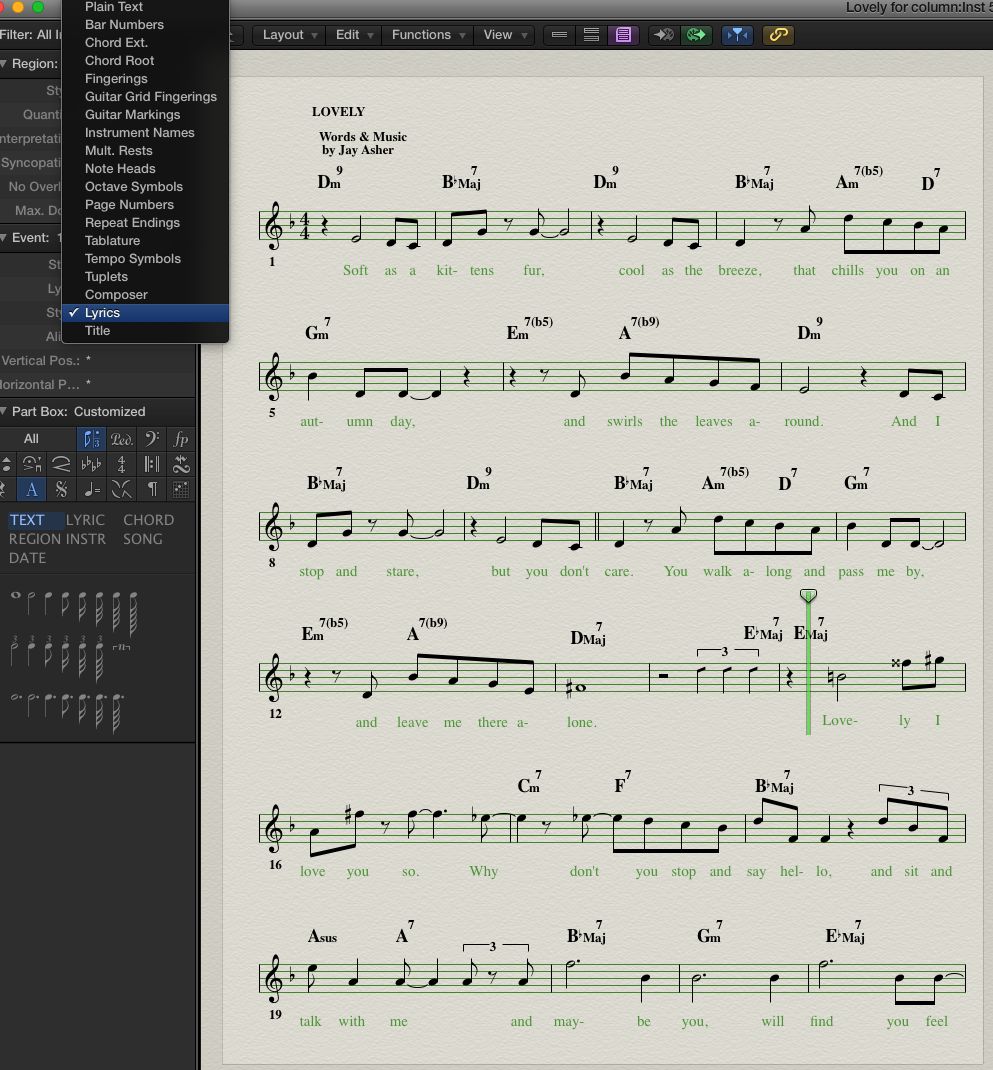 Pic 16
Continuing on using both the Style and align choices in the Inspector I get my title with my desired text style centered, where I want it. I get the two lines of the composer credit to the text style I want and aligned to the right. Finally, I use the Layout tool to drag the beginning of the second line of the composer credit right under the first line. See Pic. 17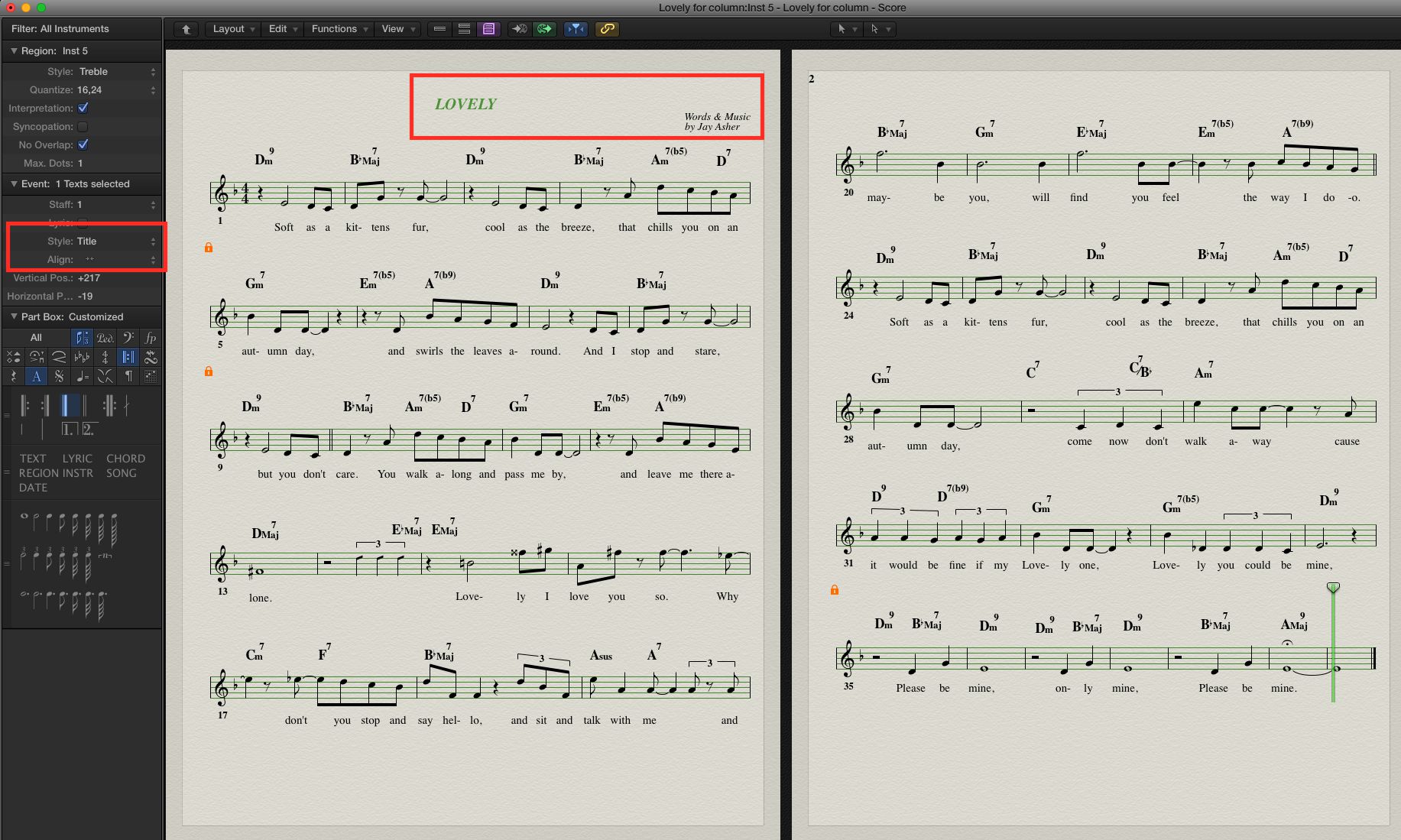 Pic 17
I now have a pretty good- looking basic lead sheet. With a little practice you can do this, as we say in Boston where I come from, wicked fast!