Olaf Diegel is professor at Lund University's department of design sciences and his company uses special 3D printing technology (Selective Laser Sintering) which builds components using a thin layer of nylon powder. This is a process he explains is achieved using high-end, industrial 3D printers.
OK, you're curious about the cost already? More details can be found on the ODD site here, but prices start from $3,000 USD and include the ability to customize neck wood material, inner core material, colors, pickups, etc. Once ordered you can expect your custom designed and made guitars in about 8 weeks.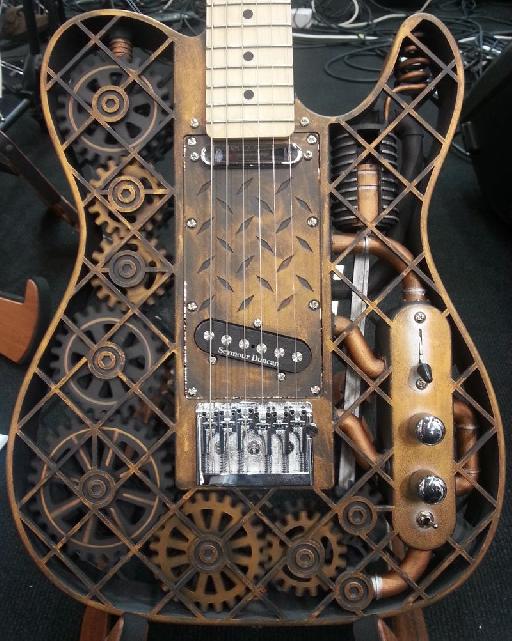 The Steampunk ODD guitar. Yes, the cogs and wheels inside rotate when being played... (see video below!)
Now, to be clear, these guitars are not entirely 3D printer creations. This process is not designed to replace traditional guitar manufacturing but rather compliment it. The pickups, neck, strings, etc, do not come out of a 3D printer tray!!
That's not to say in the future we will be restricted to printing out a guitar body only, or unable to print our own wooden guitar necks, or tremolo arms using a home 3D printer'¦ but for now, ODD are here to add quality components to your custom 3D printed guitar designed body.
This interesting video from ODD explains how the design and manufacturing process works:
And, here's a video of their 3D printed guitars being played:
For more info, go directly to Olaf's site: ODD Guitars:
http://www.odd.org.nz/index.html
Source: http://fdrmx.com/3d-printed-instruments-technology-jams/
(NOTE: the fdrmx article suggests that armed with the .stl file anyone would be able to 3D-print a guitar. According to Olaf not exactly accurate as high-end 3D printing processes are used to create the body of the guitar and traditional methods are used to create the bridge, pickups, etc.)