Als Musiker unter Einbeziehung projizierten Visuals in Ihrer Performances ist ein sicherer Weg zur Verbesserung der Erfahrung für Ihr Publikum. Es gibt viele Video Jockey und Projection Mapping-Software-Anwendungen, dies zu tun, wie zum Beispiel ausgelegt Resolume Arena oder ArKaos GrandVJ, die Künstler, die auslösen und ermöglichen die Steuerung Video, Grafiken und Animationen in Echtzeit sowie die Synchronisierung sie zu Musik. Die meisten dieser Anwendungen können über MIDI gesteuert werden, so dass sie extrem nützlich, um Musiker, die bereits mit MIDI in ihren Shows. Allerdings ist die MIDI-Integration oft recht begrenzt und kann nicht können Sie steuern, die Visuals genau, wie Sie wollen. Ein Weg, um dies wäre, um Ihre eigenen kundenspezifischen Software-Anwendung erstellen
In diesem Tutorial, Ich
Die Plattform, die wir hier verwenden werden, wird als openframeworks (oft der abgekürzten)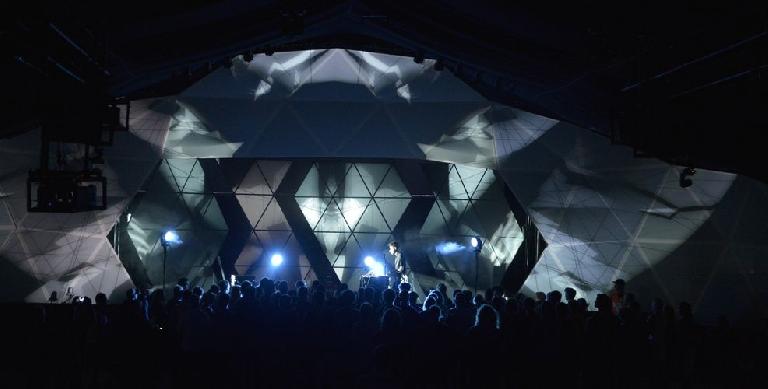 Live Visuals am Roskilde Festival 2014, Dänemark, von Johan Bichel Lindegaard, teilweise unter Verwendung von openframeworks.
Bevor wir anfangen, hier ist ein einfaches Beispiel für das, was wir machen werden
Was Sie benötigen:
Step 1—Installing your IDE
Zunächst müssen Sie Ihre IDE installieren. Installation von Xcode auf OS X ist einfach
Step 2—Installing openFrameworks and ofxMidi
Zur Installation von, bewegen Sie einfach die heruntergeladene des Ordners in einem beliebigen Ort auf Ihrem Computer. Um ofxMidi zu installieren, müssen Sie den heruntergeladenen ofxMidi Ordner in den Addons Verzeichnis innerhalb Ihrer Ordner.
Step 3—Setting up the oF Project
Weiter benötigen Sie, um für Ihre IDE ein Projekt einzurichten, so dass Sie Ihre Anwendungs ​​entwickeln. Um dies zu tun, von Nutzen
Stellen
Stellen Sie sicher
Stellen Sie sicher
Klicke auf
Klicken
Es sollte jetzt ein neuer Ordner in der openframeworks / apps / MyApps Verzeichnis für Ihr neu erstelltes Projekt.
Step 4—Adding the Code
Als nächstes müssen Sie Ihr neu erstelltes Projekt zu öffnen, und fügen Sie einen Code, um es:
Öffnen Sie Ihre IDE-Anwendung (Xcode oder Code :: Blocks).
Gehe zu
Wählen Sie die Projektdatei (die Xcodeproj Datei für Xcode oder .workspace für Code :: Blocks) und klicken Sie auf
In der IDE navigieren Sie zu der linke Spalte / Fensterbereich, wo es sollte ein Symbol neben Ihrer Projekte Name sein. Klicken Sie auf das Dreieck oder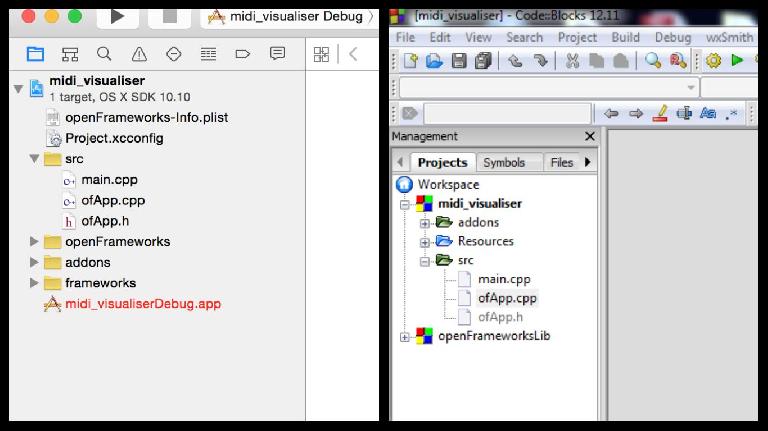 Die Xcode (linkes Bild) und Code :: Blocks (rechtes Bild) Projektnavigator, wo Sie die Quellcode-Dateien zu finden.
Laden Sie die Codes für dieses Projekt von hier.
Den Inhalt ofApp.cpp und ofApp.h in Ihrem IDE mit dem Inhalt der neu heruntergeladenen Dateien zu ersetzen. Um diese Dateien zu Xcode nur einem Klick auf sie aus dem Baum-Ansicht zu öffnen, aber in Code :: Blocks müssen Sie doppelklicken Sie auf sie.
Lehre, wie der Code für dieses Projekt funktioniert, ist ein wenig über den Rahmen dieses Artikels, so dass ich
Step 5—Building and Running the Code
Sie sind fast fertig zu versuchen, die MIDI-Visualisierungsanwendung jedoch vor, dass Sie den Code in ein Stück Software zu bauen. Um dies zu tun Sie wie folgt vor:
In Xcode auf OS X:

Auf der oberen Symbolleiste auf der linken Seite neben der Wiedergabe und Stopp-Icons gibt es ein Dropdown-Menü
In der Menüleiste wählen
In der Menüleiste wählen
Die Visualisierungsanwendung sollte jetzt erschienen sind, und eine Anwendungsdatei sollte in die angelegt worden sein
In Code :: Blocks unter Windows:
In der Menüleiste wählen
In der Menüleiste wählen
Die Visualisierungsanwendung sollte jetzt erschienen sind (mit einem zweiten Dienstprogramm dahinter erscheinen), und eine Anwendungsdatei sollte in die angelegt worden sein
Herzliche Glückwünsche
Step 6—Using the application
Verwenden der MIDI-Visualisierer Anwendung ist einfach. Da die Anweisungen Zustand, wählen Sie einfach den MIDI-Eingang, den Sie mit den Zahlen auf der Computertastatur verwenden möchten, drücken
Laden Sie den Quellcode für dieses Projekt HIER
Conclusion
So dass