Flintpope (aka Nick) continues to raise the game when it comes to his creations for Reaktor 6. His newly released, and FREE, Reaktor instrument is WavCloud. There's a lot going on in this sampler. If you're expecting a tradiational wave file sample player you might be disappointed. If, however, you're after something in the grain-resynthesis realm that majorly affects the sound of the original 127 wave files and gives you the opportunity to mangle, twist and warp the audio into unusal yet useable soundscapes then WAVCLOUD is for you.
Plus, it's free. Sure, you can donate (and we'd recommend you do as Flintpope deserves some recognition for his hard work and prolific output of instruments for the Reaktor community).
Here's some details straight from Flintpope about WAVCLOUD: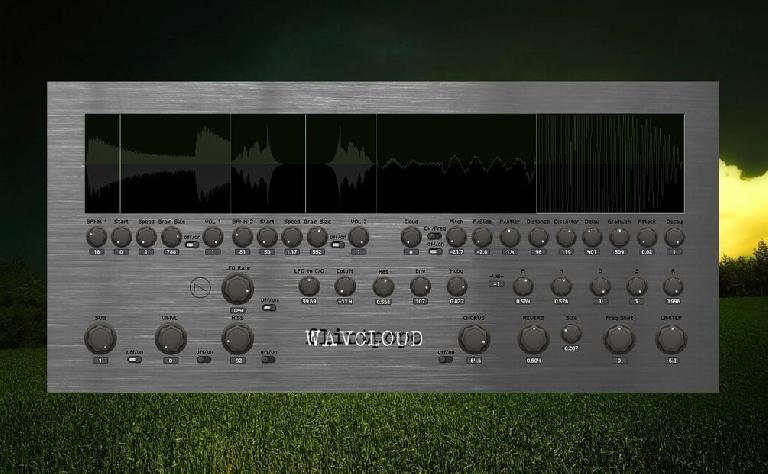 WAVCLOUD is a pair of grain-resynth sample players (between them accessing 127 wavs) that are routed through a cloud delay. Then there is a tempo-synced LFO, a filter and an envelope and a set of master FX: sub-bass (single-note at C60), vinyl crackle, tape-hiss, reverb, chorus, frequency shift and a limiter. That's WAVCLOUD.
It's not a sample player in the conventional sense: it won't produce accurate copies of what's been loaded as the two main sample players use grain re-synthesis to warp the audio source. This is then further affected (if required) by the granular cloud-delay. The keyboard tracking is a little eccentric too.
However, this is no tuneless noisemaker…
WAVCLOUD is a way of creating unusual soundscapes. Listen to the 36 presets and use them as a starting point for further exploration. There is a set of 12 beats produced via the tempo-sync on the LFO, a set of 12 dark soundscapes and a set of 12 glitchy pads.
More detailed instructions are included in the DL regarding general operation and how to replace the on-board banks with your own sounds.
Listen to the demo: