If you've listened to the Hip-Hop station on Pandora with any regularity over the last several months, you've no doubt heard Macklemore & Lewis's '˜Can't Hold Us', featuring Ray Dalton. It's a track that ingeniously blends several styles of music into a very catchy dance piece that really makes you want to move.

Within this track, there is a very cool, very minimal lead sound that blends wonderfully with the piano and driving beats. In this tutorial, I'd like to not only show you how to create this lead. But, I'd also like to familiarize you with a very cool synth from Image-Line, known as Poizone.

Step 1- Initialize and Setup
Few people seem to talk about Poizone, which is strange, considering it's a synth that resides both in FL Studio, but can also reside as a regular AU plug-in on a Mac. However, since Mac users tend to regard anything by Image-Line as '˜PC Only', it would make sense that it's gone unnoticed. [Editor's Note: The Beta of FL Studio for Mac was released before this article was written]. Currently, I have Poizone set up within Ableton Live. But, if you are running Poizone in FL Studio, you can follow along just as easily.

We'll start out by initializing a patch within Poizone, by going to the Options drop-down menu and selecting '˜Initialize Program'. This quickly and easily clears out any default settings and let's us build from a very stripped down, simple patch.

However, when you play this patch, as is, you'll notice how thin, and plain it is. Don't worry, Poizone excels at creating big and bold. Let me show you how...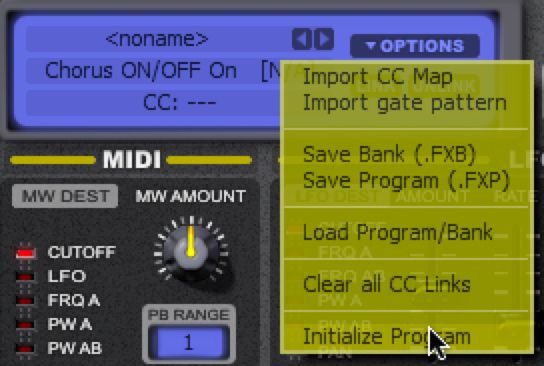 Pic 1
Before we get into '˜thickness', let's take a look at some initial settings that you'll want to use to get some nice ground work going. First, make sure that the MONO button is selected. This button merely limits what's played on the keyboard to single notes. If you try to play more than one key at a time, you'll notice that keys will cut out for the most recent note played. This is a wonderful feature for lead patches, because you can get pretty crazy with your play style, and never have to worry about bad notes bleeding on top of one another.

Pic 2
Next, let's take some of the keys that we would be using for a polyphonic patch, and use them to double up on the lead that we're creating. We'll set up Unison with a setting of four. This basically means that Poizone is now doubling itself four times over, giving the impression of a bigger synth sound. Well, it will after we supply it with those additional keys. These we'll pull from the Poly, or Polyphony drop-down menu. Let's supply it with a value of 4 as well.

Pic 3
Now, if you take a listen, it really just sounds like it's gone from a Gameboy patch to a Super Nintendo patch. Not much improvement! But, if we begin to raise the Unison Detune, an interesting thing happens. Poizone starts to take all of those keys that are being played on top of each other with one key press and starts to take each one slightly out of tune. This, in turn, gives us a much thicker and bigger patch! Go ahead and turn it up to about 1 o'clock.

Pic 4
Optional: You can also use the Unison Pan to spread out this patch over the stereo field. The more you increase this value, the bigger the patch seems to be within the mix, as it's being halved in smaller or greater amounts between the left and right channel. This is great if there isn't much else in your mix, in terms of instrumentation. But, if there are already a few other instruments, you may want to keep this setting minimal.
Now, if you listen to '˜Can't Hold Us' enough, it almost seems like the lead sound is being played at two octaves at once. As there is a higher, and lower note going on within the original patch. On most synths, to get this effect, you'd transpose one octave up on one oscillator, and then leave another oscillator at the default octave. Poizone elegantly bypasses the need to make so many setting adjustments. Simply press the OCT button. Poizone will split some of the doubled tones into one octave up for you. Take a listen...

Pic 5
Step 2- Polish
Obviously, the patch still sounds a little too video game-ish to pass for the patch on the original song. So, we need to up the ante a bit. Because of the blatant detuning, we'll want an effect to smooth out the tones and make them glide a bit, like what's in the song. Poizone provides a quick and easy way of doing this through its built-in Chorus. First, you'll want to enable it, by pressing the ON button. Then, let's just raise the Wet knob within the Chorus section of Poizone to about 1 o'clock, as well.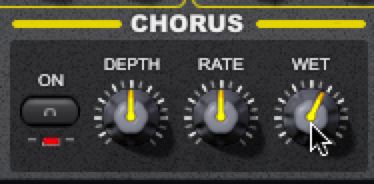 Pic 6
If you take a listen now, you'll notice it's a little more smooth, and not as harsh as before.
Finally, I would recommend setting the filter to HP, or high-pass mode. When in high-pass mode, the filter cutoff works to cut the lower frequencies, allowing higher frequencies to pass through. While in high-pass mode, go ahead and lower the filter cutoff to 2 o'clock, or a setting of 62, which can be seen in the blue screen in the upper left hand corner of Poizone.

Pic 7
By removing some of those lower frequencies, you have made it much easier for this patch to peacefully, and sonically coexist with the piano that's in the track. You could use an EQ for this. But, why waste the processing power? Use the filter instead!
Now, let's take a listen...

Not bad! With some quick and easy settings from this awesome synth, known as Poizone, you can quickly get that thick, bouncy synth sound with minimal effort. I would also encourage you to play with the Arp and Trance Gate that are built into Poizone. These features make it simple to create and recreate some very complex parts used in Hip-Hop, EDM, and more.