Making your own bass sounds is a great way to make your tracks sound original. It's easier than you think to design your own sounds using Native Instruments' Massive. With the help of a few tutorials and a little programming knowledge, you'll be able to achieve great results. This is a heavy hitting electro bassline that can be used in EDM productions. It's fairly straightforward to create (even for those who are new to Massive) and all of the parameters can be adjusted according to your sonic preferences. Follow the steps below and soon you'll have a new electro bass that can be used to create your next banger!
Here's what the bass will sound like when you're finished:
Step 1 - Load Massive
Begin by opening up your DAW, create a MIDI track, and load Massive onto the track.
To reset Massive's controls, press file, then click New Sound.
Step 2 - Oscillators
Begin creating the sound in the Oscillator 1 (OSC 1) section. In OSC 1, select Duckorgan (in the Digital/Hybrid), pitch down the OSC 1 by one octave (-12.00) and turn the wavetable position (the control marked Wt-position) down to just past 11 o'clock. Change from Spectrum to Bend -/+ mode.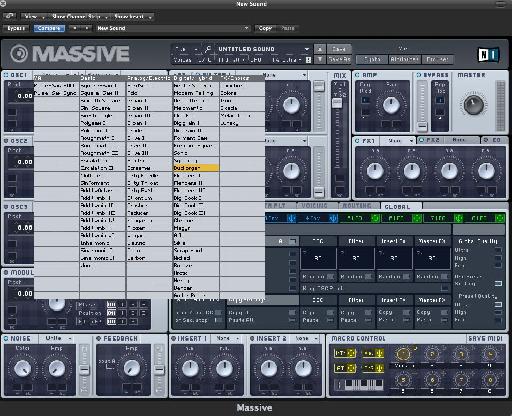 OSC 1 should look like this when you are finished: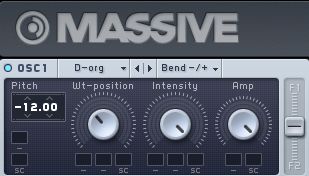 Turn on Oscillator 2 (OSC 2) by clicking on it, select the Sine-Square (Sin-Squ) waveform and drop down the pitch down two octaves (-24.00). Turn the amp down to just above 11 o'clock.

At this point, you should have a sound like this:
Step 3 - Inserts
Next, navigate to Insert One and switch it on by clicking on it, and select 'Hard Clipper'. Turn up both the Dry/Wet and the Drive to just above two o'clock.
Switch on Insert Two and select Sine Shaper. Turn up the Dry/Wet to just past two o'clock and turn up the Drive past four o'clock.
Inserts One and Two should look like this when you are done: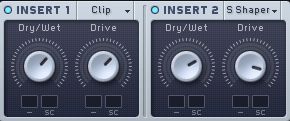 Here's an example of what your bass should sound like now:
Step 4 - Apply FX and EQ
On FX 1, click on the effect 'Classic Tube' to select it, and push the Dry/Wet and the Drive to just before two o'clock.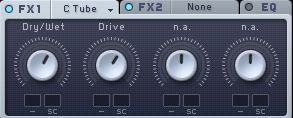 On FX 2, select the 'Dimension Expander' and drag down the Dry/Wet and Size to just above eleven o'clock.
Next, click on the EQ tab to shape your sound with EQ. Click on the button to the left of the EQ to turn it on. Turn the Low Shelf, Boost and Frequency up just past one o'clock. Take the high shelf down to just below eleven o'clock.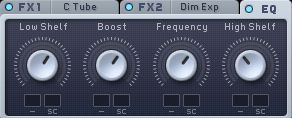 Step 5 - Low Pass Filter
In the Filter One section, select 'Lowpass 4' as the filter you would like to use. Turn the Cutoff all the way up and the Resonance all the way down. You can modify these parameters as you wish and even automate them when you use these sounds in your productions.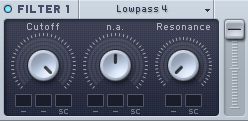 Step 6 - Restart via Gate
Next click on the OSC tab and click on Restart via Gate.

Here's what your bass should sound like now:
Step 7 - Routing
Click on the Routing Tab to enter into the Routing section. Directly to the right of Filter One, you'll see Ins 1 and Ins 2. Click on Ins 2 to change the sound (or if you prefer, keep Ins 2 selected). Under the FX 1 section on the right hand side, select the up arrow.

Test out your sound and customize any of the parameters to suit your own tastes. You should now have a big electro bass sound that can be used to create exciting dance tracks.
Here's an example of the final electro bass sound:
Now go make some music!