There's an excellent range of drum synths and drum instrument plug-ins out there, not just for electronica, but for acoustic and 'guitar-based' rock and pop. This makes it quite possible to program your own drum patterns with most of the frills, intricacies and nuances that a real drummer brings to the table. And while that's great when you're sketching out an arrangement in the studio, when playing live or recording your final song, it's more than likely you'll want to have a real, human 'stick twirling' drummer to rely on.

I've yet to find a drum plug-in that can twirl sticks mid-performance. Your drummer can twirl sticks, right?

It's becoming more common for a drummer in to record the final drum parts in their own studio remotely. In this case you'll end up sending them your song by snail mail or over the net. And there's one request they're certain to put in... a click-track to play along to. This is not only useful if they're using a different DAW to you, but is essential if your song contains tempo changes.

In this article we'll take a look at a surprisingly quick and easy way to create a drummer friendly click-track in Logic Pro a couple of simple steps...

Step 1 - Start with a project
I'm using a project where the tempo starts at 89.9921 (that most common and popular of tempos) and ends up at 98 bpm.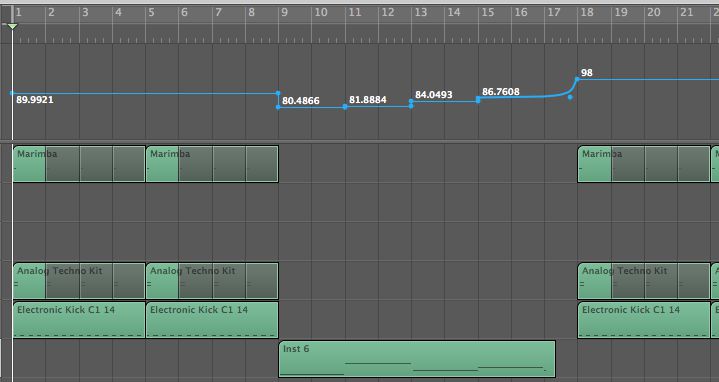 Step 2 - Click Track On
Turn on the Logic's Click in the Transport Bar or via key command if you've committed it to memory.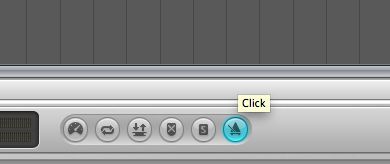 Step 3 - Bounce Options
In this case I wish to bounce the click track as a separate audio file (mixed in to the entire song). Either mute all the tracks in the Arrange area by click-swiping the track mute switches or mute all regions.
Choose File > Bounce... and ensure the start and end ranges are set appropriately. You can choose the offline or realtime mode. Offline should be quicker and, if you've muted all tracks/regions correctly, there should be nothing but the click track to listen to in realtime bounce mode!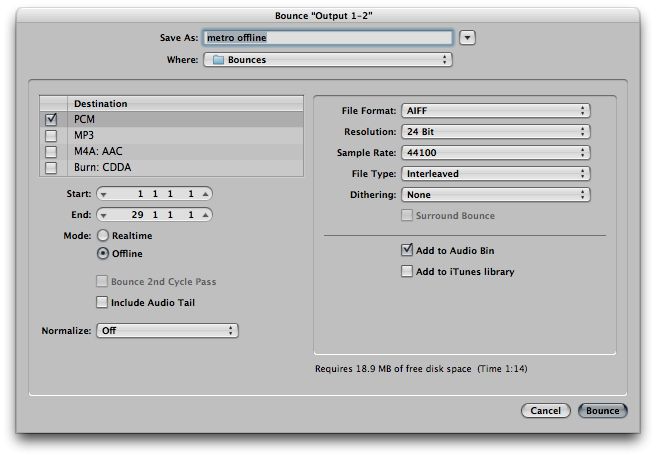 Hit the Bounce button once you're ready.
Step 4 - Check the Bounce
It's always a good idea to check the file before you send it to someone. I almost always choose 'Add to Audio Bin' when I bounce anything in Logic which makes finding your bounces easy without having to resort to Logic's Browser or switching to the Finder.
Open the Bin (B on your keyboard) and you should see the click track file you bounced there. Drag it into an empty space in the Arrange area and line it up with the start of the project, or wherever you chose to bounce from.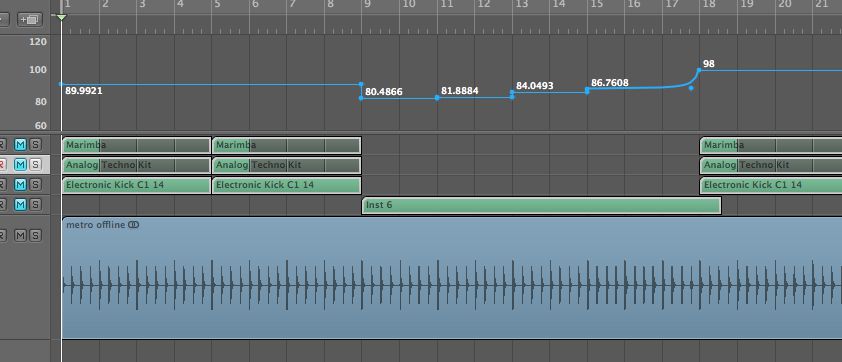 You should be able to see from the waveform if any other sounds have been mistakenly bounced to the click track file without listening back to it.
And that's all there is to it. You now have a click track as an audio file to send to a drummer.