Could This Incredible Triple Screen Laptop Be Your Mobile & Studio Production Computer?
What could be better suited to music production than a blazing fast 17.3 inch 4K laptop? Answer: A laptop with three 4K displays and 32 GB ram.
A few years ago words like "creative" and "innovation" were synonymous with Apple Macs. Somewhere during the iPod, iPhone and iPad revolutions, Apple began to put more focus on the consumer market and we saw the useful 17" Macbook Pro discontinued a while back. Most recently the Curpertino company have removed all the current industry standard ports compatible with all audio interfaces, controllers, etc. with the 2016 MacBook Pro. Dongles required. OK. Rant over.
Anyway, Windows laptop makers have not been idle. They've been pushing boundaries in the meantime. And the Razer Project Valerie is testament to this.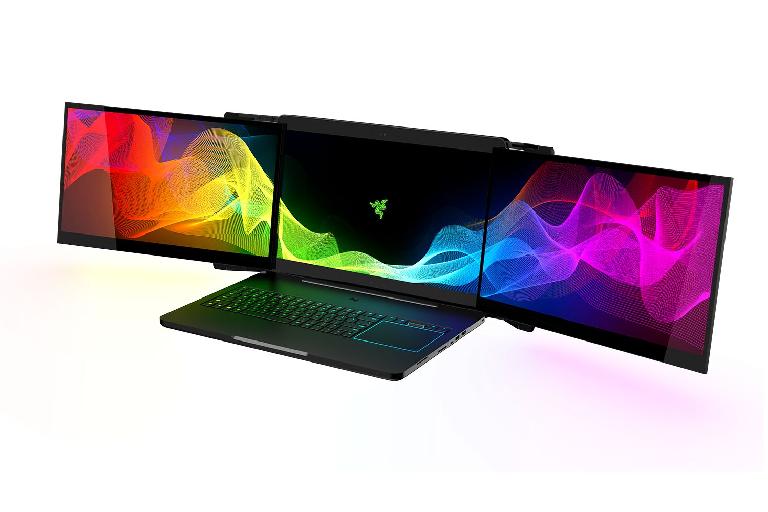 Razer are well known for making high spec, screaming fast windows laptops for gamers... which are also highly suitable for video and audio production too.
Project Valerie, introduced a few days back at CES 2017, is the world's first triple display laptop. Yes, that's 3 screens! Each of the 17.3 inch screens is 4K and there's an automated system that avoids any manual fiddling around to set it up. The NVIDIA graphics card comes packed with a whopping 8 GB of video RAM, and the machine itself sports 32 GB RAM (double that of the latest MacBook Pro).
Now while Project Valerie is perfectly suited to immersive gaming, imagine the potential for recording, arranging or mixing in your favorite DAW or music production software. Screen real estate is often an issue. Not here. Now you could be running Ableton Live 9 on one (or two screens) and Cubase, Bitwig, FL Studio, Reason, Studio One, or Maschine on other screens. Or one DAW across all three displays.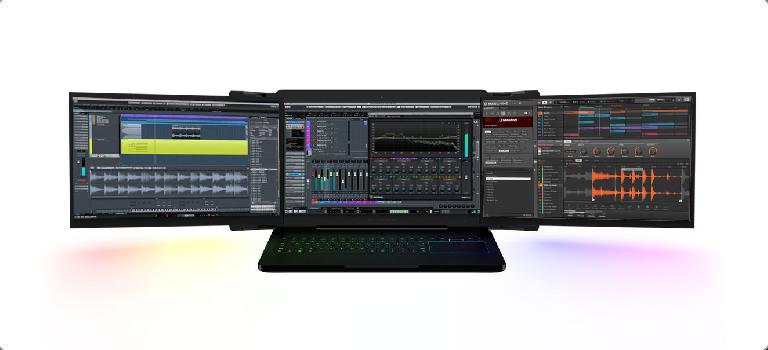 Of course, Logic users (like myself) won't have much luck running their preferred DAW on a laptop with three screens anytime soon. :-/
Could this laptop be the hub of your studio and replace the need for a desktop when arranging or mixing large projects? Would this mean you'll never see to buy a second (or third) monitor again? Or will you become the most annoying person to sit next to in your local coffee shop?
And for laptop DJs...? Well, now you can really hide between your screens when playing live with added privacy too. ;-)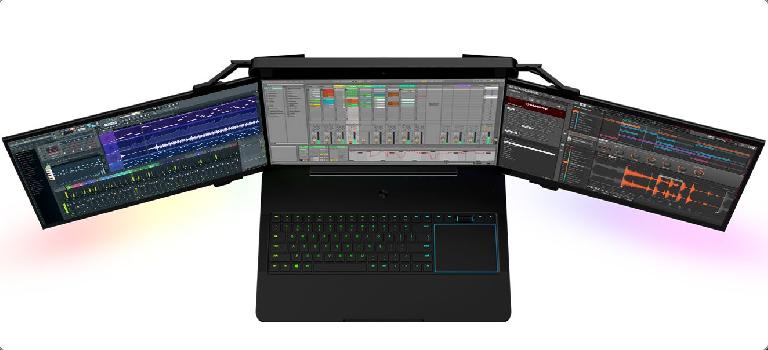 We're still waiting on official pricing info, though considering prices for the popular Razer Blade start at over $3,500 we'd expect Project Valerie to be in excess of the $7,000 mark.