If you were wise enough to opt for the larger 'Studio' bundle when you purchased Logic you will probably already know that the package includes several applications. One of these extra apps is Soundtrack Pro.
Soundtrack Pro is primarily a multi-track audio tool for syncing sound to picture but it can also be used as the perfect standalone, stereo audio editor. So lets take a look at how we set up and use the application in this role.
Step 1 - Initial Set Up
The first thing you'll need to do is configure Soundtrack to perform as a traditional stereo audio editor. On opening the application for the first time you'll notice that the main work area is made up of several smaller 'panes'. This is a typical default multi-track session.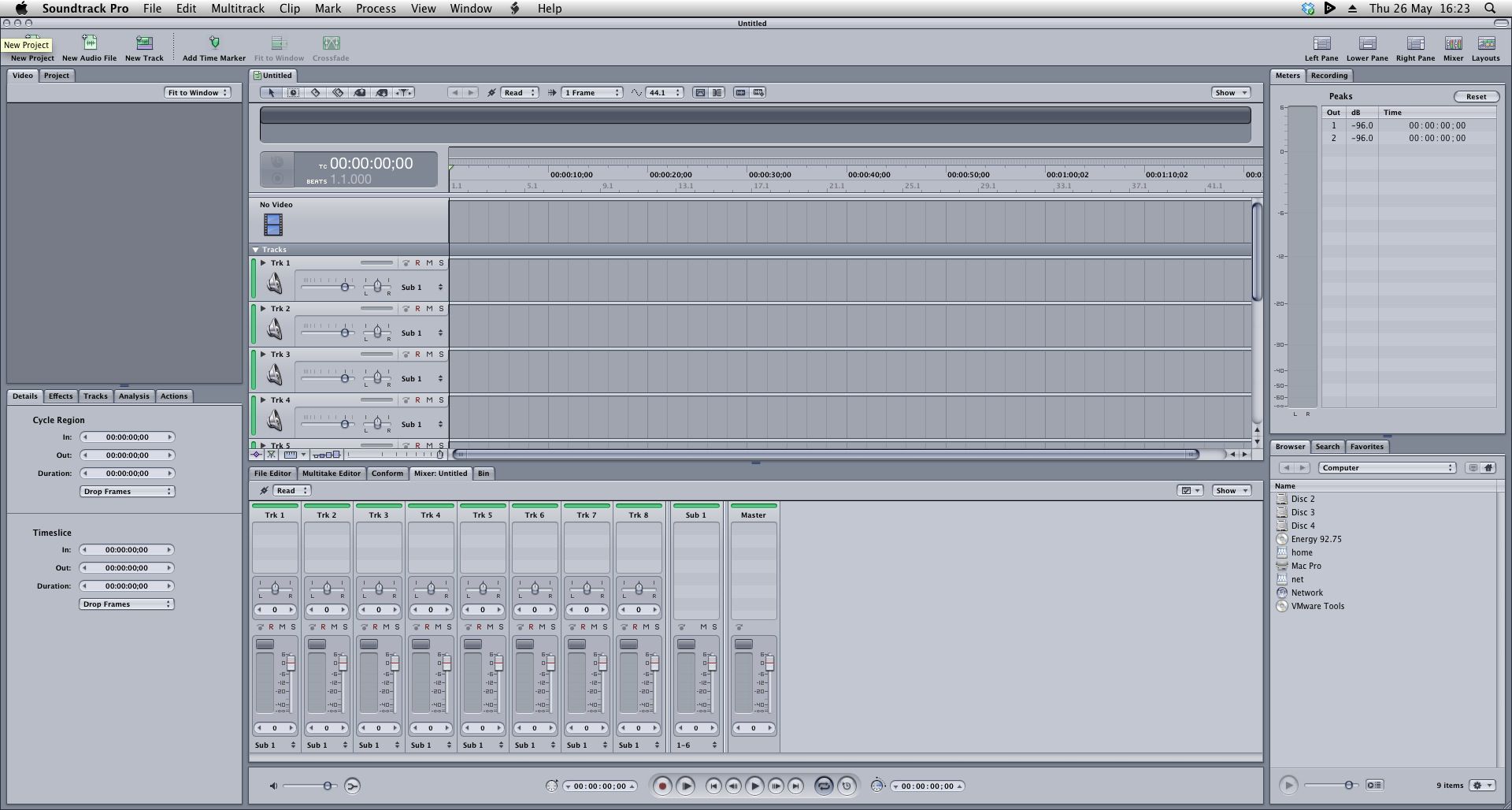 The default multi-track session that Soundtrack Pro loads
In our multi-track session these panes have very specific purposes and can come in handy even when we are editing a simple stereo sound. Saying that, for the purposes of editing and to give us the best possible overview of our sound, it's best to use a custom set up here.
To get things into shape simply create a new project and select the 'Audio file' option when doing so. This will automatically create a project tailored to editing a single audio file and give you a really great overview of your audio data.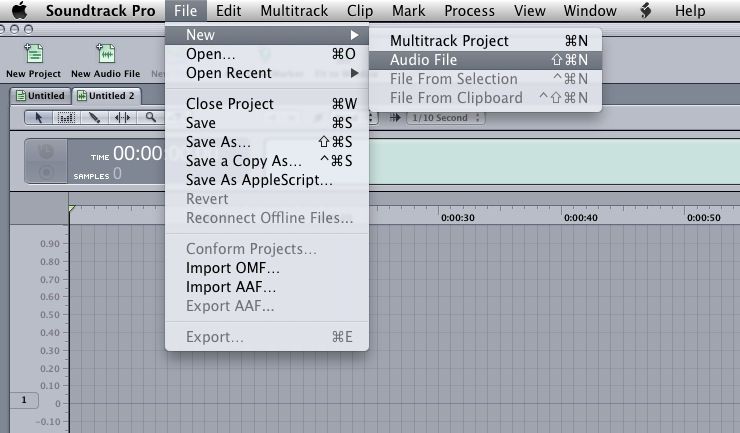 Loading a new 'Audio File' editing project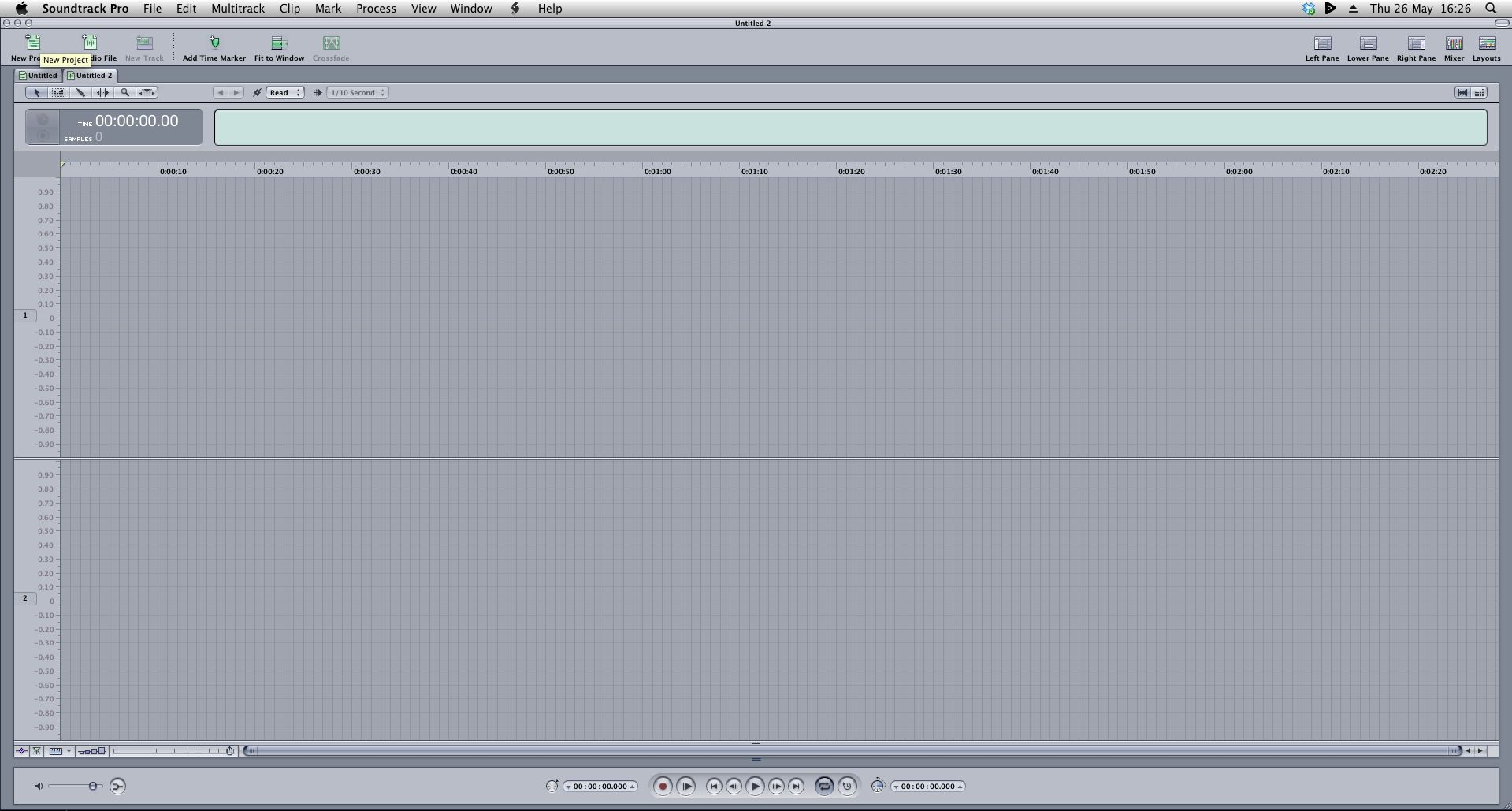 The new more spacious project
Of course you can use the icons in the toolbar in the top right of STP's interface to re-introduce any of the panes that you wish to use. I often like to have the have the left and right panes activated. Their uses will become clear in the next few steps.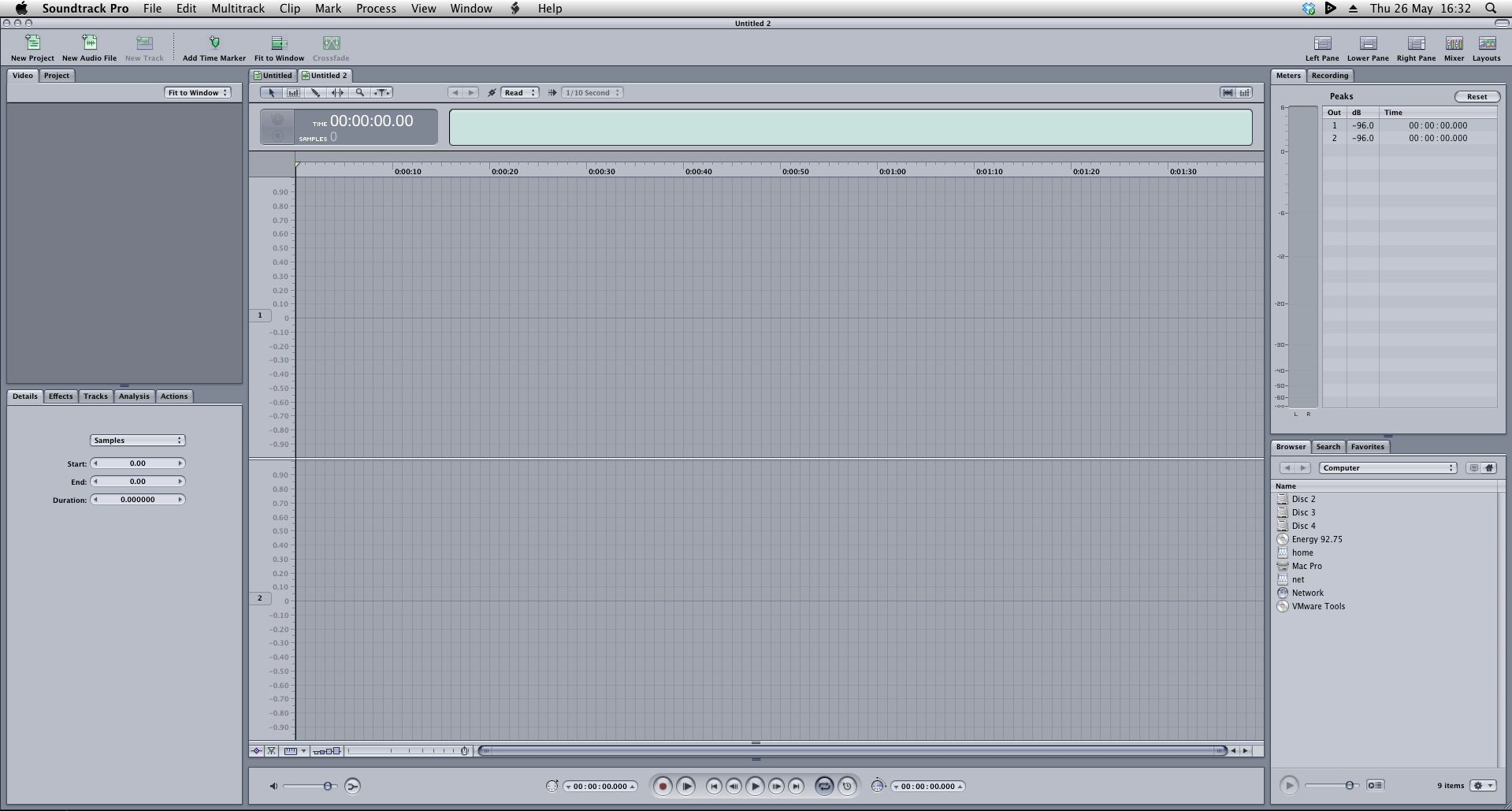 The side panels should come in useful
Step 2 - Opening Some Audio
Getting your aid files into Soundtrack is a really transparent process and realistically you have a couple of options here. You can use the standard File > Open command and navigate to your chosen file but this method lacks a little finesse and does not allow you to audition your audio.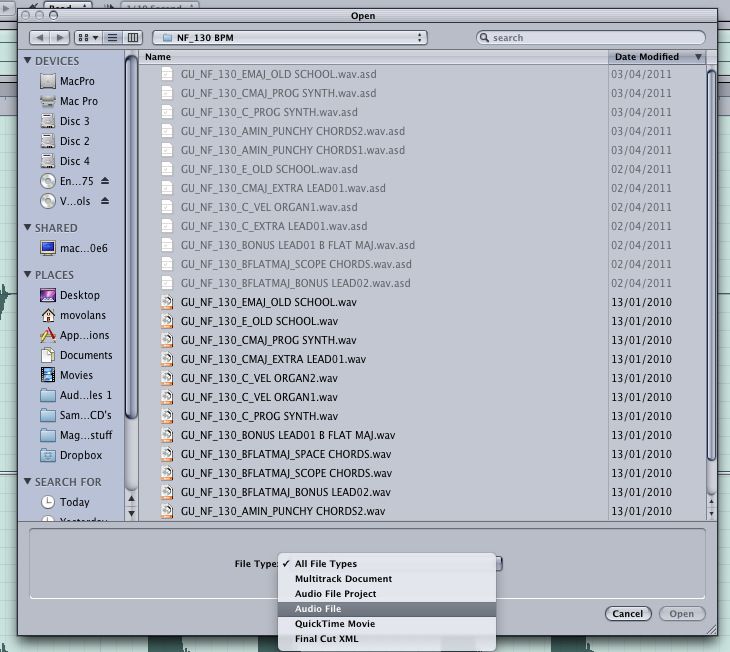 The basic way of importing audio
A more elegant solution is to use the dedicated file browser that's located in the lower section of the right hand pane. In this area you can view all sections of your hard drive and easily locate audio files. Once found any file can be auditioned using the mini transport / volume controls.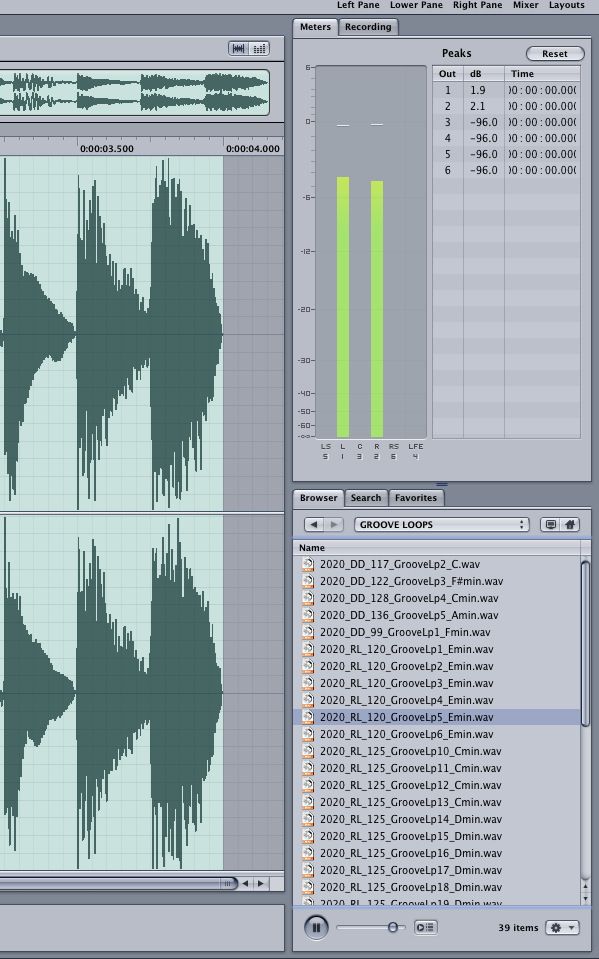 The browser offers a much more elegant way of importing your audio
You can even search for specific files using the search tab and add favorite files for later use in the favorites area. Once your have targeted a file for editing simple double click it and it'll be opened in its own area in the main waveform display area.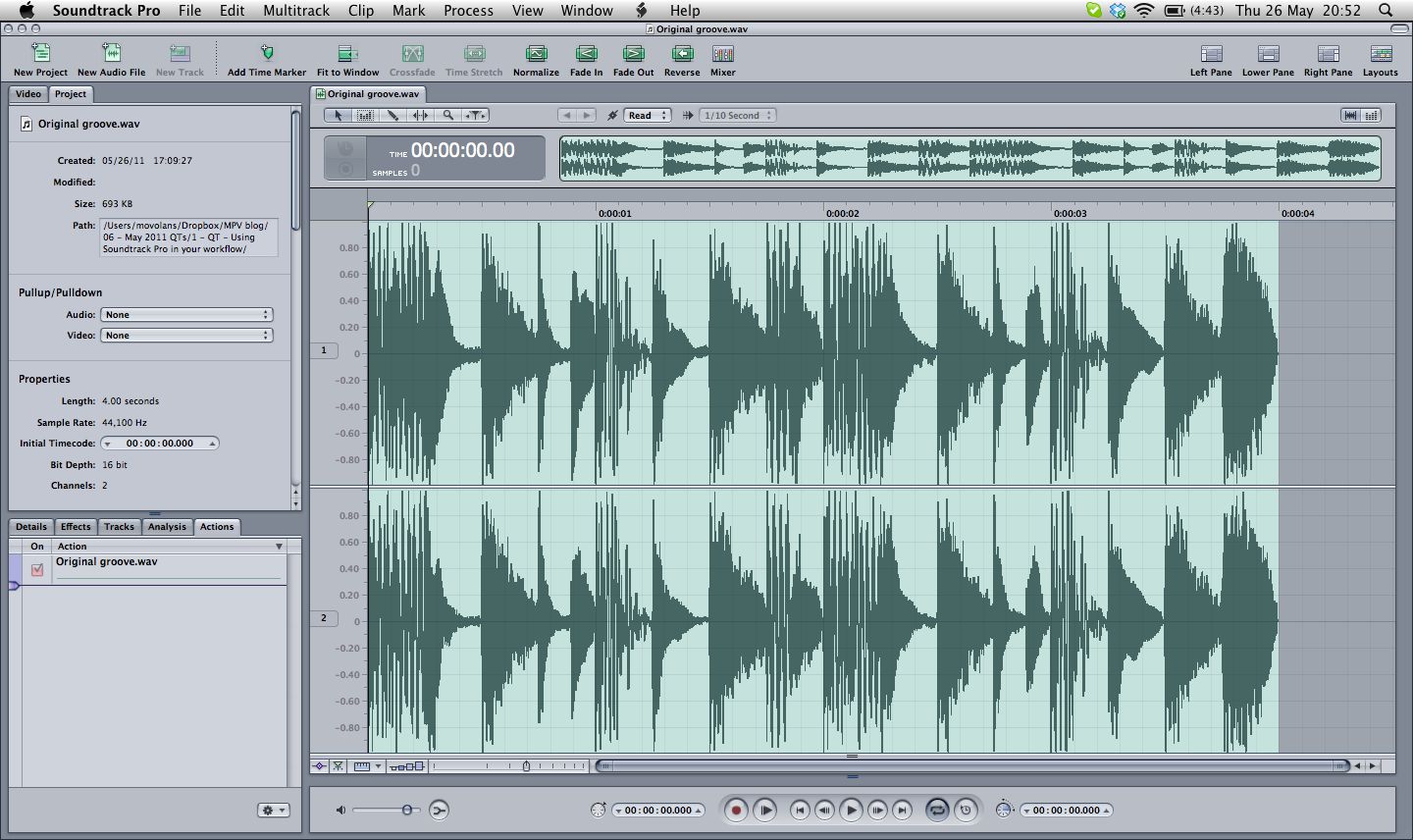 The loop is now in place ready for editing
Step 3 - Performing Some Basic Edits
With our audio loaded the editing can begin. To demonstrate the basics I'll perform a few simple processes. In later tutorials we'll concentrate on more advanced techniques using third party plug-ins etc.
I decided to reverse the whole file and apply both a fade in and fade out. All processing functions can be accessed via the 'Process' menu. The descriptions are pretty self explanatory and it's well worth experimenting with the different options here to get your bearings.
The untreated file that was used: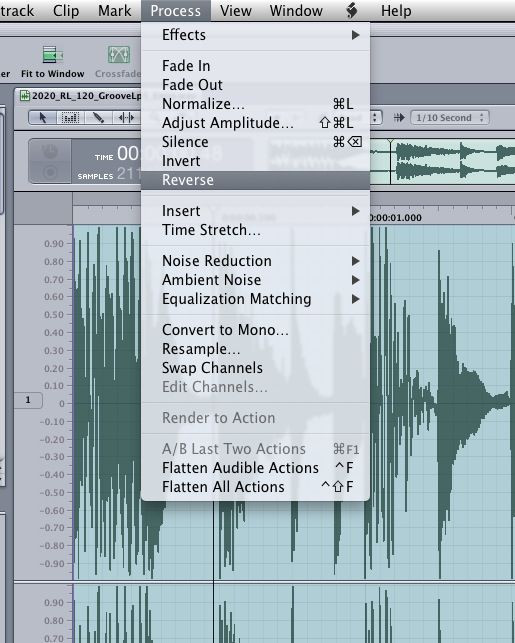 Amongst the processing options is the reverse feature used here
... And the audio is reversed:
Once you have applied any processes to your files you will be able to hear the result immediately but unlike many other audio editors Soundtrack uses layer based edits. In the lower left panel you can see the edits that have been performed and these can be ticked and unpicked to change the results in a totally non destructive manner.
One thing to note is that when you come to export your file these actions will need to be flattened. This process is achieved by using the small drop down menu in the layers area. You can easily transform your work into one consolidated file.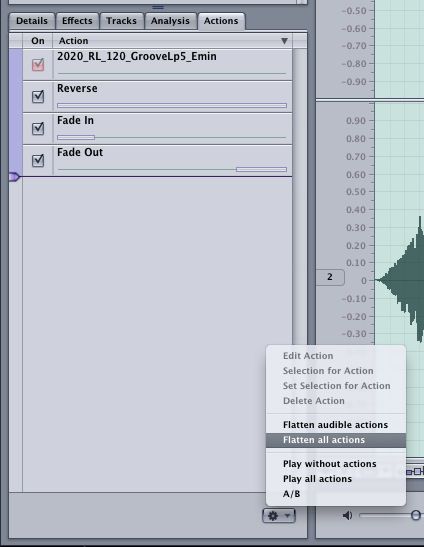 The processing is flattened
The processing is now applied to our audio:
Step 4 - Saving and Exporting the Results
With your file processed and flattened you can now save your work for use in other applications. Using the standard 'Save as..' function in the file menu you will be presented with a few choices.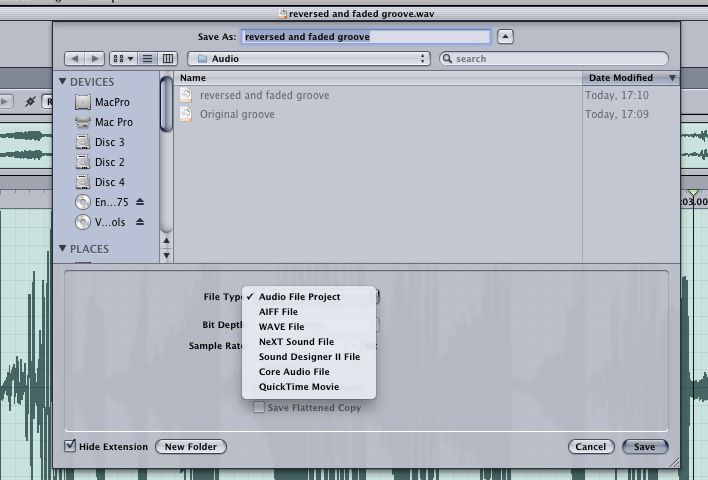 The export and save options
You can either save your work as an audio file project to be opened again in Soundtrack or as an audio file. Of course you have a few format options and you can set bit depth and sample rate here. If your file needs to be moved to a lower bit depth there is also a dithering option here.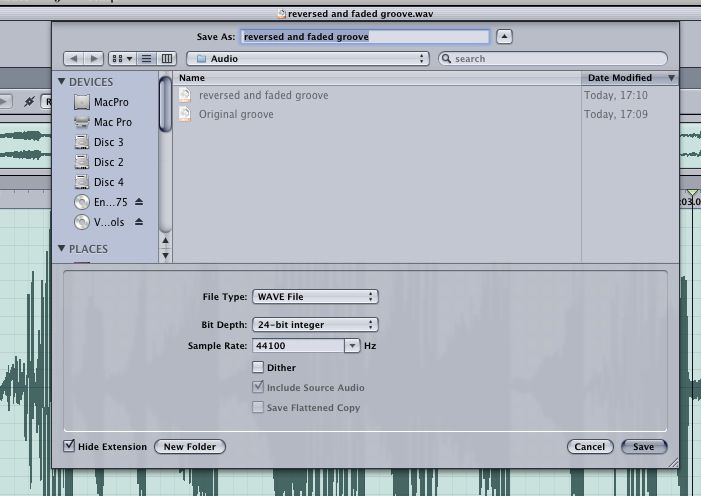 Specific audio export options are also available
This should give you the basics if you are new to Soundtrack Pro and if you are a more experienced user I'll be hitting more advanced subjects and techniques in later tutorials.
You can also check out other articles related to SoundTrack Pro:
How-To: Remove Background Noise in Soundtrack Pro

Round-tripping Audio between Final Cut Pro and SoundTrack Pro