09 de abril de 2014
Líquido Rhythm Push:
Aproveitando-se de 'Modo de Usuário' Ableton Pushs, a equipe WaveDNA programado um script MIDI totalmente funcional que controla Líquido Rhythm diretamente do impulso sem ter que tocar no mouse. Usuários mudar para o modo de usuário Pushs programar batidas em líquido Ritmo, e voltar para o script de envio regular para assumir o controle total do Ableton Live.
Características:

Criar a base de idéias musicais através da inserção de padrões de longa-bar com o premir de um botão.

Experiência com padrões rítmicos complexos de programação e troca de grupos de notas com códigos de cores com almofadas Pushs RGB.

Ciclo grupos inteiros de notas através de cada passo do sequenciador por confortavelmente virar maçanetas Pushs.

Navegue rapidamente líquido arranjo ritmos usando os botões e puxadores.

Aumentar o fluxo de trabalho, alternando entre batidas de programação em líquido Rhythm e compondo em Ableton Live tocando no botão do usuário.

Desenhe no BeatForms e padrões de seqüência passo diretamente do Pushs 64 pads de bateria.

Ajuste do balanço e da velocidade com Pushs 8 botões.

Parâmetros Acesso Líquido Ritmos e controles em avançar com o display multi-menu.

Assista a este vídeo para ver uma performance ao vivo de engraxar os DJ usando líquido Rhythm com Push do Ableton e Live:
Líquido Rhythm v1.3.4 também inclui a nova funcionalidade Selector Clip, ele é projetado para melhorar o fluxo de trabalho para o Max Para clipes de líquidos ao vivo plug-in para o Ableton Live 9.
Clipe Selector:
O Seletor clipe mostra uma lista de clips recentemente editados do Ableton Live in Rhythm líquido, eliminando a necessidade de mudar constantemente janelas ao alternar entre os clipes. Isso ajuda os usuários manter o foco em batidas compõem.
Características:

Ao editar vários clipes Ableton Live, saltar entre eles diretamente no líquido Rhythm.

Salve clipes editados com freqüência para acesso imediato.

Multi-tarefa livremente pelo bloqueio líquido Ritmo de um clipe e editar uma diferente Live. Por exemplo, um usuário pode editar um rack de tambor com líquido ritmo, ao mesmo tempo a construção de ranhuras no bassline.

Note: Clip Selector is a feature specifically for Liquid Rhythm when used with Max For Live in Ableton Live 9. By default, Clip Selector locks to clips on Drum Rack Tracks.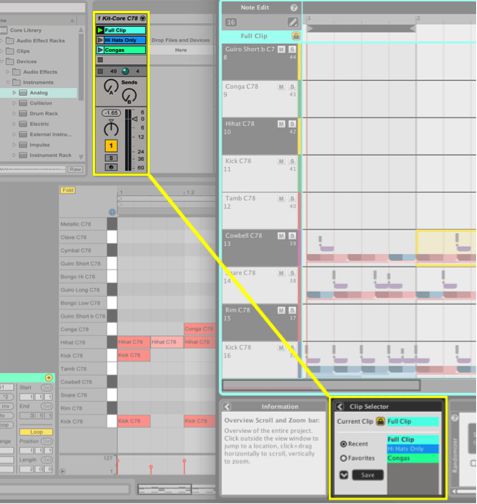 Selector clipe traduz todas as informações clipe do Ableton Live 9 em líquido Rhythm.
Baixe o julgamento de líquido Rhythm aqui .
Baixe a atualização (usuários registrados) aqui .