9 aprile 2014
Liquid Ritmo push:
Approfittando di 'User Mode' Ableton pushs, la squadra WaveDNA programmato uno script MIDI completamente funzionale che controlla Liquid Ritmo direttamente dal push, senza dover mai toccare il mouse. Gli utenti commuta in modalità utente pushs programmare battute a liquido ritmo, e tornare alla sceneggiatura spinta regolare per prendere il pieno controllo di Ableton Live.
Caratteristiche:

Creare la fondazione di idee musicali inserendo schemi bar lungo la semplice pressione di un tasto.

Esperimento con pattern ritmici complessi per la programmazione e lo scambio di gruppi di note colorati con pastiglie pushs RGB.

Ciclo di interi grappoli di note in ogni fase della catena girando comodamente manopole pushs.

Spostarsi rapidamente Liquid Rhythms disposizione mediante i pulsanti e le manopole.

Aumentare il flusso di lavoro passando tra battiti di programmazione in Liquid Ritmo e comporre in Ableton Live toccando il pulsante utente.

Disegnare in BeatForms e modelli di sequenza passo direttamente da pushs 64 drum pad.

Regolare swing e la velocità con pushs 8 manopole.

Parametri di accesso Liquid ritmi e controlli sulla spinta tramite il display multi-menù.

Guarda questo video per vedere una performance live di DJ lustrascarpe usare Liquid ritmo con Push di Ableton e Live:
Liquid Ritmo v1.3.4 include anche il nuovo selettore di funzione clip, è stato progettato per migliorare il flusso di lavoro per la Max per Live Clip liquido plug-in per Ableton Live 9.
Clip Selector:
Il selettore della clip viene visualizzato un elenco di clip recentemente modificati dal Ableton Live in Liquid ritmo, eliminando la necessità di cambiare continuamente le finestre quando si passa tra le clip. Questo aiuta gli utenti a rimanere concentrati sui battiti compongono.
Caratteristiche:

Quando si modificano più Ableton Live Clip, passare tra di loro direttamente all'interno Liquid ritmo.

Salva clip frequentemente modificati per un accesso immediato.

Multi-task liberamente bloccando Liquid ritmo di una clip e la modifica di uno diverso in Live. Ad esempio, un utente può modificare un rack tamburo con Liquid ritmo contemporaneamente costruire scanalature nel Bassline.

Note: Clip Selector is a feature specifically for Liquid Rhythm when used with Max For Live in Ableton Live 9. By default, Clip Selector locks to clips on Drum Rack Tracks.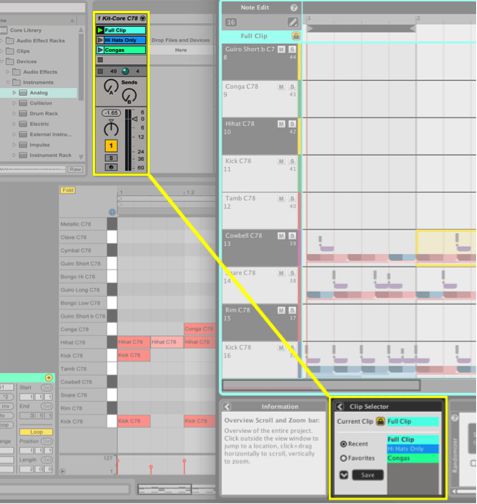 Selettore clip traduce tutte le informazioni clip dal Ableton Live 9 in Liquid ritmo.
Scarica il trial Liquid Ritmo qui .
Download dell'aggiornamento (utenti registrati) qui .