9 avril 2014
Liquide Rhythm Poussez:
Profitant d'Ableton Pushs de la mode de l'utilisateur », l'équipe WaveDNA programmé un script MIDI entièrement fonctionnel qui contrôle liquide Rhythm directement à partir de poussée sans jamais avoir à toucher à la souris. Les utilisateurs passent en mode utilisateur Pushs à programmer des beats en liquide Rhythm, et passer au script Push régulière pour prendre le plein contrôle de Ableton Live.
Caractéristiques:

Créer la base d'idées musicales en insérant des modèles de barres longtemps à la pression d'un bouton.

Expérience avec des motifs rythmiques complexes par la programmation et la permutation des groupes de notes code couleur avec des tampons Pushs RGB.

Tout le cycle des groupes de notes à chaque étape du séquenceur en tournant confortablement boutons Pushs.

Naviguer rapidement liquide Rythmes arrangement en utilisant les touches et les boutons.

Augmenter le flux de travail en passant entre les battements de programmation en liquide rythme et la composition dans Ableton Live en appuyant sur le bouton de l'utilisateur.

Dessiner dans BeatForms et des modèles de séquence de pas directement de Pushs 64 pads de batterie.

Réglez swing et vitesse avec Pushs 8 boutons.

Paramètres et les contrôles d'accès Liquide Rhythms sur poussoir grâce à l'affichage multi-menus.

Regardez cette vidéo pour voir une performance live de service de DJ utilisant liquide Rhythm avec le Push et Live d'Ableton:
Liquide Rhythm v1.3.4 comprend également la nouvelle fonction Sélecteur de Clip, il est conçu pour améliorer le flux de travail pour le Max for Live liquides Clips plug-in pour Ableton Live 9.
Clip sélecteur:
Le sélecteur de séquence affiche une liste de clips récemment modifiés de Ableton Live en liquide Rhythm, éliminant le besoin de changer constamment les fenêtres lors de la commutation entre les clips. Cela permet aux utilisateurs de rester focalisé sur les battements composent.
Caractéristiques:

Lors de l'édition de plusieurs clips d'Ableton Live, sauter entre eux directement dans liquide Rhythm.

Enregistrer des clips souvent édités pour un accès immédiat.

Multi-tâche librement par verrouillage liquide Rhythm à un clip et l'édition d'un autre dans Live. Par exemple, un utilisateur peut modifier un rack de batterie avec Liquid rythme tout en construisant des rainures dans la ligne de basse.

Note: Clip Selector is a feature specifically for Liquid Rhythm when used with Max For Live in Ableton Live 9. By default, Clip Selector locks to clips on Drum Rack Tracks.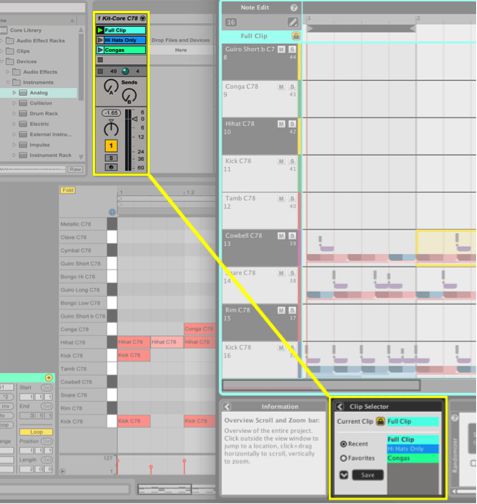 Sélecteur Clip traduit toutes ces informations de clip de Ableton Live 9 en liquide Rhythm.
Télécharger le procès liquide Rhythm ici .
Télécharger la mise à jour (utilisateurs enregistrés) ici .