09 de abril 2014
Liquid Ritmo Empuje:
Aprovechando Ableton pushs "Modo usuario", el equipo WaveDNA programar una secuencia de comandos MIDI totalmente funcional que controla Liquid Ritmo directamente de empuje sin tener que tocar el ratón. Los usuarios cambian en pushs Modo usuario programar beats en Liquid Ritmo, y cambiar de nuevo a la escritura regular Pulsar para tomar el control total de Ableton Live.
Características:

Crear la base de las ideas musicales mediante la inserción de los patrones de barras de largo con sólo pulsar un botón.

Experimentar con patrones rítmicos complejos de programación y el intercambio de grupos de notas codificadas por color con los cojines pushs RGB.

Todo el ciclo de los racimos de notas a través de cada paso del secuenciador por confortablemente girando las perillas pushs.

Navegue rápidamente Liquid disposición Ritmos con botones y perillas.

Aumentar el flujo de trabajo al cambiar entre los latidos de programación en Liquid Ritmo y componer en Ableton Live pulsando el botón de usuario.

Dibuje en BeatForms y patrones de secuencia paso directamente desde pushs 64 pads de percusión.

Ajuste media vuelta y la velocidad con pushs 8 perillas.

Parámetros y controles de acceso Liquid Ritmos de empujar a través de la pantalla multi-menú.

Vea este vídeo para ver una actuación en directo de DJ Shine utilizando Liquid Ritmo con Push de Ableton y Live:
Liquid Ritmo v1.3.4 también incluye el nuevo selector de función del clip, que está diseñado para mejorar el flujo de trabajo para el Max For Live Clips líquidos plug-in para Ableton Live 9.
Clip Selector:
El Selector de clip muestra una lista de clips editados recientemente de Ableton Live in Liquid Ritmo, eliminando la necesidad de cambiar constantemente las ventanas cuando se cambia entre los clips. Esto ayuda a los usuarios a mantenerse enfocado en los tiempos que componen.
Características:

Cuando se editan varios Ableton Live Clips, saltar entre ellos directamente en Liquid Ritmo.

Ahorra clips editados con frecuencia para un acceso inmediato.

Multi-tarea libremente bloqueando Liquid ritmo a un clip y la edición de una diferente en vivo. Por ejemplo, un usuario puede editar un bastidor de la batería con líquido Ritmo mismo tiempo la construcción ranuras en la línea de bajo.

Note: Clip Selector is a feature specifically for Liquid Rhythm when used with Max For Live in Ableton Live 9. By default, Clip Selector locks to clips on Drum Rack Tracks.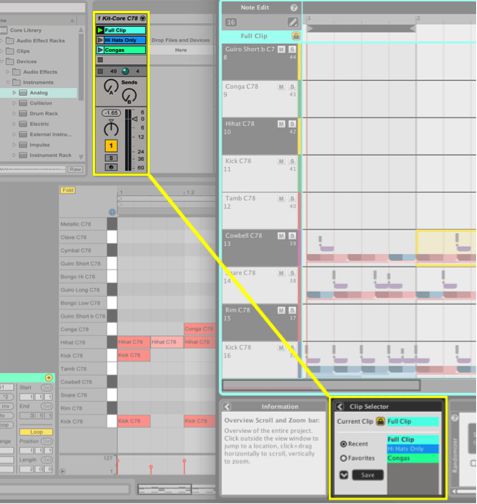 Selector de clip traduce toda la información del clip de Ableton Live 9 en Liquid Ritmo.
Descargue la prueba Liquid Ritmo aquí .
Descargar la actualización (usuarios registrados) aquí .