9. April 2014
Flüssige Rhythm schieben:
Unter Ausnutzung der Ableton pushs "User Mode", programmiert die WaveDNA Team eine voll funktionsfähige MIDI-Skript, das Flüssig-Rhythmus steuert direkt von Push-ohne jemals mit der Maus berühren. Benutzer wechseln in pushs Benutzermodus, um Beats in Liquid Rhythmus zu programmieren, und wechseln Sie wieder in den regulären Push-Skript, um die volle Kontrolle über Ableton Live zu nehmen.
Features:

Erstellen Sie das Fundament der musikalischen Ideen, indem Sie bar-Muster an der langen Knopfdruck.

Experiment mit komplexen Rhythmus-Patterns durch Programmierung und tauschen farblich Note Gruppen mit pushs RGB-Pads.

Zyklus gesamte Cluster von Noten Schritt für Schritt durch den Sequenzer durch Drehen komfortabel pushs Knöpfe.

Navigieren Sie schnell flüssig Rhythms Anordnung mit Tasten und Knöpfen.

Erweitern Sie den Workflow durch Umschalten zwischen Programmierung Beats in Liquid Rhythm und Komponieren in Ableton Live durch Antippen der Schaltfläche Benutzer.

Zeichnen Sie in Schritt BeatForms und Sequenzmuster direkt aus pushs 64 Drum-Pads.

Passen Swing und Geschwindigkeit, mit pushs 8 Knöpfe.

Access-Flüssig Rhythms Parameter und Bedienelemente auf Schieben durch die Multi-Display-Menü.

In diesem Video wird eine Live-Performance von DJ Putzmaschine mit Flüssig-Rhythmus mit Ableton Push und live zu sehen:
Flüssige Rhythm v1.3.4 enthält auch das neue Feature Clip Selector, es ist so konzipiert, um den Workflow für die Max For Live Flüssige Clips verbessern Plug-in für Ableton Live 9.
Clip-Auswahl:
Die Clip-Selector zeigt eine Liste der zuletzt bearbeiteten Clips Ableton Live in Liquid Rhythmus, entfällt die Notwendigkeit, ständig zu wechseln, wenn zwischen Fenster-Clips. Dies hilft dem Anwender konzentriert bleiben auf das Komponieren Beats.
Features:

Bei der Bearbeitung von mehreren Ableton Live-Clips, springen zwischen ihnen direkt in Flüssig-Rhythmus.

Speichern Sie häufig bearbeitet Clips für sofortigen Zugriff.

Multi-Task-frei durch Sperren Rhythm Flüssigkeit auf einen Clip und bearbeiten eine andere in Live. Zum Beispiel kann ein Benutzer ein Drum Rack mit Liquid Rhythm bearbeiten und gleichzeitig den Aufbau Rillen in der Bassline.

Note: Clip Selector is a feature specifically for Liquid Rhythm when used with Max For Live in Ableton Live 9. By default, Clip Selector locks to clips on Drum Rack Tracks.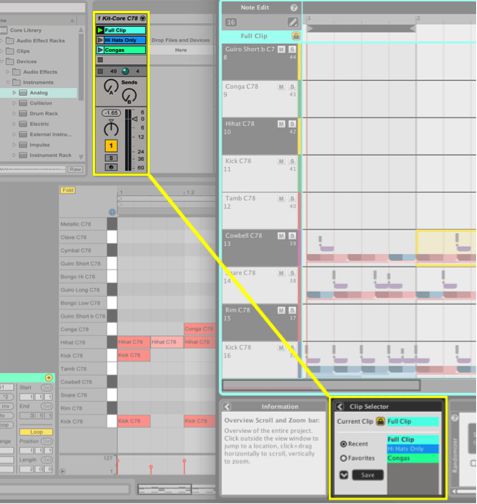 Clip-Auswahl setzt alle diese Clip-Informationen von Ableton Live 9 in Flüssig-Rhythmus.
Laden Sie die Flüssigkeit Rhythm Studie hier .
Update herunterladen (registrierte Benutzer) hier .