San Diego, California. March 8, 2015. -- contortDistort announces the release of Metaphysical Fabrications, its first independent sound library by award-winning sound designer Christian Kjeldsen. Metaphysical Fabrications is a free set of 52 new snapshots, 30 new samples, and 9 new features for Reaktor's Metaphysical Function.
Metaphysical Fabrications is a unique and creative collection of 52 evolving smooth and complex soundscapes, pulsing and arrhythmic textures, heavy and raw creations, and swirling shaped drones.
New features include the ability to play the Resochord like a musical instrument via MIDI note input, providing faster and engaging control of each comb filter's pitch; the ability to create chord progressions with the Resochord via Metaphysical Function's slider automation or via MIDI note input; Oscillator trim; Stereo input toggle; Sample vs Input crossfade; Pitch bend and Mod Wheel control; and re-triggering of the Sampler and Slider Automation via MIDI note input.
Kjeldsen notes, "Metaphysical Functions was one of the first professional sound design projects I ever worked on, marking the beginning of my career as a professional sound designer. For my first independent release, I thought it would be great to revisit my beginnings as a sound designer and release it for free to the Reaktor community.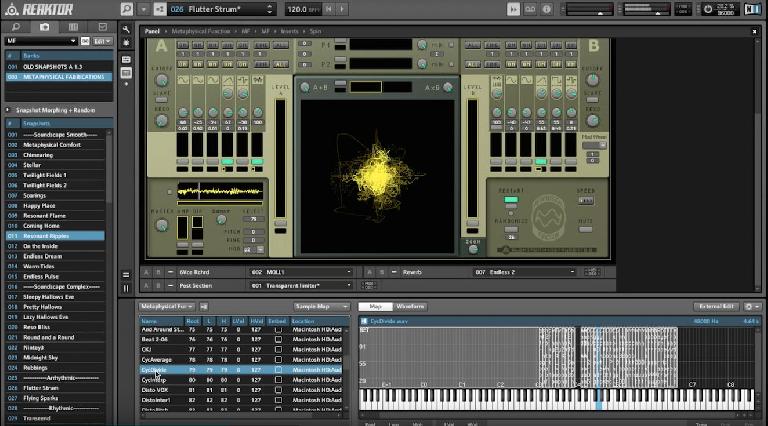 Even though Metaphysical Function came out a while ago, I still find it unique, creative, fun, and most of all, I think it still sounds great," says Kjeldsen. "I approached making these sounds from the perspective of pure sound design and letting my creative juices flow. When making these sounds, there wasn't any genre or category of sound in mind, just to make sounds that are fun and inspiring to listen to and play with."
Download the Metaphysical Fabrications library for free at http://contortdistort.com/index.php/sound-shop/