Recording audio. Whether you are a seasoned guitarist, a hobby vocalist or even an electronic musician, at some stage you'll want to record audio into Logic. In the second part of this series that's exactly what we're going to do - explore the basics of setting up and recording audio into Logic. Before we get started, I'd recommend checking out the first in this Complete Beginners Guide to Logic here.

Recording audio in Logic 8 or 9 is quicker and easier than previous versions. Even if you don't have an external audio interface (like an Apogee Duet for example) connected to your Mac, you can use the built-in Mic or built-in line-in connection. For this post I'll be using my trusty Duet, but we'll also take a look at how you can choose the device which Logic will record audio from.
Step 1

I'll assume you've already read the first part of this series and understand what a template and a track is.
If you are using an external audio interface the first step is to plug it into your Macs Firewire or USB port.
Now launch Logic and choose an Empty Project.
Step 2

From the New Tracks dialogue select the following:
- 1 Audio track
- Format: Mono (when you record from one microphone or line-input like a guitar that is a mono input). It's quite normal to record vocals, guitars, etc using one microphone.
- Input 1 (or whatever input you wish to record from on your audio interface. In my case I have a microphone plugged in to Input 1 on my Duet). You can change these settings later.
- Output: By default Logic's signal output will pass through the stereo output of your selected audio interface. I'm leaving mine at Output 1-2.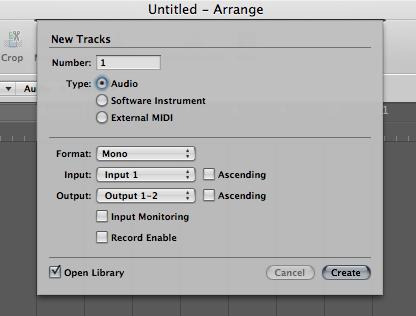 When you're done, click Create.
Step 3

We need to check that Logic is setup to use your audio interface as the audio input.
Choose Logic Pro > Preferences > Audio...
Under the Devices and Core Audio tabs make sure that Enabled is ticked. If Core Audio is disabled you'll get no sound out of Logic.
Next you can set the input and output devices for Logic.
(If you are a Logic 8 user you'll be restricted to setting the Device which will use the input and output from the same device only. Pop by the Logic forums for advice on how to have Logic 8 recognize different ins and outs).
I'm setting up my Input Device as my Duet, and as I've got my headphones plugged in to the headphone jack of my Duet, I'll choose Duet as my output too.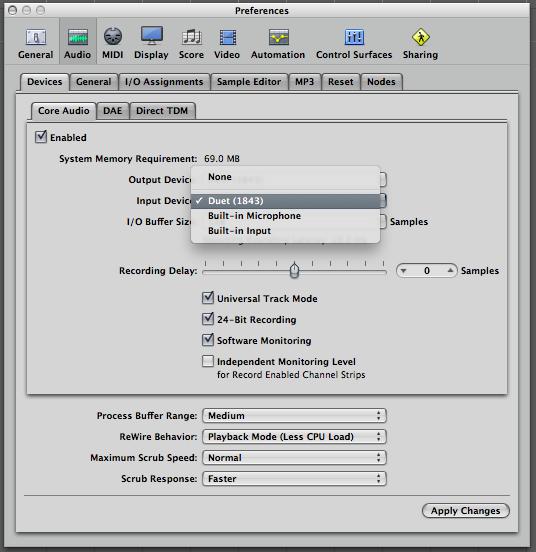 Step 4

I would recommend when recording audio to make sure that 24-bit Recording is always checked. If it is left unchecked Logic will record audio at 16-bit which will give you a lower dynamic range. I don't have space here to explain more about bit-depth and sample rates, so do check out the Logic 101 and the Logic 401 provides a stellar and an even closer examination of bit depth and sample rate as well as how to Master a project in Logic.
Turning Software monitoring on will enable you to hear any insert effects you place on your audio track during recording.
If you made any changes click Apply Changes and close the Preferences window.
Step 5

Time to make start recording! But before we go any further it's important to save your current project. This will make it a lot easier for Logic to know where to place the recorded audio files.
Choose File > Save As...
Choose a folder and give the project a name. Logic will then create a new folder with that name and a project file inside that new folder. I'd really recommend you tick the Include Assets check box as this will give you further options on what assets or files and settings will be saved within the project folder.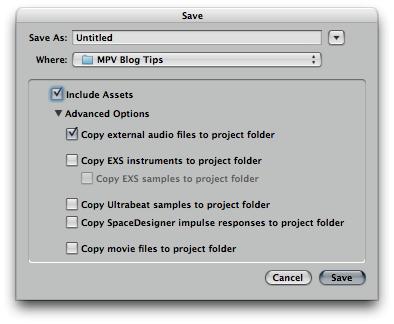 Click Save when you're done.
Step 6

Before we jump into recording, we need to record enable our Audio track. This couldn't be simpler. Click on the "R" icon (Record ready button) on the track header, or the Record Ready button on the Audio Channel Strip in the Inspector. They are both one and the same.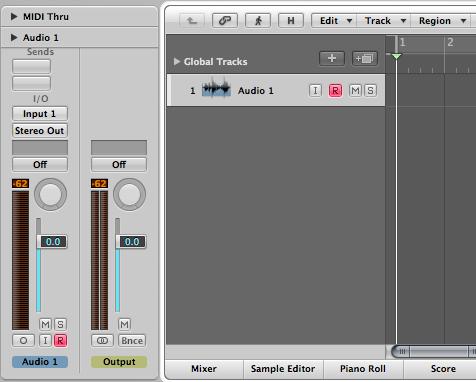 You should now be able to hear a signal from your audio interface. If you can't check the Audio 1's Channel strip I/O section. Make sure that the input and output matches the physical input and output on your audio interface.
This is a good time to play your instrument and make sure that the audio signal coming in to Logic will never clipping or distorting. You can control the gain or level input on your audio interface.
Step 7

Next, if you're recording anything tempo based, you might like to adjust the tempo of the project. By default a new project has a tempo of 120 bpm. Using the Click track and the play button you can get a feel for the tempo and whether it is too fast or slow. Then adjust the value of the tempo by double clicking on the numerical value and entering in a new value.

Step 8

When you're ready, move the playhead to the beginning of the project (or whichever point you wish to start recording at) and click on the Record button in the Transport. Logic will begin recording and count-in for one bar by default.

Press Stop when you're done.
Now it's time to listen back to your performance click on the Record Ready button on the Track Header to disable it. This means you won't be monitoring via your audio interface as well as listening to what's been recorded in Logic! Now press play sit back and enjoy your recorded performance.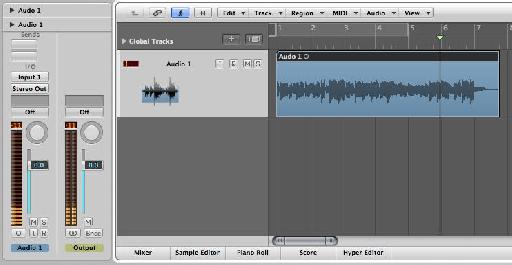 .
And that's all there is to it... These steps cover the bare bones... the absolute basics of recording audio in Logic 9. There's so much more to explore and I really can't stress enough that Logic is deep, wonderful and very capable. To learn more on how to punch-in, record and edit take folders, comp takes, punch on the fly, record multiple inputs, correct timing errors, etc, etc check out our Expert Logic tutorials here. The Logic 101: Core Logic is the best place to continue your musical journey with Logic 9.
If you need further help on this or any other Logic or Mac software issue visit us at www.macprovideo.com/forum/