Como usar o Apple Logic Pro ...

Então você acaba de abrir que novo brilhante Logic Pro ou Logic Express e caixa passou os últimos quatro horas ou assim que instalá-lo no seu Mac ... o que vem depois? Se você estiver completamente novo à Lógica e / ou o mundo da DAWs (Digital Audio Workstations), então esta série guia para iniciantes é projetado são para você!
Num relance você pode encontrar de interface lógica para ser um pouco intimidante. Mesmo se você é bem versado usando seu irmão mais novo, Garageband, a lógica é um passo em cima ... e sua complexidade pode demorar um pouco para se familiarizar com. Se você for como eu, provavelmente você está impaciente para começar a criar música de imediato em Lógica. Na primeira parte desta série de três partes, vamos começar a partir com o básico e trabalhar o nosso caminho para cima. Então, vamos dar uma olhada em como criar e gravar sons usando built-in software (virtual) Logic instrumentos.
Passo 1

Launch Logic. If a project opens choose: File > Close Project. Now choose File > New...
A 'New from template' window opens. Here you can choose to start from a blank/empty file or use a variety of pre-made project templates. You can browse the different templates by clicking on a Collection folder.
Por agora, escolher o template Explorar e clique em Empty Project.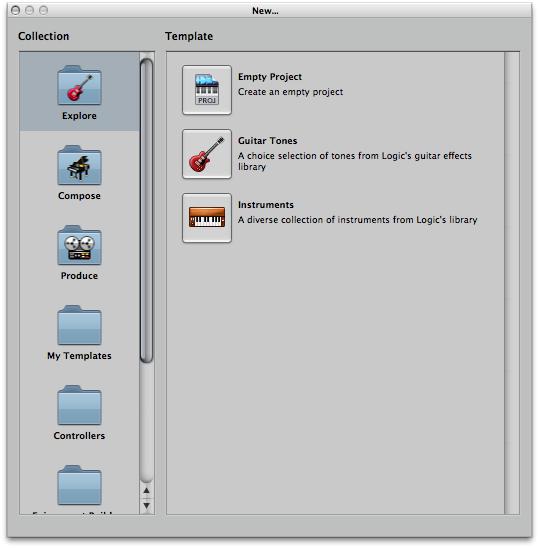 Passo 2

Cada projeto em Lógica deve conter pelo menos uma faixa. A pista é uma pista que pode gerar ou conter o som de um instrumento ou um arquivo de áudio. Mais sobre faixas de áudio e arquivos de áudio na parte 2!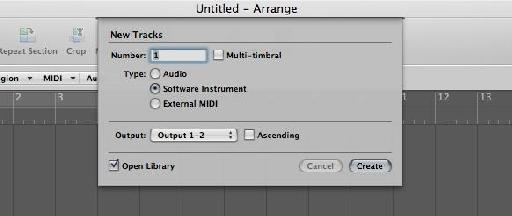 Como optamos por criar um projeto vazio, Logic nos pede para criar pelo menos uma faixa antes de podermos continuar.
Na caixa de diálogo New Tracks você pode escolher o número de faixas que você deseja criar. Vamos nos ater a um por enquanto.
Então a decisão mais importante é o tipo de pista que você deseja criar. Esta é uma decisão importante e vai ser baseado no que você pretende fazer em Lógica. Na parte 2 vamos estar a olhar para a gravação de áudio de um microfone ou uma guitarra conectado a sua interface de áudio ... mas por agora vamos criar
Certifique-se que "Open Library" está marcada e do Instrumento de Software escolher e clique em Criar. A faixa novo instrumento é criado no software Logic Organizar área.
Passo 3

Você está muito perto agora a jogar com som!
Na foto abaixo você pode ver a área Disponha em Lógica. Este é o lugar onde você costuma organizar as suas criações musicais.
À esquerda está o cabeçalho pista. O meu é chamado Inst 1. A pista vazia à direita do cabeçalho da faixa conterá suas performances com o instrumento nessa faixa.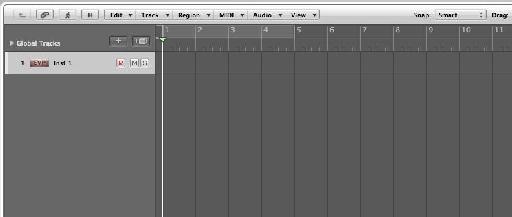 No topo da área Organizar é o Governador Bar. Por padrão, esse exibe os números Bar e você pode ver as linhas da batida também.
Passo 4

Na área da esquerda é o inspetor. Você pode alternar isso usando a tecla I no seu teclado.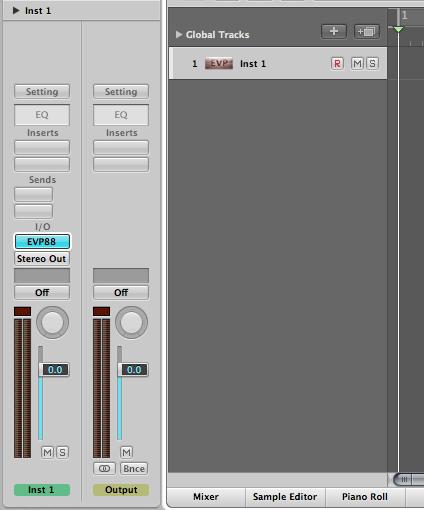 O Inspector é uma área sensível ao contexto ... isso significa que se você criar e selecionar outra faixa na área Organizar, o Inspector será atualizada para mostrar-lhe as propriedades da faixa selecionada.
Em uma faixa Logic é uma camada em cima de uma faixa de canal (as áreas de altura na parte inferior do Inspector). A Faixa de Software Canal instrumento contém um Instrumento na seção I / O. Aqui você pode ver eu tenho um instrumento EVP88 carregado como a entrada para a faixa de canal. A pista é como uma representação visual da Faixa de Canal na área Arrange.
A tira de canal esquerdo no Inspector representa sempre a faixa atualmente selecionada. O canal da direita é geralmente o principal canal de saída Stereo strip (saída do Logic).
Se você não vê a EVP88 na sua versão do Logic, clique e segure sobre o slot superior na seção I / O da faixa de canal esquerdo e escolha EVP88 da lista. Feche a janela EVP88.
Você pode alterar o instrumento em uma trilha, mude a saída, os níveis e ajustar suas propriedades de som, mudo ou solo a faixa de canal aqui mesmo no Inspector.
Passo 5

Tempo para fazer algum som! Se você tiver um controlador MIDI conectado ao seu Mac e já setup, pressionando uma tecla irá enviar um evento de nota MIDI à Lógica e acionar o instrumento EVP88 que irá criar o som.
Se você não fizer isso, nós temos outra solução. Lógica tem uma variedade de Editores MIDI que permitem que você crie notas MIDI e exibi-los .... Logic ou ainda melhor pode transformar o teclado do seu Mac em um teclado musical.
Toque na tecla Caps Lock em seu teclado e você verá uma foto do seu teclado Mac mostrando que as chaves são mapeados para as teclas brancas e pretas de um piano.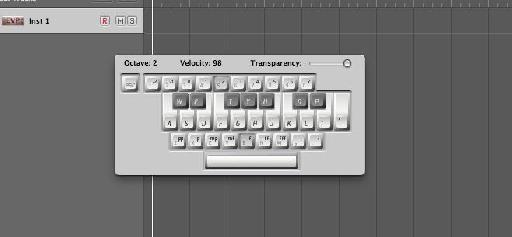 Verifique se o EVP88 strip faixa / canal é selecionado e pressionar de uma tecla para gerar som!
Passo 6

Vamos rapidamente gravar alguns sons na pista Instrumento Software.
Na parte inferior da interface do Logic é o transporte. Como um CD Player ou toca-fitas do Transporte contém botões para que você possa tocar, parar, pausar, voltar, avançar e Record. Na verdade, pode fazer muito mais ... mas por enquanto isso é tudo que você precisa saber.
Quando você clicar no botão Record vai virar Vermelho eo longa linha vertical (reprodução) irá se mover da esquerda para a direita ao longo da área Arrange. Você também pode ouvir um metrônomo (trilha do clique), enquanto se move para ajudá-lo a registrar seu desempenho no tempo.

Durante a gravação de tocar algumas notas no teclado MIDI ou o teclado Caps Lock. Assim que estiver pronto, pressione o botão Parar.
Você notará que uma região (área rectanglular) foi criado na área Arrange na pista da trilha. Este contém as notas MIDI do seu desempenho registrado.

Você pode clicar duas vezes sobre a região a olhar para ele. O Editor de Piano Roll vai abrir na parte inferior da área de Organizar e você será capaz de continuar a editar e manipular os eventos registrados nota MIDI.


Passo 7

Lógica vem com um grande número de instrumentos, efeitos e presets (patches) que podem ser usados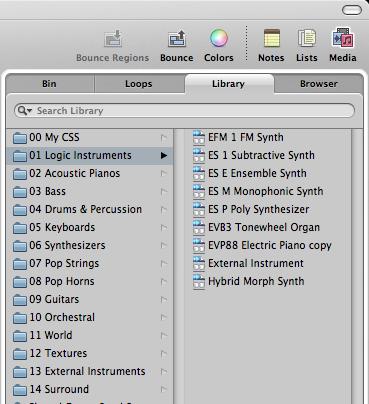 Porque você gravou os dados Nota MIDI e não o som real do instrumento EVP88, sua região gravado MIDI irá acionar qualquer instrumento de software que você carregue para a pista! Tente usar os botões de transporte para jogar a região usando instrumentos diferentes!
The Golden rule of computing.. Save! It's always a good idea to save your projects:
File > Save as...
Na próxima do Guia Completo para Iniciantes Apple Logic 9 você vai aprender como configurar uma faixa de áudio e começar a gravação de áudio em Lógica!
Se você precisar de mais ajuda sobre este ou qualquer outra lógica ou problema de software Mac visite-nos em www.macprovideo.com/forum/