Missed the first part of our Ableton Live Mixing mistakes series? Read Part 1 here.
Die-hard studio engineers may swear by mixing in Pro Tools or Logic Pro X, but the fact is, Ableton Live is a fantastic DAW for mixing – and plenty of producers use it for their mix downs. However, there are a few common mistakes that can be avoided to make Live's mixing process smoother, and resulting mixes sound even better. In the second installment of this series, we look at a few more issues to avoid when mixing down in Live.
Compression On Returns
Parallel compression is a popular mixing effect, allowing a blend of original uncompressed signal with a hyper-compressed version to get the distinct tone of severe compression without totally sacrificing the original dynamics.
Many producers achieve this in Live by putting a Compressor with extreme settings on a Return channel and sending one or more tracks to it selectively. As explored in the previous article it's crucial to maintain proper gain staging, and this method makes following the gain from a signal unnecessarily difficult.
Instead, you can simply use the Compressor or Glue Compressor's Dry/Wet blend to achieve parallel compression directly on any signal's insert path. Simply set the selected compressor to fully Wet, dial in extreme settings with the controls, and then pull the Wet percentage back down until you've found the desired balance.
This technique also applies to putting Saturator on a Return, in that it also has a Dry/Wet blend you can use instead; same goes for Drum Buss. What about applying these effects to multiple tracks simultaneously? That's were buss processing comes in.
Buss Processing
A classic technique from the days of mixing desks and outboard hardware – still used today – is buss processing. With limited effects available, the easiest way to apply a single outboard insert effect to multiple channels simultaneously was to assemble tracks together on a buss. In modern DAWs, the lack of effects is less of an issue, but there are still limitations on CPU, so the amount of effect instances once can comfortably use in a digital setting remains far from infinite – meaning track bussing remains a useful technique.
The equivalent of buss tracks in Ableton Live are Group Tracks. Simply hold down Shift while clicking multiple tracks and then hit CMD + G to Group them together. Once the Group is created, all tracks contained are routed through the Group track, and all effects processing on the Group Track are applied to them.
A classic example of this would be to buss or Group all drum or percussion tracks together; then a Glue Compressor or Drum Buss could be placed on the Group track to help them all gel together. Personally, I prefer to leave the kick drums outside drum Group busses for separate processing as it can suffocate other elements if when compressed all together.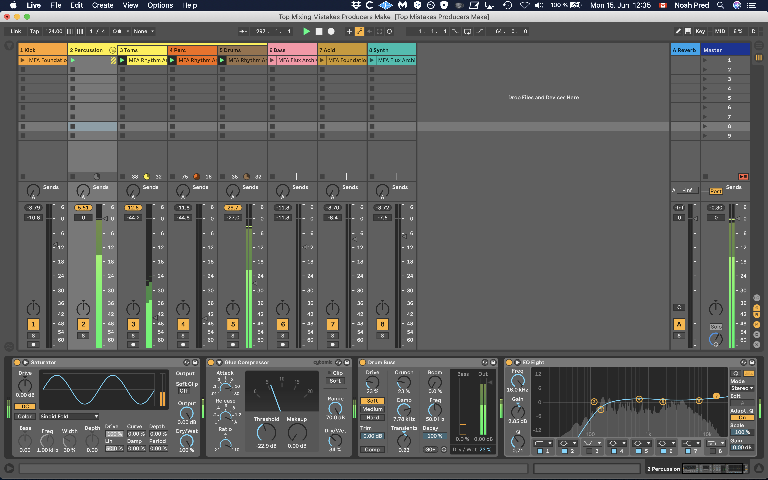 Percussion and Drums grouped together – without the Kicks – then processed together through Saturator, parallel Glue Compressor, Drum Buss dialed back from all the way wet, and an EQ8.
Don't Compress Everything
While compression can certainly be useful to tame unruly dynamics, help different elements merge together, emphasize transient punch, or produce a more aggressive average tone, it is not the "automatically make everything better" effect that many producers seem to mistake it for. In fact, to the contrary, compressing everything can suck a lot of the life from a composition and result in a fatiguing mix for the listener.
Compression was invented to help reduce the difference in volume between the quietest and loudest parts of dynamic performances in order to make them more intelligible and easier to mix without riding the fader. But particularly when it comes to electronic production where simply entering MIDI notes with the same velocity ensures consistent volume from the outset, it's often simply not necessary.
So before adding a compressor to a track, ask yourself why you're using it, and what you want to achieve. Boost the tail of a kick drum? Sure. Make a wild analog synth recording more consistent? Good call. Help your drums fit together? Not a bad idea. But if you can't find a good answer to this question, try leaving the compressor behind – you may be pleasantly surprised with the results.
Choose The Right EQ For The Job
Ableton's EQ3 was designed to emulate classic three-band DJ mixer EQs for Live performance in on nightclub sound systems. As such, it's not ideal for studio mixes as it lacks the surgical precision mix downs demand. Furthermore, the crossovers add some coloration professional mix engineers would normally seek to avoid.
EQ8 is an incredibly powerful equalization tool perfectly suited to rigorous mixing tasks, with a bunch of cool additional features worth exploring – check out this article for a deep dive.
Meanwhile, the newly introduced Channel EQ bridges the gap between EQ3 and EQ8 with a four-band, sweepable-Mid EQ with an optional 80 Hz high-pass filter based on classic mixing console EQs. If you're looking for gentle coloration without the in-depth features of EQ8, Channel EQ should do the trick.
EQ Your Return Effects
It's all well and good to have spatialization effects on Return channels – in fact, I would generally recommend this for most reverbs and delays. However, if left untreated with EQ, they can result in unwanted muddiness.
Many reverbs and delays have some pre- and/or post-EQ built-in, and in many cases this may suffice. However, using an EQ8 before or after a reverb or delay can help carve your mix more meticulously.
If you want everything sent to a reverb to be reverberated, but then the output of that reverb is high-passed at, say 400hz, this would mean it's producing the full range of frequencies initially, but the post-EQ is shaping the resulting full-frequency reverberation.
On the other hand, particularly with synth parts, I like to put a steep high-pass filter before the reverb, which means that only higher frequencies reach it to begin with. As a result, lower frequency sounds sent to the reverb never get the chance to produce muddiness to begin with – and the higher frequencies that do pass through are uniquely emphasized by the reverb tail they obtain.
This simple EQ placement can open up a lot of room in your mix. Don't forget to try it on your Delay or Echo returns as well.
Stereo Imaging Issues
With Live 10's true stereo panning option – accessible by right- or CTRL-clicking a pan dial in Live's mix area – you can now adjust the stereo field placement of each left or right channel independently. More control is always good, but don't get too carried away – drastic panning can be very distracting for a listener.
If you're using Autopan, make sure it fits in the mix and creates sufficient movement without being so artificial as to detract from the overall vibe. And don't forget to keep your low-end tight and focused; generally nothing below 200 Hz should be panned either direction. You can easily keep things mono down below with the recently-revamped Utility effect and its Bass Mono toggle – just activate it and adjust the slider (with optional preview function) to an appropriate range.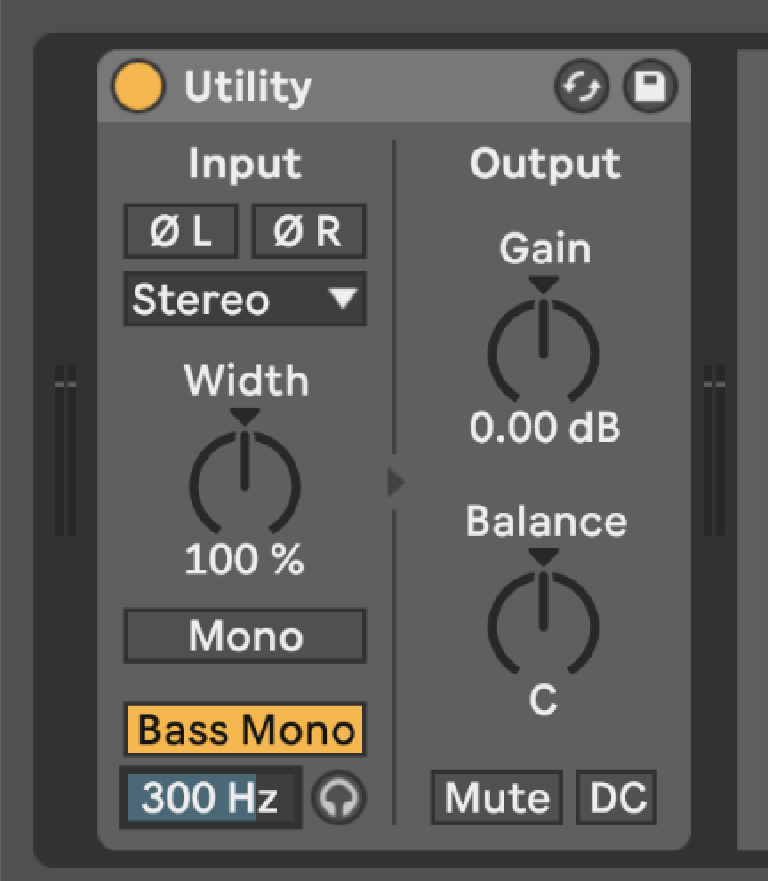 Utility with Bass Mono at 300 Hz to eliminate any stereo information below that frequency – in this case on my kick drums.
Don't Forget To Organize
The more tracks you have in your mix project, the more important it is to keep them organized to save time and easily locate the elements you need to focus on at any given moment. First, I would suggest getting in the habit of naming tracks and groups to prevent any unnecessary confusion down the line.
PRO-TIP: Use the pound or "hashtag" symbol before any track's name when you rename it (CMD + R) to retain automatic track numbering.
The easy context-menu track coloring in Live 10 – available for Grouped (and sub-Grouped) tracks makes color-coding easier than ever. Whatever system you come up with, stick to it from one project to the next and it will become second nature.
Hopefully these tips help clarify some common misconceptions and accelerate your mix down process while achieving better results. Happy mixing!