Die-hard studio engineers may swear by other DAWs, but Ableton Live can be a great DAW for mixing too – and plenty of producers are using it for their mix downs every day. That being said, there are a few common mistakes that can be easily avoided to make Live's mix down process smoother, and resulting mixes sound even better.
1. Bad Gain Staging
Volume refers to the amplitude, or loudness, of tracks in a mix, and the mix as a whole. It can also refer to the available space within a container.
Think of a good mix like a delicious pot of curry: all the ingredients balanced in the right amounts to create something far more tasty than the mere sum of its parts. Too much of any ingredient, and it throws off the flavor – no thanks. Too much of all the ingredients and it spills out of the pot entirely, leaving an unfortunate mess to clean up.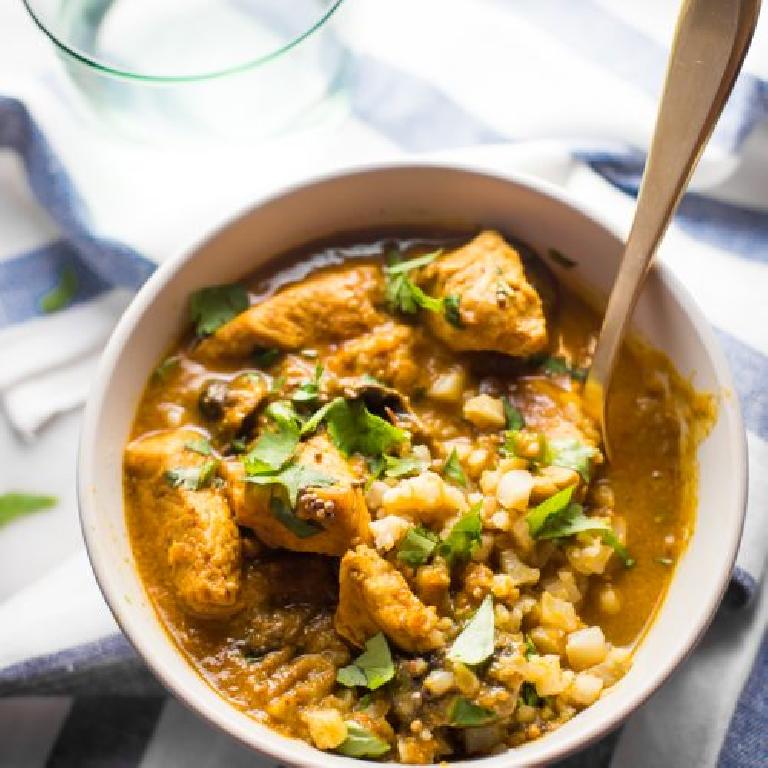 image courtsey of: https://40aprons.com/whole30-chicken-curry-low-carb-paleo/
Gain staging is the process of making sure there's enough room in the pot for all your ingredients – and that your ingredients remain in prime condition throughout the process.
All too often, I see producers with their volume faders up around 0 dB, with levels tickling the red and often exceeding 0 dB entirely; even when individual tracks are a bit below 0 dB, they can still add up to a master output well above 0 dB. While Live's summing engine can compensate for this unruly gain to some extent, overcrowded levels will suck a lot of the life, detail, and dynamism from a mix.



To avoid this, I like to set my track faders to -8 dB from the outset. In fact, I even have this set up as a default. By right- or control- clicking a track's header, you can save a track with all its fader values and loaded effects as your Default Audio (or MIDI) Track. Every new track you create will automatically carry these settings from then on.
PRO-TIP: If it's not visible to the left of the fader at your current Mixer zoom, you can view a track fader's dB value as you change it in Live's Status Bar at the bottom of the interface.
PRO-TIP: With multiple tracks selected simultaneously, adjusting one track fader will adjust faders on all selected tracks while maintaining their proportional differences – so you can bring all the tracks down at the same time without having to reset your levels.
Live's gain staging insight improves on many other DAWs with interstitial meters that display where gain is introduced between devices on any track's signal path in the Detail view. These small meters show exactly where gain is being added, and where to compensate as a result. The goal is to keep all the meters green and below 0 dB to avoid any unwanted digital clipping introduced along the way.

PIC 5: Saturator is clearly introducing gain because the interstitial meter to the left, representing the signal before reaching it, is green – but the meter immediately to the right of it is clearly red.
To retain the gnarly character induced by a high Drive setting on a Saturator without introducing troublesome gain, I can leave the Drive where it is and just reduce the Saturator's Output dial until the meters are green again.

PIC 6: Gain-compensated Saturator with Output dial reduced to -3.71 dB and green metering on either side.
Many audio effects have a built-in Output or Gain dial to reduce the volume coming out of them directly. But plenty of other effects, such a Phaser, don't – in which case, you could use a Utility device after the Phaser to reduce gain induced by, for example, a high Feedback setting, before signal flows out to the subsequent effect in the chain.
PRO-TIP: For a longer vertical throw on Live's channel faders in the Session view, click the divider between the top of the Mixer and the bottom of the Sends and drag it up (or down) to taste.
Track Volume Automation
Another common issue is the automation of Mixer Track Volume faders to create fade ins or fade outs in the arrangement.
This severely hampers the mixing process by relinquishing control of those faders to Live's automation system – you can't make adjustments to the faders themselves as you now have must adjustments to their automation envelopes, which much more fiddly, less intuitive, and considerably less tactile.
With longer Audio Clips it's convenient to use the built-in Audio Clip Fades, but for MIDI Clips or shorter looping Audio Clips, this is not a viable option. So to retain full control of volume faders for mix adjustments after fades have been programmed by automation, you can use a Utility effect at the end of a track's signal chain and automate the Gain control instead. However, 0 dB on the Utility goes right through the middle of the automation lane, which is rather different from the slope you may be accustomed to with normal volume scaling.
So another option is to group all the effects on your track to an Audio Effect Rack by selecting them all and hitting CMD + G – or by simply placing an empty Audio Effect Rack at the end of your signal path and right- or control-clicking the Chain view, and selecting Create Chain from the resulting context menu to make an empty Chain with a volume fader. With either of those methods, you can now automate the Chain Volume of an Audio Effect Rack to automate curves at a more familiar scale while still leaving channel faders free for crucial mix adjustments down the line.
PRO-TIP: Hold down the Option key while hovering the cursor over an automation segment (between breakpoints) and drag up or down to impose Bezier curves for smoother transitions.
Not Using Oversampling or Hi-Quality
Did you know some of Live's effects feature higher quality output modes? These are off by default to save processing power for performance on stage, but when you're ready to bounce a mix, you should make sure to enable them.
Right- or control-click the title bar of Saturator or Dynamic Tube and select "Hi-Quality" from the context menu that appears; do the same on EQ8 or Glue Compressor and select "Oversampling" instead.
Better yet, you can save effects with whatever parameter settings you prefer to start out with by selecting "Save as Default Preset" from that same context menu on any device in Live, and all new instances of that device will automatically load with those settings. Talk about a time saver!
You should also be sure to set all your audio clips to HiQ mode before Exporting Audio. First, select all audio clips simultaneously by holding down Shift while you select or click them in the Arragement. Then, enable the "HiQ" toggle in the Sample settings of the Clip Detail view if it isn't already on for all clips.
That's Not All, Folks...
...there's more! Check out Part 2 of Common Mixing Mistakes In Live for more handy tips.