We reviewed the original XKey in 2014 and the XKey 37 in 2015, and both were well received. So, now the XKey Air, a truly mobile (read: wireless) version of "probably" the thinnest MIDI keyboard controller in the world (announced mid 2015) will be available in stores towards the end of January. Here's what CME told us about it.
Singapore. January 11, 2016 : CME Xkey Air MIDI keyboard. Amateur and pro musicians won't have to wait long to wirelessly connect a MIDI keyboard.
Following a wildly successful Indiegogo campaign (achieving over 800% of its funding target) the Xkey Air Bluetooth MIDI keyboard is set to ship on January 2016.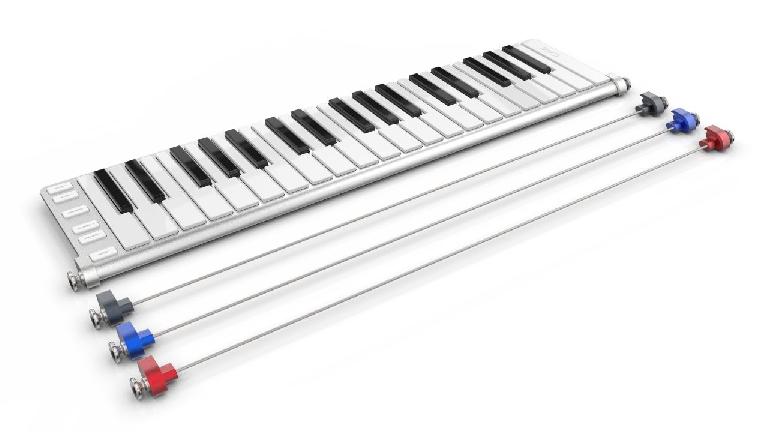 Keyboardists love the USB cable version of Xkey because it combines the feel of a piano with the features and portability of a modern device. The new Xkey Air has the same features as the original Xkey as well as the convenience of Bluetooth in addition to the existing USB connectivity. Xkey's keys are the same size as a traditional piano's and have velocity sensitivity so you can have the full range of dynamic expression in your touch. In addition, the Xkey includes advanced features such as polyphonic aftertouch and customizable effects.
In addition, the design team at CME has developed an accessory called WIDI BUD (sold separately), which, for the first time, enables Windows and Android devices to use the Xkey Air with a Bluetooth connection. In fact, Zhao states that WIDI BUD means that the Xkey Air is a world first for Windows Bluetooth MIDI connectivity. "Musicians who love their Windows 10 computers, such as the incredible new Surface Pro 4, can now use their MIDI apps wirelessly."
The Xkey Air comes in two models. The 25-key model is portable and easily fits in a backpack or travel bag. The 37-key model has an extra octave and is perfect for the home, studio or stage. Both models have the full range of features and build quality that have made the USB-connected version of Xkey a favorite with pro and amateur musicians around the world.