6 March 2015- MS-20 is a free multi-sample Live Pack reproducing the sound of the vintage Korg MS-20 MKII, the second generation of the super-star analog synthesizer released in 1978.

Released in the late í70s by Korg, the MS-20 is a stunning and very popular analog monophonic synth. Thanks to its semi-modular design the MS-20 can generate fat round basses, sinuous-worm leads and any type of analog sound FX. A great sounding machine, a milestone in the history of analog synths.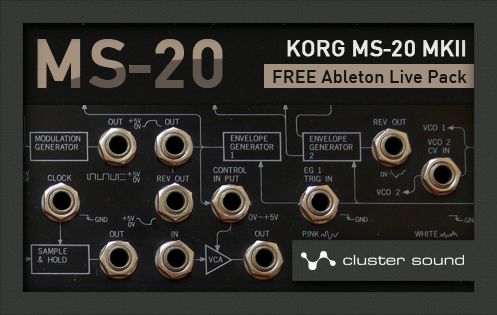 MS-20 is a free Live Pack based on 28 multi-sample recordings obtained by sampling several VCO, VCF and Ring Modulator settings. The included perfectly looped samples (each note of 4 transposed octaves) have been packed into 46 Instrument Racks with dedicated controls and 48 Sampler Devices for easy customization.

Specifictions :
Size : 520 Mb

24 Bits / 44.1 Khz

28 Multi-Sample recordings

48 Live Instrument Racks

48 Live Sampler Devices

One sample per note (4 scaled octaves)

Perfectly looped samples

Host : Ableton Live 9

Price: MS-20 is FREE for all registered users
Web: www.clustersound.com