4 December 2015 – Cluster Sound has released ARP Drums, a drum collection for Ableton Live based on 700 drum samples created with a vintage ARP 2600. The model used for ARP Drums is an early G-Clef Logo, released in 1972 and implementing a Moog 4012 ladder filter.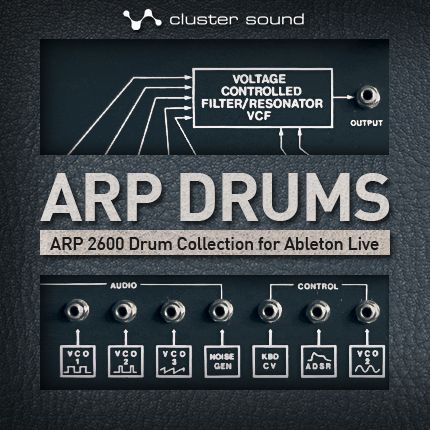 ARP Drums is a wide collection of 700 pristine analog drum samples including 74 Kicks & BDrums, 96 Snares & Claps, 125 Toms & Low Percs, 88 Hats & Rides, 175 Percussions and 141 Percussive SFX. In addition to the drum shots, ARP Drums delivers also one IR Sample extracted from the 2600 built-in Spring Reverb and ready to be used with Ableton's Convolution Reverb.
ARP Drums allows to immediately access the 700 samples in several ways. In addition to the 30 Drum Kits and the 700 Simpler Drum Hits organized into 43 sub-categories, this Live Pack delivers 43 sound-specific multi-sample instruments and 43 Sample-Selector Devices.
Specifictions :
Size : 300 Mb
700 AIFF Samples (24-bits / 96 kHz)
700 One-Shot Devices
43 Multi-Sample Devices
43 Sample-Selector Devices
30 Drum Kits
30 Live Clips
1 IR Sample + 1 Convolution Patch
Host : Ableton Live 9.5 (Standard - Suite)
Price : 29 Euros