Is your audio workstation showing signs of fatigue and age? As you add apps, sample libraries and drivers to your machine you'll begin to notice it start to slow down over the years. Here are 6 different things you can do, in order of severity, to help restore lost speed to your audio powerhouse.
Preference Files
If you're using a Mac, desktop apps can store quite a bit of info in preference files. Everything from window size to user interface arrangement can get stored into this folder. Deleting an old preference file is one of the first steps of 'debugging' a problem with an app crashing or not opening properly.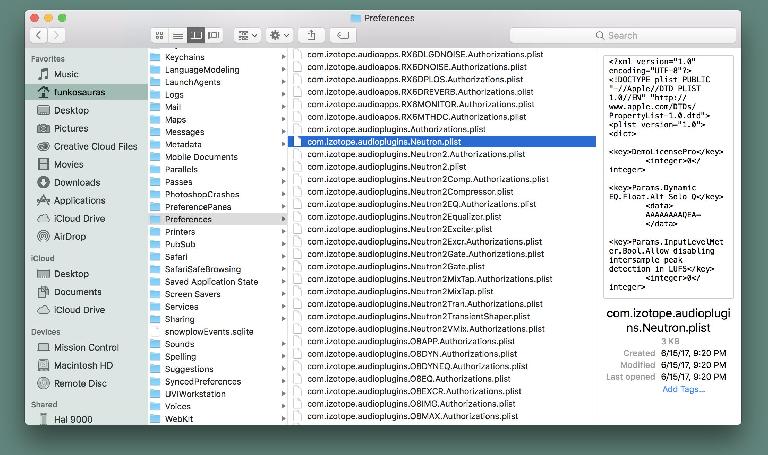 If you need to erase your preference files for an app, you'll need to go to your user preferences folder. While in Finder, hold down the 'alt' key and click on the 'Go' menu. You'll see 'Library' show up. Choose that, then go to the 'Preferences' subfolder. In there, you'll see a long list of files with preferences from likely every app on your computer. Find the offending app's preference files and either delete them outright (if you're not worried about losing an app's configuration - the worst case scenario is you wind up with an app that is like it was when you first installed it) or move them to a backup folder and out of there. This method can definitely bring a bit more stability to an app if it's being problematic.
Running The Scripts
macOS runs a lot of 'garbage cleanup' at various times via script. There are daily, weekly, and monthly cleanup tasks that are taken care of when you're not using your computer. You can force these tasks to run via terminal, or use an app like Cocktail to get them to run if you think that your computer was sleeping when it was supposed to be running these tasks.'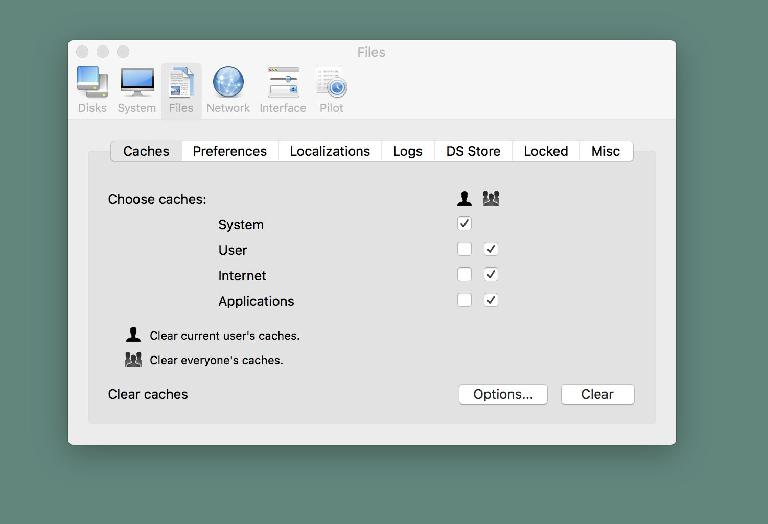 There are a lot of 'performance optimizing' garbage-ware apps out there, and you're right to be skeptical of them. Cocktail isn't one of them. I've used it for years, and quite a few of the features are free. If you do utilize a cleanup app for your Mac or PC, my typical rule of thumb is to simply make sure you understand what cleanup tasks it is doing. Cocktail allows you to force the cleanup scripts to run, clear your user caches and temp files, and other tasks that I understand and know actually help my system.
Auditing Old Plugins
The number one thing that can definitely affect the startup time of your favorite DAW or audio/video app is the amount of plugins that load at startup. Over the years, you may have upgraded your favorite virtual instrument or effect plugin several times, but have you gone in and erased the old version if you don't use it any more? Keeping those old versions around might help with compatibility for legacy projects if your new version doesn't offer support, but for most people, these old plugins can simply drag you down. Many of them aren't compatible with later versions of DAW apps as well, and they can cause problems simply by existing.
After you've decided which plugins you don't use any more, you'll want to see if your manufacturer offers an uninstaller. If they don't, you'll have to dig in there manually. On a Mac, if you open the root level of the hard drive, you'll find a 'Library' folder, and within that an 'Audio' folder. That's where you'll see the 'Plug-Ins' subfolder, and within that you've got a bunch of choices for the different versions (AU / VST / MAS / Pro Tools) that a plugin could use. You may have to check all of these folders to fully eradicate an old unwanted plugin. On the PC side, most DAW apps allow you to select where your VST plugins folder is stored, so you'll have to search around a bit if you don't remember where you put them.
Start Me Up
It's pretty easy to see what apps are automatically loading at startup for your computer. On both the Mac and PC side of things, startup apps can also be 'hidden', so sometimes you may have an app running that doesn't give you visual feedback in the taskbar or menu bar.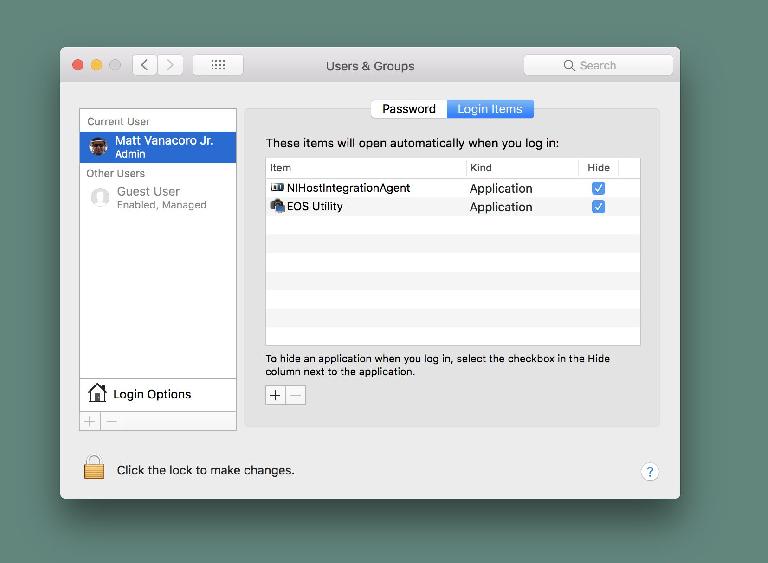 It's good practice to always audit what apps you truly need and want to automatically launch when you start your computer. In this example image, you can see that I've got a Canon Camera EOS utility automatically loading and hidden from view. I don't necessarily need my audio computer constantly scanning for my DSLR camera, so I'll delete that app from launching at startup to save on system resources.
Creating A Fresh User
If you're having consistent problems that simply won't go away with an audio/video app slowing down or refusing to launch, creating a fresh 'user' for your computer is a good last ditch effort to clean things up. All of the preferences, user-specific assets, and things that can clog up your user folder won't affect a brand new user account on your computer. Go to the users/groups preference pane on a Mac or the user area of the control panel for your PC, create a new user, and try running the app under that user. If it works well, you may want to consider migrating your documents over and deleting your old user account!
Doing A Fresh Install
If my computer is really showing signs of fatigue and nothing else is working, there is always the 'nuclear option'. Wiping your hard drive and doing a 'clean install' is absolutely the most time consuming, but often the most effective way to bring your computer back to 'factory fresh' condition. I'm somewhat of a maniac who does it once a year - but then again, I'm always reviewing and testing out weird plugins for you fine AskAudio readers that do who knows what to my system over time.
Doing a clean install has become a little more complicated on both the Mac and PC side of things now that we don't really use 'install media' like a CD or DVD any more. You'll have to look up the latest method of creating a bootable USB operating system installer for your computer. It's not particularly difficult, just a little more time consuming.