Choke Perform Money on World's Largest MIDI Sequencer, GRIDI
Check out the live video of Choke playing the track "Money" on this monster MIDI sequencer. Here's what you can do with GRIDI.
Do you remember the outstanding and incredibly large hardware MIDI sequencer GRIDI which we reported on back in 2015? Created by Yuvi Gerstein it flipped the recent trend in step sequencers being more compact and portable (like Arturia's BeatStep Pro, Novation Launchpad, Maschine, Ableton Push, Polyend SEQ and Squarp Pyramid) on its head.
Somehow bigger means better especially for those willing to co-create and collaborate.
You can watch the exclusive new music video, Money, by Choke who used GRIDI making the track!

We also spoke with the band about the track and their use of GRIDI. But first here's a little info to remind you about GRIDI itself:
GRIDI is developing into a stand alone installation for museums and festivals, as well as a creative tool for musicians.
Yuvi recently finished developing a new and improved version (GRIDI 2.0), with onboard controls, sound packs and the ability to play without the need for an external computer. Everything runs off Arduino and a Wav shield. He also added a "ball-less" feature, which could be great for DJs. The idea is that you won't have to use the balls - instead, you could press the buttons as a toggle switch to build your composition faster. Maybe it's less physical and educational, but it has more options for the advanced user.
Yuvi and co are building more GRIDI units, in smaller sizes which could be used by live performers worldwide to enhance their creativity and to visualize the music for their audiences.
Choke is a band Yuvi really likes and they were a perfect fit for the challenge, as they work with beats and controllers in their live setup already. They took some time to build the session together and work out what would be the best way to perform the song. In terms of compromises they only had an issue with the chorus, in which they had to use one ball to trigger a sequence of keys, so as you can see in the video, one green ball triggers a whole sequence and it changes on the next iteration to another line for a different sequence. The band were really into it and felt like they were playing a collaborative game, so it was a lot of fun to shoot.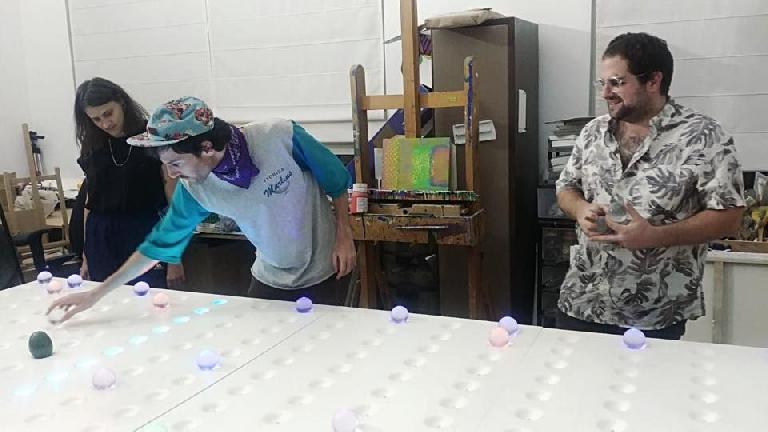 AskAudio: What attracted you to GRIDI?
Choke: We all have an unexplained passion towards controllers with LEDs. Choke was actually started as a solo project that was entirely played on DJ Tech Tools MIDI Fighters. When we first saw the GRIDI on YouTube it felt like a dream. A gigantic MIDI controller? Of course we want to try it!

Tell us about your setup for playing Money using GRIDI...

Money is actually a song from our upcoming album 'Beat Orchestra'. Most of our songs and beats have a more laid-back vibe. Money is the only track that fits a grid. The GRIDI was connected to our Macbook with a simple USB cable. In Ableton we created a single Drum Rack with all the samples. Some of the HiHats are enhanced with an arpeggiator to get that trap sound.
What are the main challenges for transferring a project to the world's largest sequencer?
The GRIDI is a very rare piece of equipment. We had to make sure that everything was ready before we even interacted with it. One of the biggest challenges was deciding how to divide GRIDI's 16 steps. What is the note length of each step? 1/16? 1/8? We decided to go with 1/16 because the song's beat demands it. Another challenge was actually playing the song and remaining consistent about its original parts and form. We usually play as a group of four but this time we had help from GRIDI's maker Yuvi and from Ronen. Those four hands sure helped a lot.
And what were the benefits?
It was pure fun! We were all amazed and surprised when we first started to play. It was the first time an existing song was played on the GRIDI. Playing the GRIDI is not an easy task. Sometimes we forgot to trigger a sample or triggered an extra sample. Those things made the track more exciting and surprising.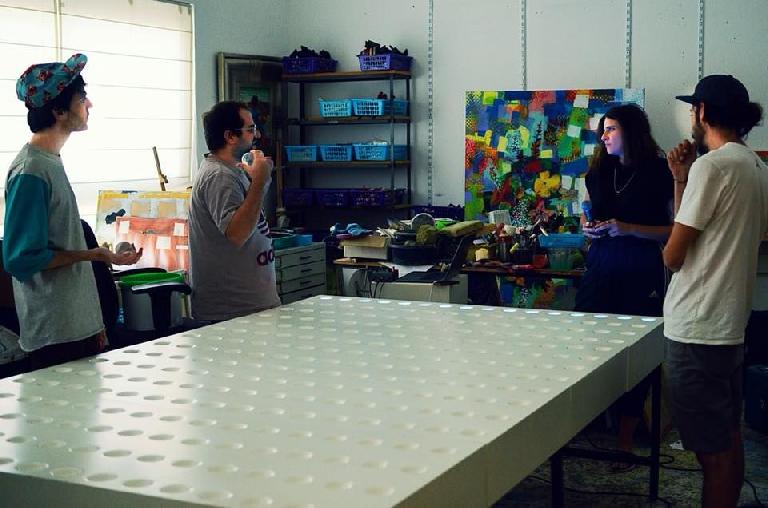 How does playing GRIDI influence the collaborative approach within the band?
GRIDI means lots of team play. We all had to be very patient with each other while finding the right rhythm and beat. The whole process took six takes. Take six was the best take because we all shouted at each other, reminding ourselves to switch parts. Each and every one of us had a role and we all had to truly focus.
Do you foresee being able to collaborate with audience members to remix a song on the fly using GRIDI?
That depends. I believe that anyone can create and remix a song on GRIDI. You have to be patient though. Not all of the samples interact nicely with one another. Jamming with the 'Money' samples could really lead to something interesting.
CREDITS:
Song: Money
Band: Choke Beat Orchestra
Lyrics: Jenny Penkin
Music by: Adi Rotem, Omer Luz, Roy Yarom, Jenny Penkin
GRIDI created by Yuvi Gerstein.
Performed by: Chokebeat Orchestra & Yuvi Gerstein & Ronen Peri
Mixed and Mastered by: Adi Rotem
Video credit: Aviad Fuchs