Chloé: Endless Luminosity
DJ, producer, interactive live performer and label owner, Chloé truly has many strings to her bow. We caught up with her to get her thoughts about process, production and putting together a show.
Releasing a string of records on esteemed imprints such as Bpitch Control, Kill the DJ, My Favorite Robot, and Throne of Blood, French producer Chloé is well known for her deceptively languid yet utterly bewitching house and techno productions.
Between her residency at the legendary Rex club in Paris, interactive live performance collaborations with venerable audio research institute IRCAM, composing film scores, and running her own acclaimed label, Lumiére Noire, Chloé took time out from her hectic schedule to have a chat about her process in the studio, her new all-hardware live set, and her forthcoming full-length, Endless Revisions.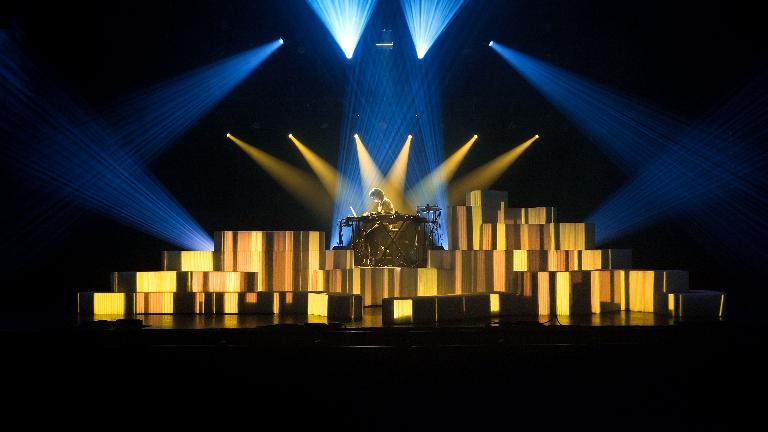 AA: Your new album showcases a variety of styles while remaining distinctly your own. Can you tell us about the process behind it? Was there anything in particular you were trying to communicate or achieve?
Chloé: Since my last album seven years ago, I worked on diverse projects as a producer outside the club scene. Actually, some elements from my new album are taken from those diverse collaborations.
I also toured a lot as a DJ. I didn't want to return to the long process of producing an album, and I needed more interaction with other producers and musicians, so I was open to other projects. I also took this time to change gears in my studio and build a new setup. I was always working on some personal productions, but they became EPs.
At one point I realised I had enough new material that I could think of an album. For that album I wanted to collaborate with producers who I have great respect for musically and who I also like a lot personally: Ben Shemie (from Suuns), Nova Materia, Alain Chamfort, and Rhys Chatham. I also had my friend Krikor Kouchian collaborating, as he did the mixdown for my album. It's also being released on my own label, Lumière Noire. So this record was made with a lot of fun and no pressure, which was probably my main goal.
What DAW, if any, are you using to produce? And what's your most important or favorite gear in the studio at the moment?
I mainly use Ableton Live today, but sometimes I still use Logic, as I was working on it for years. I like to switch sometimes as I think the edit section in Logic is a bit better, but I now have to say Ableton Live is becoming really good. I also have a UAD card that includes many incredible plug-ins such as analog emulation from SSL, Ampex, Lexicon, and many others. I also use the Waves plug-ins, which are very good for mixing and post-production.
I also work a lot with Native Instruments' Kontakt, especially when I produce music for movies – it has an amazing sample library, and you can go very deep with the change of texture. I usually combine those plugs with some pedal effects and synthesizers to bring a more analog texture. I do a lot of re-recording through pedals like the DD7 delay from Boss, or the incredible Bam Reverb from Otto, which is my favorite gear to use at the moment.
You're taking a new live set on the road - how does it differ from your previous live sets? What makes you excited about it the most?
On my previous live set I was using the computer with Ableton Live, a MIDI controller, a TR707, and a bunch of effects pedals. When I started to work on my new live set, I thought this time I'd take away the computer and make it machines-only. First, because it's a new challenge to change the setup, but also because I like to always try different things or ways of working, as this is how things get interesting and creative.
My new live set is half-written and half-improvised, to keep the performance intuitive and creative. I now include an MPC-1000, where I have samples I can choose to play directly with the pads; it also has some MIDI files sending to my Korg Minologue and Dave Smith Mopho X4. I have an Electro-Harmonix Looper 45000, so that I can re-sample on the fly, making the setup more open to improvisation.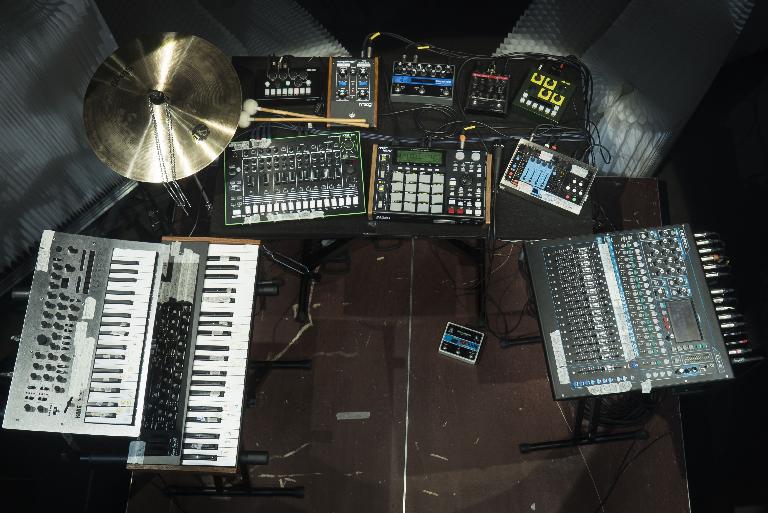 Sounds like fun. I saw you began collaborating with IRCAM a few years ago - how did this collaboration change your work? What was your biggest take-away from your time with IRCAM?
I discovered IRCAM many years ago through Max/MSP and their Pluggo suite. At that time, Max/MSP wasn't integrated with Ableton. I never got really deep into understanding this software, as it's very complex, but I worked a bit on it as there weren't so many platforms working with raw sound synthesis at the time. Now that Max/MSP is integrated with Ableton Live, it's more accessible and much easier to use.
So three years ago I was contacted by IRCAM for a project they were developing: CoSima, based on mobile interactions. They offered to collaborate on building a setup where the audience can be part of the creativity of a live set and work on a live electronic concert where the audience is invited to participate through performing with their smartphones.
We called our collaboration Chloé X IRCAM and performed a few times with two different versions of the project. When IRCAM contacted me as a producer, it was a great opportunity. I had the chance to be part of a great little team coordinated by Norbert Schnell, and we worked for months in nice intimate sessions at IRCAM.
It was interesting to work on interaction with the public with such an institution, but it doesn't mean I want my live sets to now be fully interactive. For me, it's already a big thing to offer a show; the public already has a kind of interaction without going deeper technologically.
I haven't really changed my way of working after this, but it was very inspiring. The funny thing is that after this project with IRCAM, I found a deeper desire to go back to hardware for my live sets – perhaps to recalibrate my balance between software and gear.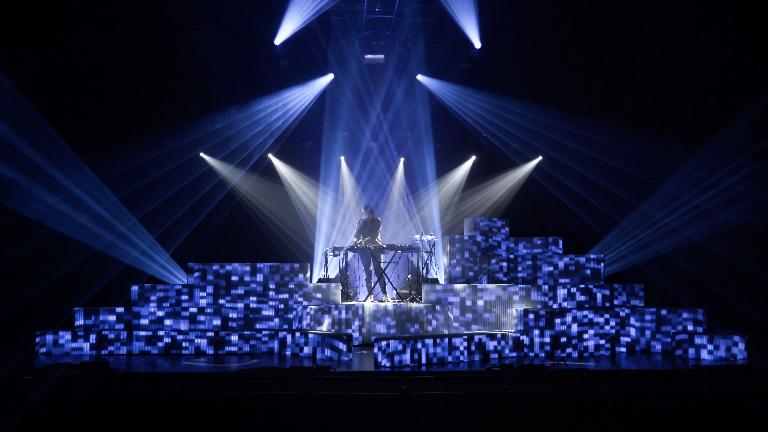 Another advanced technology you recently began experimenting with is Binaural sound – what drew you to this practice, how do you plan to integrate it with your traditional work, and what are your goals with it, if any?
I met the sound engineers at Radio France (the national French Radio), who were in charge of developing the Binaural Sound project, which is essentially a mix in 3D sound. At that time I was working on my track, The Dawn, which was released a few months ago. So I decided to add more textures to it, in surround sound, to see what the result could be with a binaural mix. I was very impressed to find how immersive it is.
I also had a short residency at Radio France to produce a track integrating the binaural mix directly, called Because It's There, which also appears in a normal stereo mix on my album. Recently I performed live with this new technology at Radio France, the first time I ever heard 3D sound in a room – again, a very real immersive experience. Being confronted with these new technologies is very inspiring, and probably influences my own work, by thinking more spatially. I probably went deeper in some stereo mixes than I had before.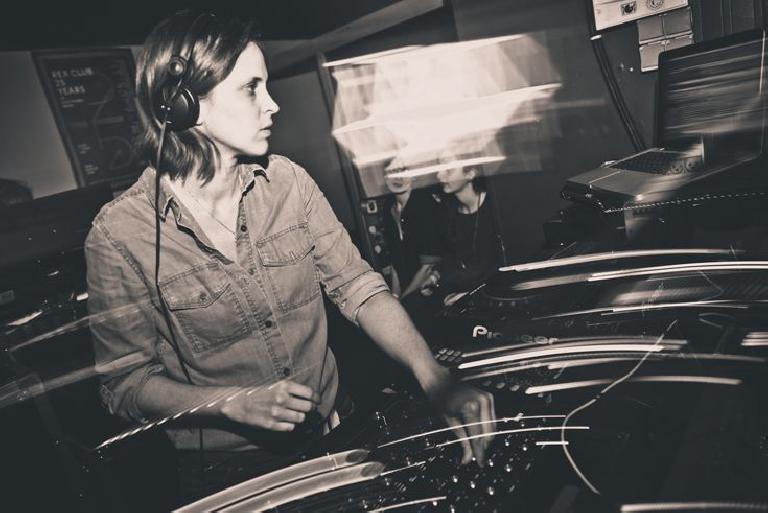 Along with your productions and live sets, you hold a DJ residency at Rex, the most respected nightclub in France. How has this influenced your work? Does DJing influence your production or your live set in some way?
I've been DJing for 20 years, and I really like performing actually. Whether it's live or DJ, it's always creative and inspiring for my own work in the studio. Being a DJ specifically helped me understand the architecture of a set, and therefore the architecture of a track. I think this is one of the most exciting parts. I like to DJ in diverse places – each gig is a new challenge, and I enjoy playing music from new producers, and old classics alike.
Your long-running night at Rex shares a name with your label, Lumiére Noire – why did you decide to launch a label? And has that experience influenced your work in some way?
I've been a resident DJ at Rex for years, but I also play at other clubs in Paris. I started the Lumière Noire parties at Rex with the concept of eventually making a label. But the first goal was to invite artists I really like, I already know, or just want to share the night with. At one point I wanted that night to become a label to go further, and release those artists I share music with.
So how do you find energy and focus for all your projects?
I think I have energy because I have so many diverse projects, meet so many diverse people, and collaborate in other fields. If I was only doing one thing, I'd probably get bored, be less inspired, excited, and creative. I'd probably have to do something else besides this.
Any tips or tricks to share with younger producers?
If you spend too much time on the mixing of one element, it's sometimes better to find another sound or texture that would fit better in the space. Try to choose the right elements from the beginning that already have their own place in the space of the mix, rather than correcting with EQ or compression after.
What do you have planned coming up next?
My album, Endless Revisions, will be released on the 27th of October, and I'll tour my live set with some talented visual artists called Scale. I also have a new live duo project with marimba musician Vassilena Serafimova. We recorded some music at Xavier's Veilhan's Studio Venezia pavilion at the Venice Biennale, and hope to release some of this music next year.
Endless Revisions is out worldwide on October 27 via Lumière Noire. For more information about Chloé, please visit: http://www.listentochloe.com