The world has gone (synth) crazy. More and more of us are looking away from our virtual based, computer-screen staring plugins to touchy, feely hardware experiences. We've seen a number of Arduino-based synths in the DIY and commerical field of late. The $39 Macchiato, the 60-knob Nozoid OCS-2 (with Moog style filter), and this DIY semi-modular that looks just too good to be DIY.
So, it's only fair for the Raspberry Pi to get its time in the spotlight. And this new 6-voice digital polyphonic synthesizer from R-MONO Lab does justice to the Linux-based microprocessor platform. The synth has the catchy name, S³-6R (EsCube-6R) - Version 2. Let's stick with S³-6R.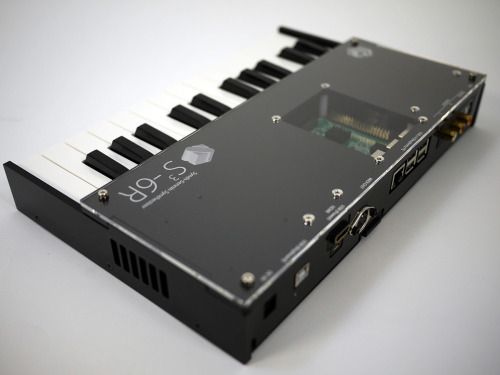 The code for this synth hasn't yet been published on Github. Unfortunately, the Hermit Wizard of Synthesizers (yes, that's what R-MONO Lab calls him or herself) has no plans to sell this synth or make the code available. But, there's still plenty to make you sit up and pay attention from its specs, the video demos and the fact it fits perfectly with the Roland K-25m keyboard designed for the popular Roland Boutique synthesizers.
Here's some specs and features of the S³-6R made by the Synth-Sennin (The Hermit Wizard of Synthesizers).
3 Main Features of S³-6R:
Original-Uniq Phase Control and Phase Modulation Synthesis (αα-Phase Modulation) Also features envelope generator and LFO dedicated for phase modulation.
High-Resolution (24bit/96kHz), 6-Polyphonic (5-Polyphonic when using Super Oscillators)
Running on the Raspberry Pi 3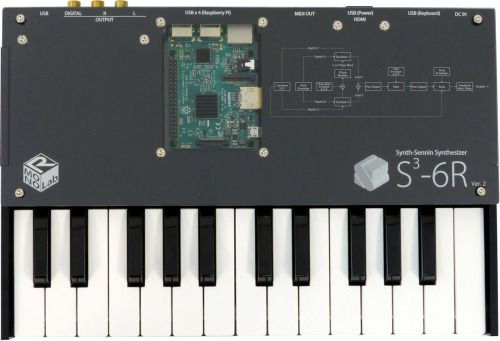 A List of S³-6R Version 2 Demos: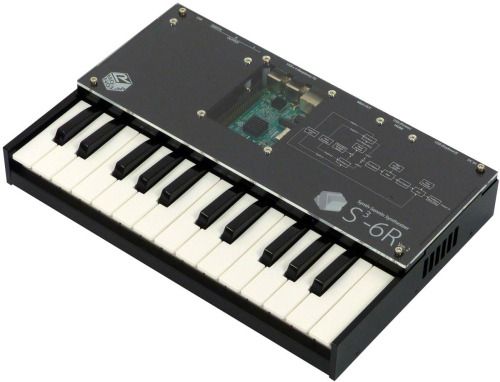 Main Specifications
2 Oscillators
・Phase Controlled "Super Oscillators" is mounted.
・Oscillator 1: Sine, Triangle, Saw (Up, Down) , Pulse Width,
SuperTriangle, SuperSaw, SuperSquare, α-Sine Width(*)
・Oscillator 2: Sine Width(*), Triangle, Saw (Up, Down) , Pulse Width
・Enable to Phase-Modulate Oscillator 1 by Oscillator 2
・Phase Mutator(*) to alter the phase modulation signal
・Equipped with Noise Generator in parallel with oscillator 2(*)
Continuously variable Sampling Rate and Bit Rate,
also Low Pass Filter is implemented, Phase modulation with
Oscillator 2 and the Noise mixing balanced signal is possible.
1 Filter (Low Pass Filter, 24dB/Octave Slope)
Distortion processing before and after filter (Pre / Post Clipper) (*)
4 Envelope Generators (for pitch, phase modulation, filter, amplitude)
3 Low Frequency Oscillators (for pitch & amplitude, phase modulation, filter)
LFO is controlled from ultra-low frequency (0.006Hz) to ultra-high frequency (100Hz) that was not possible with the conventional digital synthesizer.
Polyphonic Portamento
Effects: Chorus, Flanger, Delay
Corresponding to pitch bend and modulation via MIDI.
Enable to control all parameters via MIDI Control Change (CC) .
Interested in learning more about making yoru own digital synthesizer? This article by Liam Lacey is worth checking out.