Remember the AVP Synths MAD-5 hand-built drum machine from Russia? You can read more about it here. Well, they're back with some new videos. One is a cool demo with good quality audio, the other is a more hand-held style video showing the drum machine running through a spring reverb. They're promising better audio quality will arrive soon.
In our previous article on the MAD-5, the creator Guga Guseyn told us more about the origins and inspiration behind the MAD-5 drum machine. He explains MAD-5 is "100% analog drum synthesizer which is inspired by the sounds of the mid 20th century soviet drum machines while having the flexibility, MIDI control and compact package of the 21st century."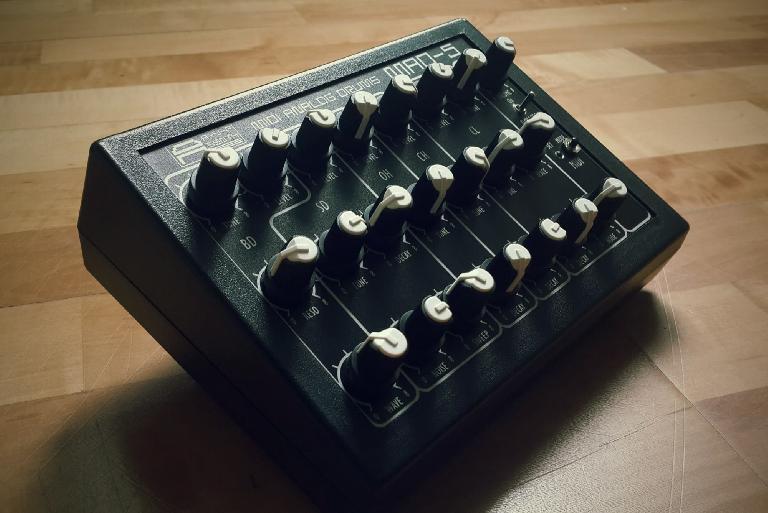 Each unit has 22 knobs, 1 switch and 1 button "which allows you to manipulate/control the sound and MIDI. It also has individual outputs for each of the five drum instruments so you can easily route and process them separately with your external effects especially in a live configuration."
Watch AVP Synth MAD-5 Midi Analog Drums running through a spring reverb plug-in (programmed with Ableton Live):
Here's a better demo video of MAD-5 from a few days ago.
Specifications of MAD-5:
100% analog synthesis
5 Drum instruments: bass drum, snare drum, open hat, close hat, clap)
4 Noise Generators: snare drum, open hat, close hat and clap
MIDI interface: MIDI In, 16 channels (Midi learn)
Audio outputs: 1 mix output (mono 6.3mm jack) and 5 individual outputs (mono 6.3mm jack);
22 knobs, 1 switch and 1 button;
External power supply: adapter 15 VAC (included)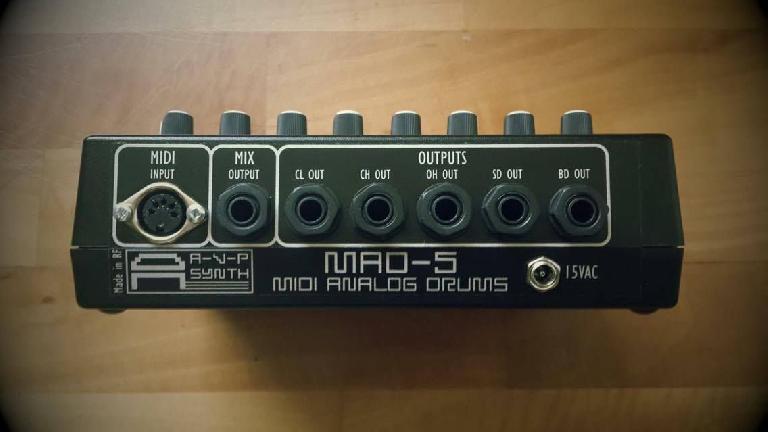 Price: We've been told MAD-5 will be € 290 EUR + €60 EUR shipping (for European customers). More info will be on the AVP Synth website once it's been updated...
Join the AVP Synth Facebook Group here.
Visit AVP Synthesizers website here.