Arpeggiators are great creative tools that allow one to build up melodic patterns that they might not have produced otherwise. But have you ever tried chaining arpeggiators together? Taking this extra step can allow one to create intricate changing patterns. I am going to be using Ableton to show you how to chain arpeggiators together in both serial and in parallel. Making use of these techniques can really open up ideas for your productions.

Step 1 '" Creating Your Arp
Let's create the first Arp. I have created a MIDI track (Shift-Command-T). On this I have inserted a software instrument. I am using Massive, but any synth can be used. Now drag an Arpeggiator MIDI device before the software instrument. This can be found under the Live Devices > MIDI Effects.
With the arpeggiator I have set the Style to Up with a straight Groove. I have set the Rate to ¼ with a Gate of 110% and a Distance of +12 st.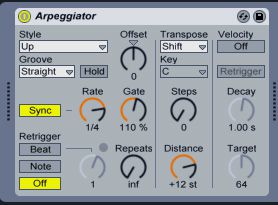 Step 2 '" Adding Another Arp in Serial
Now for the '