Us Reason cats spend a lot of time slinging those cables all over the place and stacking effects to get that unique sound that makes a lead, bass, loop, or whatever you're working on. But, with all that time being spent creating those awesome effects, you might want to consider:
You can use them in other songs again!
Think about it! Rather than recreating one of your staple effects for every song, wouldn't it be better to save it. Also, when saving it, wouldn't it be wonderful to save it with a little, shall we say "tweak-ability?"
This is where the Combinator is your best-est friend ever. Seriously BFF (best friends forever) where you hold one side of the heart on a bracelet and the Combinator holds the other half... on his rack?
Here's the trick:
01 - Label First

Before proceeding farther, make sure that you label the needed components of your effects chain. You may need some clues as to what does what later on. Simply type in the little tape strips on each component.

02 - Verify Effects are Self-Contained

There are situations where you may be using an LFO from a Reason device in a way that you wouldn't normally think to use it. Hey, that's part of the charm, right? But, if you forget to include the device in this trick, it won't work, and you'll say to yourself, "You know, this sounded so great on that one song, why does it sound like ass on this song?"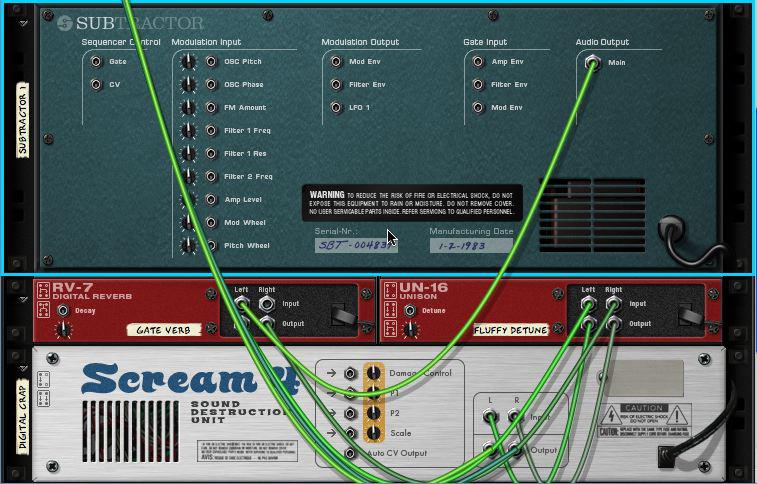 Or something along those lines. Press Tab, turn ye old rack around and make sure you aren't forgetting anything!
03 - Combine!
Okay, let's make this thing mobile. Hold down the Shift key and click on every device you want to keep! When you're finished, press Combine!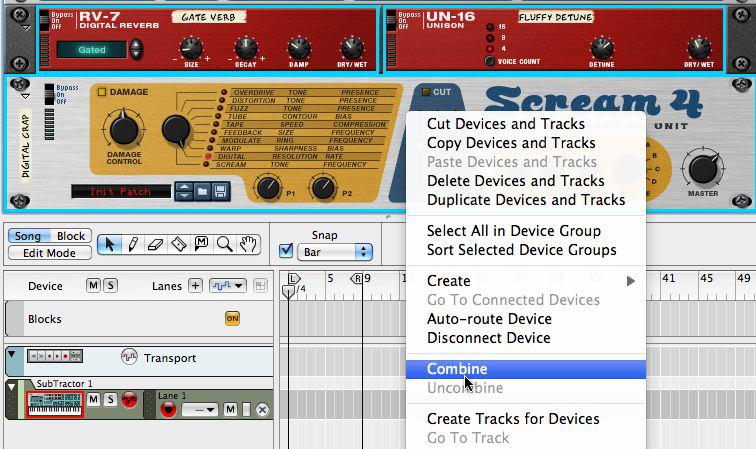 04 - Isolate Needed Functions
Okay, now you've made a Combinator of your effect patch. You may want to go through now and locate any needed functions that really make this patch hum, or just add some options that you may want for later within easy grasp. Rotaries and buttons are the best way of doing this.
Let's say that you may want to add some decay later, or increase the dry/wet levels, etc. Open up the Combinator Programmer and highlight the effects processor that has the function that you want.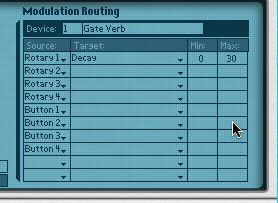 Once selected, simply add in the highest amount and the lowest amount of decay that you could possibly want for this effect.
05 - Rinse and Repeat
Remember the Combinator has multiple knobs! You can use more than one and get some effects out of your old favorite that you never thought possible just by tweaking. Try it out!
Once you've got all the possible knob assignments you want, make sure you save in a directory where you keep favorite samples, favorite song files, etc. Maybe even make a short cut, or add a location to the Reason browser.

By having a set of signature effects patches, you'll be able to produce songs quicker, with a greater semblance of polish. Before you know it, you're the go-to guy for a certain sound!

Oh, and if you need more tricks with the Combinator, check Reason 5 106 - The Combinator Video Tutorial!