Mixed In Key is excited to release an epic update, Captain Plugins 5 for Mac and Windows. A total of five VST plugins are included in the Captain Plugins package. The updated VSTs allow for super-fast songwriting and creation of chords, melodies, bass lines and drums for any genre of music. Captain Plugins are designed for use by producers, DJs and songwriters.??
New in Captain Plugins 5.0
??
Edit MIDI inside Captain Chords??
Captain Chords now includes full MIDI editing, including the ability to add or delete notes, move notes up and down to create new chords, resize chords and draw in rhythms. The interface identifies the name of each custom chord that you create.?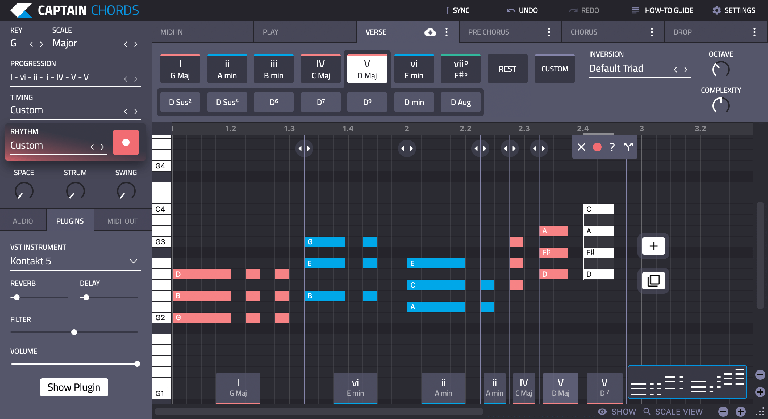 ?Host VST plugins inside Captain Plugins?
Use your favorite presets from third-party instruments directly inside Captain plugins. This feature offers producers a unique workflow and allows popular plugins like Serum, Sylenth1, Kontakt, Spire, Arcade, Omnisphere and more to be used as the sound source inside Captain Plugins.?
?Discover Beautiful New Chords??
On the second row of Captain Chords, there's a new selection of chords that work well in the selected key, scale and scale degree. Those chords provide beautiful voicings to allow for more experimental songwriting.??Use your computer keyboard as a musical instrument??In Captain Play in the 'Play Chords' section, the types of chords that are available on each row of the computer keyboard have been improved. Root position, 1st and 2nd inversions, borrowed chords, 7th chords and complementary chords are now available. One keypress plays the entire chord.??
Huge improvements to Captain Beat 5
??Add Drum Fills to create massive buildups
Drum fills make beats more interesting. Whenever you break from a main drum pattern to another groove, this is called a drum fill. Captain Beat features exceptional drum fills that allow producers to create variety in their rhythms.
??Import and export custom Kits, Patterns, and Fills within Captain Beat
??Captain Beat allows you to import your own samples to create custom drum kits. Now you can also import and export banks of Kits, Patterns and Fills. Easily share your patterns and kits with producer friends and collaborators.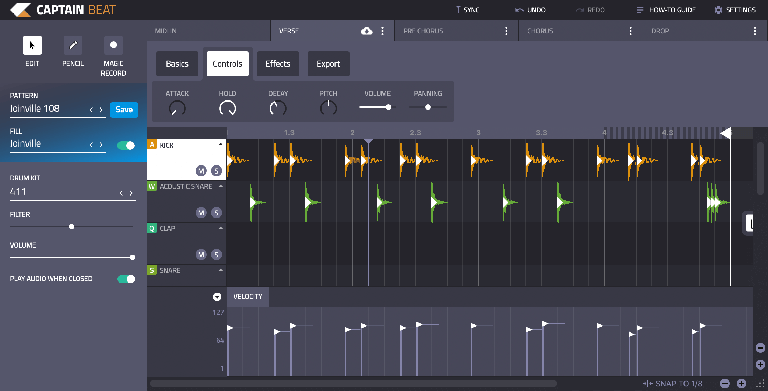 ??Use New Sounds From the Arizona Desert?
Fourteen new drum kits, recorded live, have been added to Captain Beat.
??Add Universal Drum Rhythms?
A list of universal 'Foundation' rhythms can be found inside the Rhythms folder and are accessible on any instrument channel. These rhythms work on instruments like Kicks, Hi-hats or Claves. Latin clave and reggaeton rhythms are included for adding spice to your patterns.
??Artist Pattern Packs?
Mixed In Key is pleased to announce the release of three new Pattern Packs by L.Dre, Polaris and Jack Massic for Captain Beat. Each Pattern Pack contains 20 original MIDI loops created by the artists. L.Dre created a pack of raw hip hop patterns, Polaris contributed an inspiring pack of driving drum & bass patterns and Jack Massic has crafted a pack of pop, South American and Tropical House grooves.??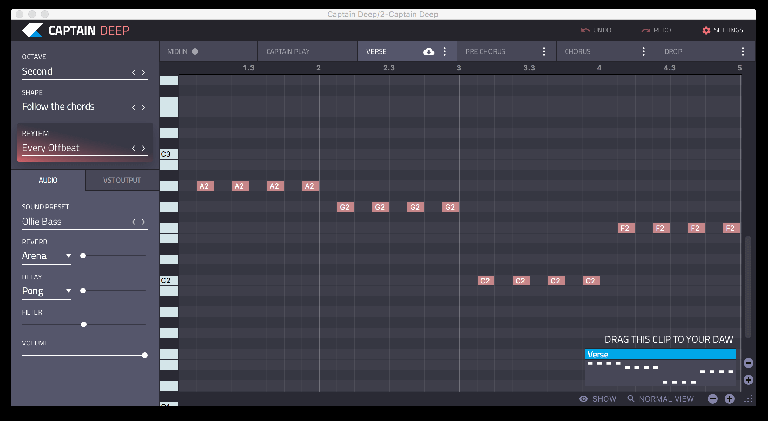 L.Dre
??L.Dre is a music producer based in Los Angeles who has been producing music professionally since 2015. Shortly after releasing his first LP, 'I Am a Table', he switched his focus from rapping to producing. L.Dre has released several hit tracks, including a Frank Ocean Remix that has 6.3 million views on YouTube. L.Dre's Pattern Packs for Captain Beat includes infectious loops and grooves for hip hop production.
??https://www.instagram.com/ldrethegiant?
Polaris
??Polaris has forged a musical identity that elevates drum-n-bass to a cinematic scale. Currently signed to Hospital Records, his original tune "The Light In Your Eyes" was voted one of the top ten Hospital tracks of 2016. Hospital Records former sister label Med School have released Polaris' tracks to worldwide acclaim and he's performed at 'Hospitality in the Park' in London. His latest track is featured on Hospital Records' Sick Music 2020 Compilation. ??https://www.instagram.com/polarisdnb/
Jack Massic??
Jack Massic is a Miami based Latin Grammy Nominee, Award Winning & Platinum Songwriter and Producer. He claimed his spot in the electronic music scene in 2016 with the release of his first single "Gravity". On his latest project, he's partnered up with multi-talented artist Laura Rosguer to release "With Me", the fourth single from his sophomore album, "Globality".
??https://www.instagram.com/jackmassic/
??Available for Mac and Windows??
Captain Plugins 5 is available for both Mac and Windows systems. On Mac, official support is provided for Ableton Live, Logic Pro X, FL Studio and Cubase on Mac OS 10.10 and higher. On Windows, Ableton Live, FL Studio and Cubase are officially supported.??
Customers get this update for free.?
Captain Plugins 5 is available as a free update for existing Captain Plugins fans.??Full License Pricing??Captain Chords can be purchased for $79, and Captain Chords and Captain Beat can be purchased together for $99??Shop link:
https://shop.mixedinkey.com/??
Web: https://mixedinkey.com/captain-plugins/