By Jove! Jupiter 6 Filter & TR-808 Drum Machine For Eurorack Clones
Here's the latest news on the upcoming 808 drum machine clone you'll be able to fit in your eurorack system, and the Jove, a Jupiter-6 style filter, also for eurorack.
Back in late January 2017 we reported on System 80's plans to release a Roland TR-808 drum machine clone as a Eurorack synth module. Naturally this got everyone rather excited, though simulatneously keen to know more. Here's the latest news about 808 and the same company have just released a eurorack filter module called Jove, inspired by, and based on, the famous Roland Jupiter 6.
Here's more info (including feature update and timeline) on the 808 and info on the new Jove module from System 80:
808, a TR-808 drum machine clone for Eurorack
The System 80 808 is a recreation of the TR-808 drum machine reformatted into a 60 HP Eurorack module. It couples the original 16 analogue drum voices of the TR-808 to an enhanced TR-style step sequencer.
The drum circuits are exact clones of the original TR-808 schematics using the same semiconductors wherever possible. All operational amplifiers and bipolar transistors are the same as in the original. Each drum voice was carefully compared to two original TR-808s and small adjustments were made to tune each circuit to match the 35 year-old original reference machines.
Features
6 analogue drum voices (6 single voices, 5 switchable dual voices) with global accent
Pattern sequencer with 1-32 steps
12 banks of 16 patterns
16 rhythm tracks
Shuffle and roll modes
External MIDI triggering of drum voices
11 individual drum voice outputs + master output with volume control
2 assignable trigger outputs
External sync via MIDI clock, DIN Sync or clock pulse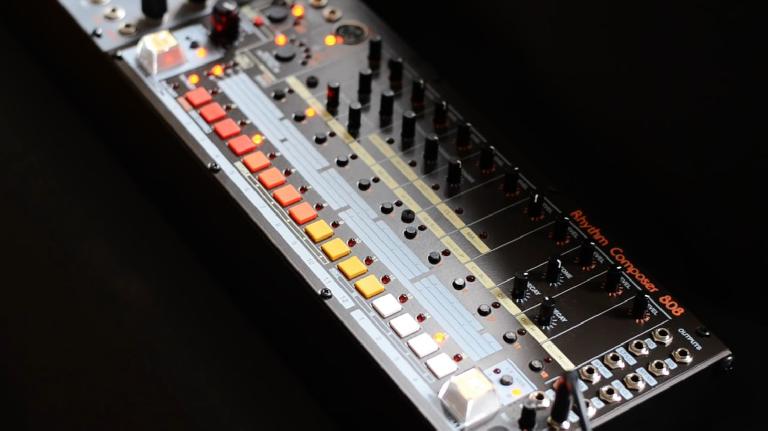 What next?
The teaser video features the second prototype. We are in the process of refining the design to make it production ready. The final production prototype should be ready by late spring.
When & How can I get one?
Optimistically, late summer. Pessimistically, early fall.
Once available, stock will be available for direct purchase from our website. We've had inquiries from dealers so there is a chance you may be able to purchase through your favourite local synth retailer.
How much will it cost?
This is the question we get asked most often and we don't yet have a firm answer. The 808 has more than one thousand parts and even after robotic assembly there are many parts that need to be hand assembled. There are a couple of significant manufacturing expenses that have yet to be finalized, which prevents confirmation of a final price. We should have an update on pricing later this spring.
Why Eurorack?
Eurorack is a compact modular synthesizer format that has been increasing in popularity for a number of years. Even a small system can provide extensive tools for making and shaping sounds. The 808 has always benefited from external processing of its drum sounds so it seemed like a good fit for the Eurorack format. It has individual outputs for each drum voice and extensive options for synchronization. Designing and manufacturing a desktop module provides a host of challenges but we're definitely thinking about it.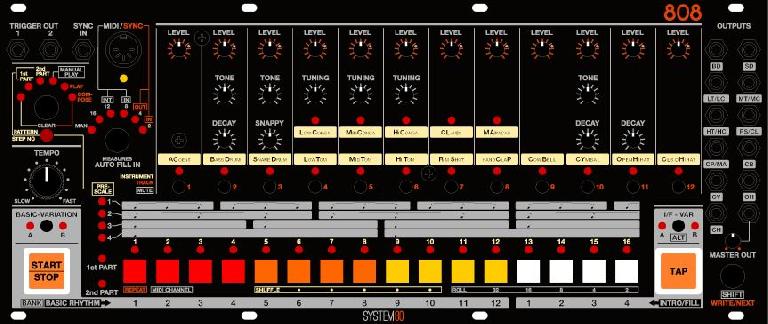 What about external triggering, and where are the audio demos?
An expander module that allows external triggering of the drum voices is in development.
We're working on audio demos...
JOVE, a Jupiter-6 Inspired Eurorack Filter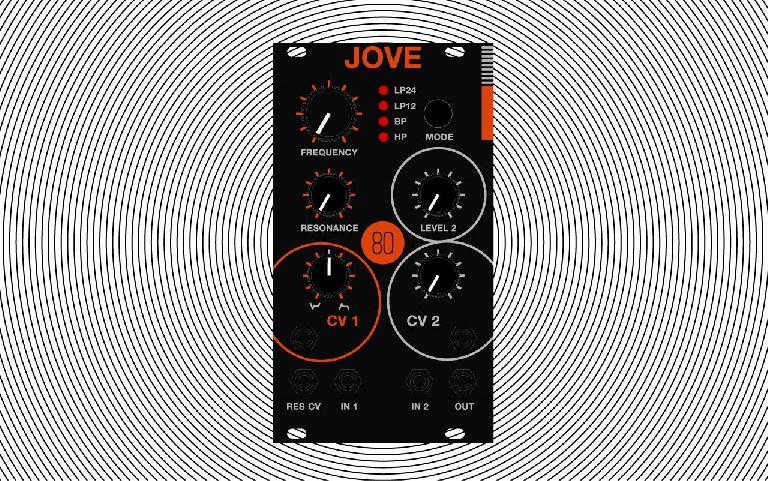 JOVE was born out of our obsession with vintage Roland filters based around the IR3109 Operational Transconductance Amplifier (OTA). We designed an OTA-based filter that doesn't rely on this rare and expensive vintage part.
4 modes: 24 dB low pass, 12 dB low pass, band pass and high pass
2 audio inputs, one log attenuated and one non-attenuated
2 frequency CV inputs, one unipolar input and one attenuverted input
1 resonance CV input, non-attenuated
JOVE is open source hardware. The design files are available on Github
JOVE is a modern recreation of the Jupiter-6's unique sounding multimode filter, but in addition to the original 24 dB low pass, band pass, and high pass topologies, adds a 12 dB mode reminiscent of the Jupiter-8. JOVE is in stock and ready to purchase now for $240 USD.