Rolled out mid-2014, TrueGrid - a modular web synthesizer, is even more relevant to the world of synth heads today as modular synthesis continues to grow in popularity. Careful, it might even become a household name at this rate!
So, if you're interested in learning more about modular synthesis, experimenting, doodling and wasting hours of time at work, or just creating awesome sounds, then this website is one you must visit now.
Visit: https://www.modulargrid.net/e/racks/synth/
This ambitious modular synth web-based project brings a whole new meaning to making music in your browser. It's flexible, robust (I'm using Safari), free and accessible and really fun to play with. Aside from routing cables and creating wonderful sequences you can also record the results to wav and even play TrueGrid via your MIDI interface.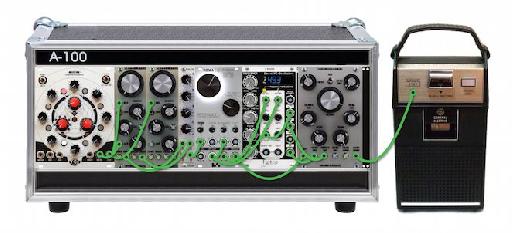 Here's some further details from modulargrid.com on how to get started:
How to use it
TrueGrid works like a real modular synth in a way that you have to wire up different modules to generate useful or not so useful sounds.
It needs some experience to get something predictable out of this synth, but thats where the whole fun starts: Discover what is possible
Start from Scratch, find playable modules
Create a new empty rack and name it "My awesome Truegrid Synth". More creative naming options will work, too.

With the search function of the module browser you can enable a checkbox Playable in TrueGrid.

This lists all available playable modules for TrueGrid.

Add some modules to your rack. As a start you should add an Oscillator, VCA, LFO and VCF to create basic subtractive building blocks.

... or copy an existing Synth
If you have found a cool TrueGrid Patch from an other user you can copy the Patch and alter it as you please. Just click Save as a new Patch in TrueGrids secondary navigation.
Wire up
Sockets of the modules are color coded.
green for outputs

blue for inputs

no color == not implemented

To connect two sockets:
Drag a cable from an output to an input till the cable snaps.

To disconnect:
Drag the cable away from one socket or simply double click on the cable.

Via: @ReaktorPlayer