AmpliTube has some real gems in the stompbox department. In this quick tip, I'm going to combine my two favorites to make an aggressive, freaky, synth-like lead tone.
The main component of this sound is generated by the Octa-V pedal which is found in the Fuzz category in the Stomp window of Amplitube. This was originally part of the Jimi Hendrix version of Amplitube but now comes included in Amplitube 3. It's based on the Octavia Fuzz pedal developed for Jimi Hendrix by his tech Jim Morris.
As pedals go, this one is pretty special and can produce a wide variety of effects from Ring Modulator type tones to Pitch Doubling and Distortion. If you play near the nut you get more Amplitude/Ring Mod sounds.
Using anything other than fourths, fiftths and octaves can produce some very weird sounds, which is good!
Playing higher up the neck with the neck pickup and the volume rolled off produces an octave above the note.
Both of these sounds were played straight through the Octa-V stomp pedal. As modeling goes, IK has done a pretty darn good job with this one. If you're looking for a real world version try the Roger Mayer Octavia or the Fulltone Octafuzz (below). I have one of these and it's awesome!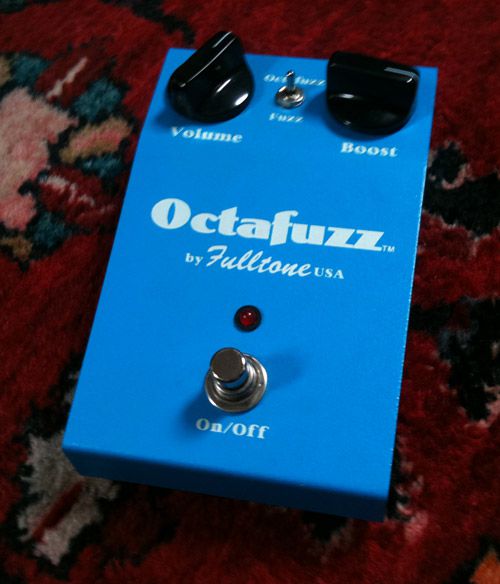 The Octafuzz.
The second pedal in this sound is the Octav based on the mighty Boss Octaver! This can produce two additional octaves below the original.
Step 1 - Basic Setup
Here's how I've set this up: firstly I've chosen setting '