While the technology of music-making has evolved rapidly, and online technology has done the same, the two have not always meshed as seamlessly as one might like. DAW developers have built their own online systems to enable collaboration between users of specific products - like Steinberg's VST Connect - but for others, and indeed anyone working remotely with people using a variety of different systems, the choices have been more limited.
FIle sharing with services like Dropbox, Google Drive and iCloud are good, but they all involve a degree of compromise in terms of workflow. Now a new service - BounceBoss - has been developed to address this problem. Here's what the makers told us about it.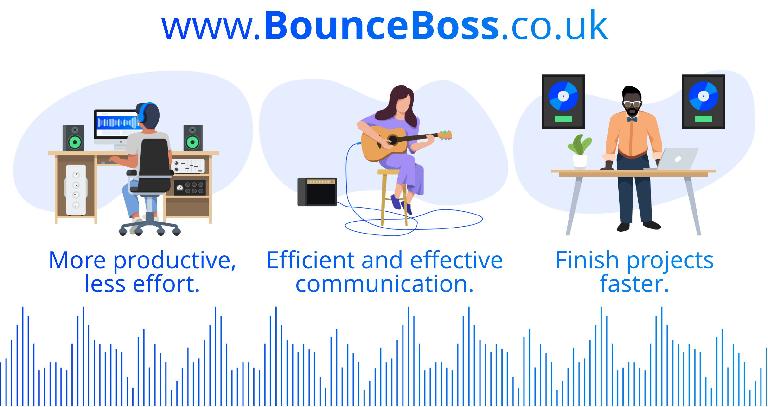 "Keeping track of an audio project as it transforms from version 1 to version 5 is a logistical nightmare. Collaborators are wasting precious time searching through endless audio files, and linking those files to the corresponding emails. Progressing a project shouldn't be this inefficient… Enter 'Bounce Boss'. Bounce Boss not only simplifies the organisation of collaborations, it also has powerful features to help ensure positive progress.

Bounce Boss was shaped by its future users from the start. People transferring audio across the internet were asked to rank which features they would find most useful in an audio file sharing platform. This allowed the Bounce Boss team to focus on things that would genuinely make a positive difference to people's workflow.

Prior to Bounce Boss' official release, it had already successfully facilitated major label projects involving a number of artists, producers and decision makers... The label executives found it so useful they asked if they could invest in Bounce Boss. So how does it work?"
Key Features Overview
Send Audio Files
Even the most complicated projects become simple to manage with Bounce Boss. Add the files needed for each track, input the essential info and hit send! You can use Bounce Boss with anyone, they don't need a paid account.

Player Page
Deliver audio with style and professionalism. Hit play (or spacebar) then jump seamlessly between the reference tracks, mixes and versions to monitor the progress.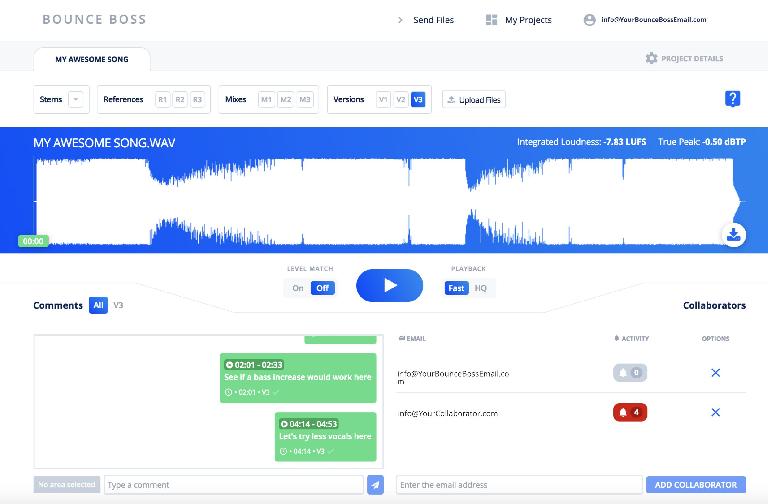 Stream the audio in 'Fast' mode for immediate playback in MP3 320 kbps. Switch to 'HQ' for lossless quality.

Level match all the tracks in one click to help you and your collaborators make more accurate and informed decisions about the audio.

Comments
Keeping track of feedback has never been so organised and efficient. No more jumping between long email threads and finding the corresponding files in various places.

Comments can be linked to a timestamp or loop, allowing all collaborators to immediately preview the specific part of the track that the comment relates to. This saves time and removes any possible confusion.

Collaborators
Manage all collaborators in one place. Keep track of who has and hasn't seen the latest comments or files.
This could be a really interesting development in the field of online collaboration - what do you think?
Web: https://bounceboss.co.uk/
Free Trial: 15 Days. Extends to 30 days after 1st project created. There will be a waiting list after 1000 trials so sign-up quick. No Credit Card Details Required.

Price: Plans Start At £4 GBP per month.

Release Date: Tuesday 6th November 2018