Quanalog Boubou is a new Eurorack drum synth module, a combination of 5 voices - a filter based analog drum synth that cover the basics drum set from Kick, low and hi tom – rimshot, snare and hi hats that can become a base for Eurorack drums setup. Each voice has a lot of control with can reach to a wide range of possibilities. Every drum engine can become a signal processor with the core made by an analog filter so it can process the sound from other modules.
Each sound has been carefully made with a specific analog filter structure to be able to create a real percussion feel covering from low-end to hi-end frequency. We carefully tweak every single component to make a very classic sound quality with hi-end build with all metal pots, jacks and switches to make sure it's the last module that breaks in your setup.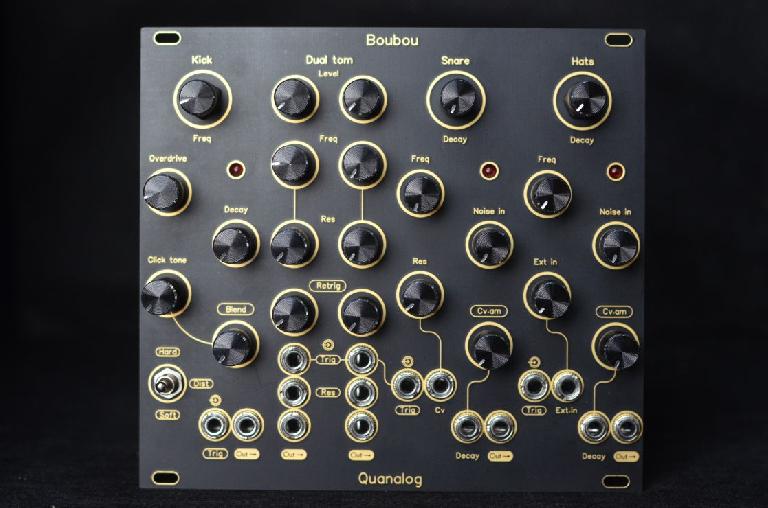 Features
5 voices Eurorack filter based analog drum synthesizer
Each voice has a wide range of sound that can reach to all drums
Pure sine resonance excited analog filter make a warm thick and powerful sound that can cover very low-end frequencies
Real independence of the analog noise engine for snare and hats pass thru analog decay vca and bandpass filter with cv control for decay amount and filter resonance point
Cv control for pitch, tune and decay make it more groovy
Hi-end sound quality
Minimal futuristic panel design in black and golden finish, still looks good when you've got your grandkids!
Tank built quality – minimal futuristic panel design in black and golden finish with all metal pot, jack and switch.
Complete your eurorack drums setup with 5 analog drum sounds for just 28hp. Space saving!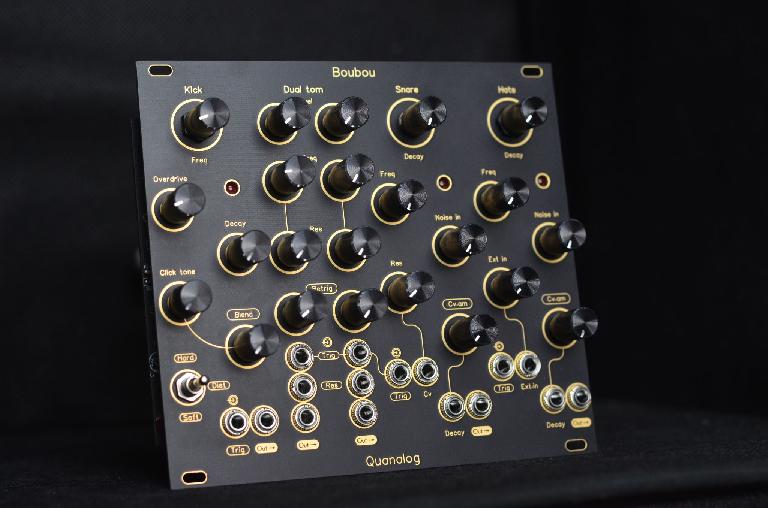 All 5 voices are analog filter based and can process the signal being fed in, so if the gate signal is being processed through a vca circuit you can create a multi level accent. Each module can process gate signal to become a drum sound or process each other as well as some other sound sources. The only limit is your imagination!

With 5 analog drum engines you can create a very good rhythmic part of your setup. When paired with any drum trigger it becomes a very powerful drum machine that can be useful both for live and studio environments.