Boots N Kats 2 is an updated and expanded version of Audiotlaw's digital drum machine for Ableton Live and Push 2. You can see our FREE masterclass featuring version 1 in action here. So what's new? Here's what the developers told us.
"Boots N Kats is the perfect drum machine for musicians and live performers who want to compose rhythm sections quickly. Featuring an intelligent automatic algorithm that provides endless pattern combinations for spontaneous improvisational workflows.
Packed with a sample library of 400+ meticulously sampled drum sounds–this automatic drum system seamlessly integrates with Drum Rack in Ableton Live 10 Suite."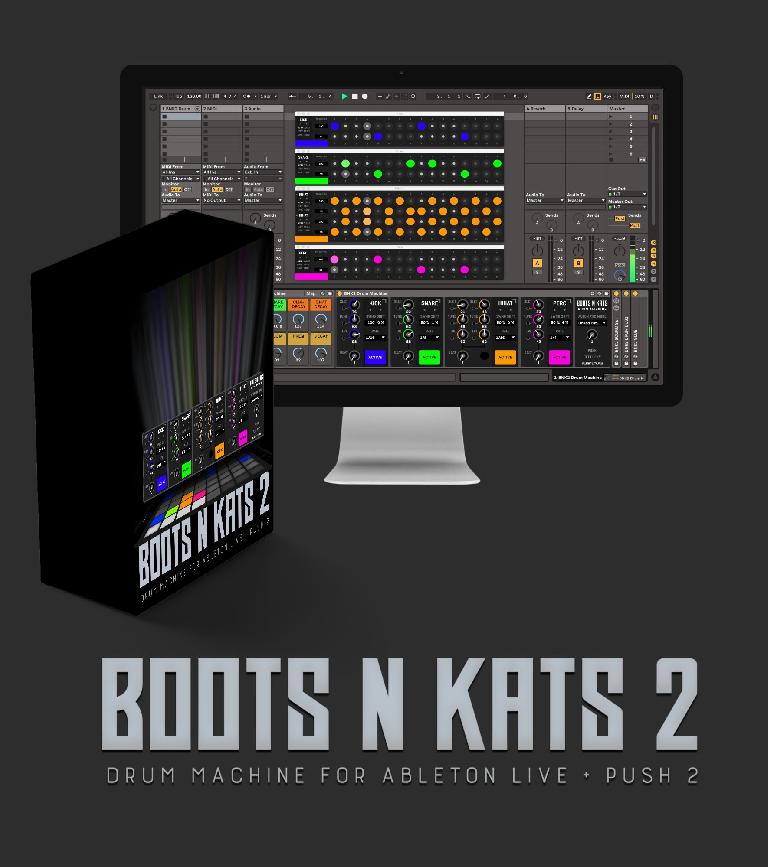 Our goal was to provide the ultimate Drum Machine for the electronic music creator. One that rivals and perhaps exceeds standalone hardware units in terms of sound and flexibility. Boots N Kats features a simple, familiar but powerful fully automatable interface.
Featuring 204 Brand New Sounds!
128 Kicks
128 Snares
128 Closed Hi-Hats
128 Open Hi-Hats
128 Percussion instruments
A total of 640 built-in unique, high-quality drum samples!
BNK2 is a 4 module pattern generator with generative abilities. It can be used to play everything from one infectious groove to a fluid succession that makes up an entire song. In addition to being able to play a string of patterns, it can also self-generate improvisational combinations from existing grooves. Also, each module can play at its own independent user-selectable rate.

Auto-Populate

The new Auto-populate feature can be used to generate a carefully curated collection of preset note patterns into the sequencer. So, you will never run out of ideas! Up to 100 preset patterns are available to guarantee that the groove never stops! Use the up/down arrows to scroll through the available groove selections.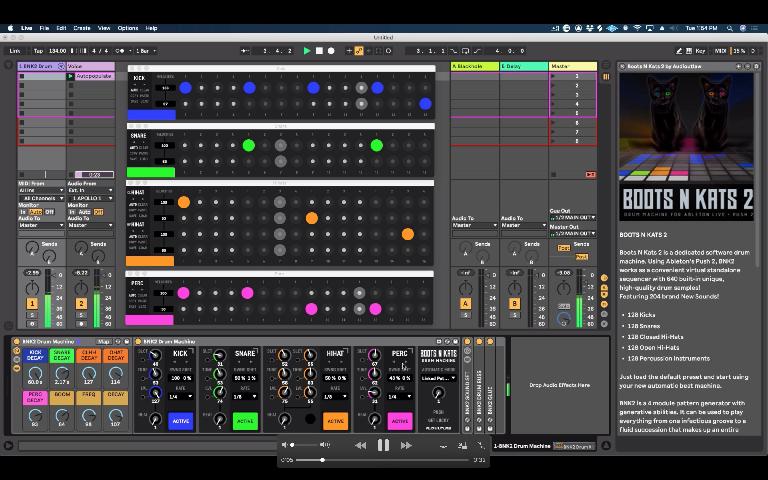 Get Lucky!

Pattern randomizers are at the heart of BNK2's improvisational skills. The "Get Lucky" button allows you to force BNK2 to select from your existing patterns randomly. This provides pleasantly unexpected results that might just be what your production needs.

Select different rates for each module to create more dynamic and exciting polyrhythms. Your Hihats can play at 32nd notes while your Kick might play at 1/4 note intervals. You can also add swing to each module.

Dedicated Push 2 Sequencer Control

The heart of Boots N Kats is its powerful sequencer. It appears as a popup window. You can enter notes by clicking or swiping multiple entries at once.

BNK2 now features a dedicated Ableton Push 2 Sequencer!

You can enter notes, change rates, patterns, select and mute instruments directly from your Push 2

Automatic Groove Control

The "Automatic" section chains and plays the 16 available patterns together sequentially in a sort of "Song Mode." You can choose for all of the patterns to change every 1 Bar, 2, 3 or up to every 16 bars!

You can also set up the Automatic Section to press the Get Lucky Randomizer every 1 Bar, 2, 3 up to every 16 bars!