Blue Cat's Dynamics is a full featured dynamics processor capable of acting as a compressor, gate, expander, limiter, waveshaper or all at once, thanks to a unique two-thresholds system. Almost 9 years after the initial release, this new version has been rebuilt from scratch, with a brand new user interface and redesigned algorithms with improved controls. With even more visual feedback with its new envelopes view and gain reduction histograms, the new depth and envelope shape parameters, the plug-in offers full control over the dynamics of the sound. An external side chain input has also been added to propose no less than 3 methods for side chaining. The full list of new features and improvements built into Blue Cat's Dynamics 4.0 is available below.

The plug-in is available to new customers at a special introduction price until July 15th: $99 or 99 EUR (instead of 149). Customers who recently purchased the software (in the past 3 months) will receive the upgrade for free, and others can upgrade to the new version for a small fee. Additional discounts for other Blue Cat Audio customers are also available.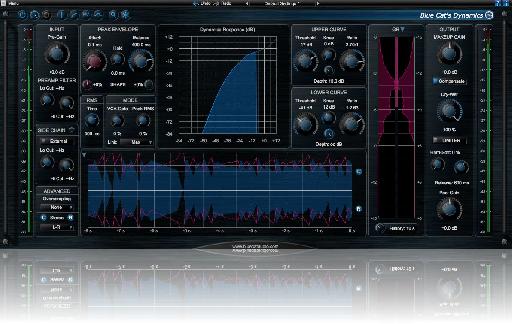 Blue Cat Audio Dynamics 4.0
Demo versions are available for download on www.bluecataudio.com to try the plug-in in VST, RTAS, AAX, Audio Unit and DirectX plug-ins formats, for both Mac and PC (32 and 64-bit).
New Features:
Fully redesigned algorithms.

External side chain input.

Control the attack and release shape of the peak envelope.

Improved monitoring, with gain reduction and increase histograms and new envelopes view.

Brand new fully customizable user interface:

New look and feel.

Show/hide what you need.

Meters and curves can now be frozen.

Zoomable GR meters and curves.

Improved readability.

Animated transitions.

New integrated presets manager:
Load/save presets from the plug-in's user interface.

Organize presets with folders.

Customize the default preset.

Exchange presets easily.

Load Presets using MIDI Bank Select and Program Change.

Copy/paste the plug-in's current state from the presets menu using the system clipboard.

Automation range and response curve can now be customized for each parameter (in and out).

Automation and MIDI settings (channel, MIDI learn etc.) are now accessible from the main user interface.

Audio Suite support for the AAX version for offline dynamics processing in Pro Tools.

Dynamics response curve is now displayed on the AVID S6 control surface when used with Pro Tools.

Improvements:
Limiter and output meter now work in L/R mode when the dynamics section is operating in Mid/Side mode.

New presets to get started faster.

Plug-in name has been shortened for a clearer display in mixer view for most host applications.

Plug-in now shows in the "Dynamics" section of most DAWs.

The windows installer now automatically detects the most appropriate VST install path and remembers where the plug-in was initially installed to simplify upgrades.

License is now shared between plug-ins types (register only once for all formats).

Improved value display in fine edit window.

Improved parameters display and response curves on control surfaces.

Optimizations and Performance Improvements:

Improved parameters precision (now stored as 64-bit).

More compact presets format (uses less space and loads faster).

Smaller binaries on Mac (dropped PowerPC support).

Bug Fixes:
(RTAS) Fixed parameters control with EUCON control surfaces in Pro Tools.

Fixed user interface issues in Final Cut Pro X.

Fixed keyboard stealing issue in Digital Performer 7 on Mac.

Fixed version number reported to host application for VST and Audio Unit versions.

System requirements:

Intel Mac running Mac OS 10.5 or newer.

PC running Windows XP or newer.

Link: http://www.bluecataudio.com/Products/Product_Dynamics/
Pricing:
Blue Cat's Dynamics 4.0: 99 EUR or $99 (instead of 149 EUR or $149), until July 15th 2015.