Wow! I'm finally learning that I need to pay very, very close attention to every BlinkSonic press release that comes my way. I'll admit I'm slightly lost for words with their new Substanz for Reaktor ensemble. It's packed full of awesome features and will probably appeal to those wanting a groovebox and finger drumming platform that'll help you stay in sync.
Here's what the good folks at BlinkSonic tell us about Substanz, and defintiely check out the video below too.
4 voices sample based groovebox and finger drumming platform for Reaktor 5/6. Remix the 4 tracks with the fx processor (25 effects) and included master chain. Get addicted to beats making with this new instrument.
OVERVIEW
SUBSTANZ concept provides a complete solution for switching between pre builded sequences and more lively performance with real time drum taps launched by an external midi devices.
With its wide flat design dashboard, all parameters are within a comprehensive workflow for creating a various range of beats and building modern rhythmic structures.
SAMPLE COLLECTION
SUBSTANZ° comes with a unique collection of samples, based on 41 drum kits which cover various electronic music styles (hiphop, techno, electronica).
These drum kits are a subtle reworked of percussive tones that coming from differents rhythm boxes, famous « amen breaks » and vintage acoustic drum parts.
All this resampled stuff have been precisely crafted and recycled in a blending audio process for getting 164 original high quality waveforms which got the particularity of having a long release, hybrid tones and a multitimbral layer.
This illustrated collection is splitted in 4 cutting-edge categories :
«Kickz» basic sub waveforms morphed with classic kick drums, noises and clicks,
«Snarez» a blend of synthetic and vintage snare drums which contains a multi texture and particular acoustic response,
«Cymbalz» hybrid waveforms that combines both open and closed hit/hats with crash and ride elements on the background.
«Magnetz» a selection of harmonic audio signals merged with some tom drums, reversed audio slices and other percussive tones.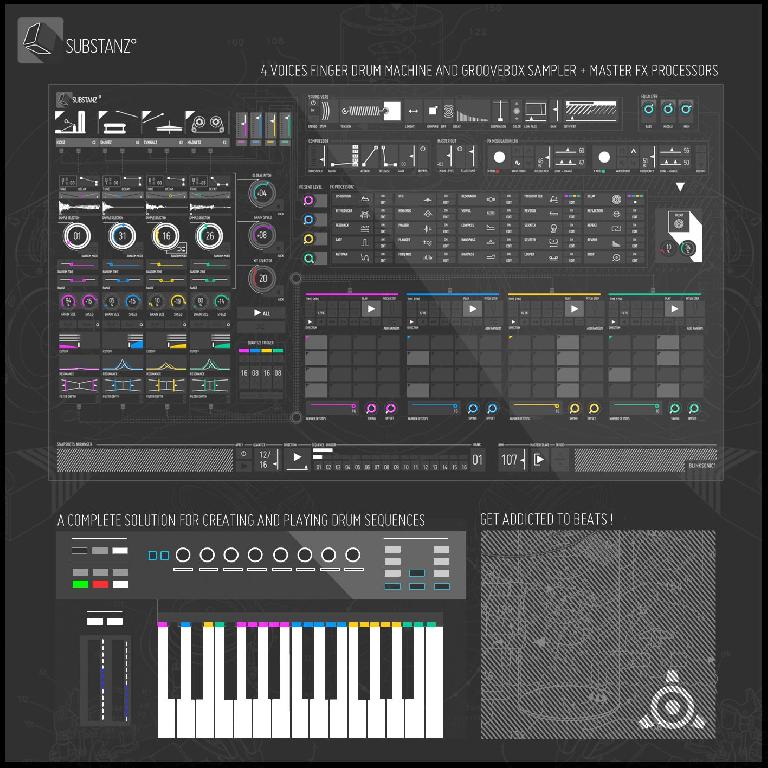 PREDICTABLE RANDOMNESS
SUBSTANZ° also contains the same concept, previously explored with Blinksonic° RUIDOZ and AETONZ. A random modes makes possible to define a range of aleatory on each gate events which changes the selection of the waveform.
This process injects a random dose to each of the 4 decks.
Following this principle, it's possible to create astonishing and evolving loops.
The instrument has been also designed to provide an extensive solution for composition and to subsequently be easily transposed for live use, create a simple rhythmic base and be able to tweak and adjust without losing the essence of the original idea.
The « snapshots arranger » module takes the control of presets and gives an order of execution to all of them. Then, it's possible to build the skeleton of a song or more structured sequences.
And just because it was not enough. SUBSTANZ comes with a wide collection of 25 effects modules that can be instantly triggered via midi, offering the possibility to remix and smash the whole and create impressive playable sound mangling.
For managing dynamic and the main atmosphere of your mix, SUBSTANZ also includes a master chain effect with a basic equalizer, a spring reverb, a compressor and flat/pump limiter.
A GOOD HOST FOR YOUR SOUNDS
It's also possible to load your own samples in each decks, add some granular/pitch modulations in real time, quantize your midi inputs, add some instant kit changes...
KOMPLETE KONTROL S keyboard owners have not been forgotten. SUBSTANZ is Native Map and Light Guide ready.
Also include, Automation ID for controlling parameters envelope with your DAW (Maschine, Ableton, Cubase, Logic..)
All these features make SUBSTANZ an addictive and powerful beat station for Reaktor 5/6. With a standard midi controller and Reaktor in standalone, it's a killer gear for live making. Especially, if you are looking for a virtual instrument offering a paradigm of performance, originality and inspiration.
Around 100 snapshots are available in various music style (IDM, GlitchHop, House, Electro, DNB). You can used them to make a good start managing this little monster...
Beware ! You will be quickly addict to SUBSTANZ° !
FEATURES
4 Sample Decks with pitch, decay, grain size, reverse mode, LP/HP Filter, panner.. Launch samples with external midi or intern midi step sequencers.
Switch easily between this 2 performance modes (manual tap or step seq).
4 banks of 41 prepared hybrid digital and vintage drum kits
Random mode with zone and range parameters for the selection of the waveform of each decks
« Global Pitch » and « Global Grain Speed » for modulating the 4 decks in real time
Pre mixer, mute track and FX send level
4 x 16 steps sequencers, with time sync and direction selector. Set pitch per step, Adjust swing, start point and add some randomness to the loop.
Add midi gate events over the sequencer in real time with the virtual pads (can be controlled with Midi)
Quantize these events with the time sync selector for creating rolling drum effects.
Quantize trigger
25 effects : Distortion, Bit Reducer, Feedback, Gate, Autopan, UFO, Ring Modulator, Phaser, Flanger, Freq Modulator, Resonator, Vowe, Lowpass, Bandpass, Highpass, Pitchshifter, Reverse, Scratch, Stutter, Looper, Delay, Reflection, Repeat, Reverb, Drop.
All can be enable on the fly and adjust by 2 parameters.
Fx modulation LFO for controlling the 2 fx parameters (X/Y) 3 band Equalizer
Spring reverb
Compressor
Flat/pump crossfader. Kind of finalizer/limiter
Snapshot Arranger for building songs or more structured sequences Intern BPM/Clock function with Divide button.
REQUIREMENTS
A MAC or a PC with the full version of Native Instruments REAKTOR 5.9.2 or REAKTOR 6,
A screen resolution of a minimum of 1920x1200 megapixels for a full display of the instrument. SUBSTANZ size is 1665x 977 megapixels.
Intel Core 2 Duo equivalent must be enough with 4 GB of Ram. To give an idea this ensemble has been created on a 2,7 Ghz Intel Core i7.