CHICAGO, IL • June 2, 2015—Black Lion Audio, an independently owned company based in Chicago, today announced the release of the Micro Clock MkIII, a significant redesign of its predecessor, the Micro Clock MkII.

The Micro Clock MkIII is the culmination of almost 10 years of research involving jitter-reducing, harmonic-enhancing design techniques not found in any other master word clocks on the market. It's the easiest way to upgrade your existing digital audio setup, whether it's for live, studio, or home use.
Core technological improvements include:
Lower-jitter crystal oscillators

Higher-quality galvanic transformer isolation in the signal path

Dedicated output drivers with better isolation

Higher-precision signal division

Much heavier noise filtration throughout the circuit.

All of this results in a more robust, lower-jitter clock signal than the Micro Clock MkII, with even more desirable harmonics in the clock's spectral band that impart an undeniable musical quality to the conversion process. The feature set has expanded to include an LED frequency display, six BNC outputs capable of up to 384kHz, AES and RCA S/PDIF outputs capable of up to 192kHz, and an optical S/PDIF output capable of up to 96kHz.

Black Lion Audio Micro Clock MkIII (front)
"I've never been one who believes a particular clock is going to significantly change my world" says multi-Grammy Award winning producer/engineer Tony Maserati (Beyonce, Jason Mraz, Black Eyed Peas). "I've used some of the best names, and it's comforting to know they all perform within a few degrees of one another, which is why I wasn't dying to try a new one.
When Black Lion Audio sent me the Micro Clock MkIII, I waited till I had a room full of engineers and producers before plugging it in. In blind testing, the team chose the Micro Clock MkIII over our previous clock. I sat skeptical in the rear of the room. When I finally ventured to the sweet spot and A/B'd it for myself, it was clear. Black Lion Audio had surprised me. The Micro Clock MkIII produced a better depth of field and increased clarity.

In the world of mixing records, I'll implement any gear into my system that brings my mixes closer to an approved master, faster. The mixes I've been doing with the Micro Clock MkIII have gotten better responses from my clients and make the decision-making process easier for me."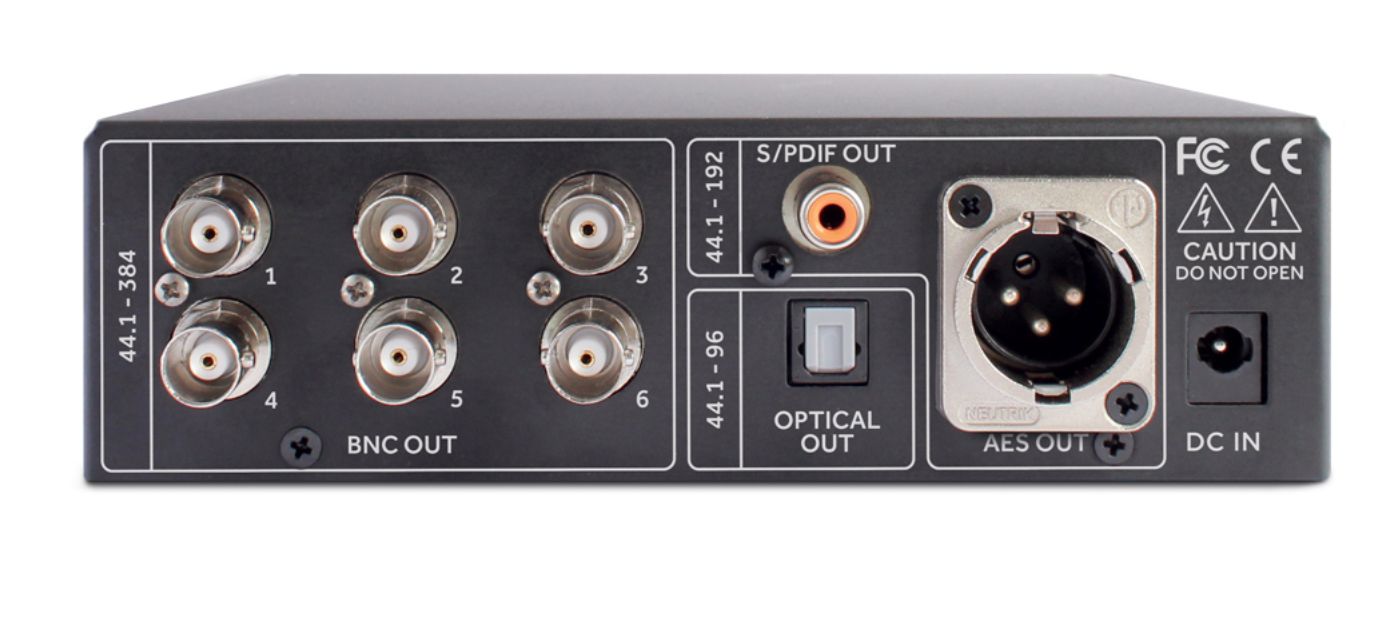 Black Lion Audio Micro Clock MkIII (rear)
Features
Ultra-low jitter, harmonically-enhanced word clock signal generation

Dimmable frequency display

8 selectable sample rates (44.1kHz - 384kHz)

6 BNC outputs with dedicated output drivers for maximum isolation

RCA S/PDIF output

Optical S/PDIF output

AES output

1U removable rack ears

Specifications
Jitter: 1.92pS RMS (BNC outputs)
Outputs:
(6) BNC: 75Ω, 5V unterminated

(1) RCA S/PDIF: 75 Ω, unbalanced

(1) Optical S/PDIF (recomended max. cable length = 1m)

(1) AES XLR: 110 Ω, balanced
Clock Frequencies
BNC (kHz): 44.1, 48, 88.2, 96, 176.4, 192, 352.8, 384

RCA S/PDIF & AES (kHz): 44.1, 48, 88.2, 96, 176.4, 192

Optical S/PDIF (kHz): 44.1, 48, 88.2, 96

Power: 9VDC (6W power consumption)
Power connector: 2.1mm barrel connector with 5.5mm outer diameter (center pin positive.
Weight: 2.2lbs
Dimensions: 6.5"L x 6"W x 1.75"H (without 1U rack ears installed)
Shipping weight: 4lbs
Shipping dimensions: 13"L x 11"W x 5"H
Price: MAP US$999.00