Bitwig Studio 4.2 Is Officially Released!
Bitwig Studio 4.2 is officially released... and it comes with a new sound package!
After a short beta phase, Bitwig Studio 4.2 is out now and available to the world. With the release Bitwig is also introducing a new sound package, Notes in Motion, that showcases the new sound design possibilities with Note Grid.
Notes in Motion Sound Package
Notes truly are signals in Bitwig Studio, and Note Grid is just the newest way to set notes in motion. The Notes In Motion package includes 30+ patches that generate music, reimagine arpeggiators, sequencers and note repeaters, and offer modular drum interfaces, and more.

You can load them into your Instrument track as Note Grid presets (these have a blue Note FX icon) and feed the output of processed notes into the Instrument of your choice.

36 Instrument Presets come ready to make sound as Note FX devices embedded in FX slots, with handy Remotes already mapped. There are also 31 Bitwig note clips for melodies, chords and leads with pitch FX to provide a quick and easy way to get going with Notes In Motion.
New Audio FX
What sounds good? Inspired by some classic audio effect units, the folks at Bitwig made a suite of excellent effects for Bitwig Studio 4.2. Please welcome new choruses, flangers, phasers, and just one more note FX to the family.

They may look like three new devices — Chorus+, Flanger+, Phaser+ — but they're really more like 12. Each device has four unique Characters that have their own DSP architecture, similar to different eras of vintage studio hardware. And each was designed to have range and sound good. Like, really good.

Chorus+ Characters
CE - A synth-style friend, with different tone inspirations
DD - Subtle, 80s, and coming from all sides
8v - Eight voices swirling thru caverns of feedback
x2 - Classic voice doubling circuit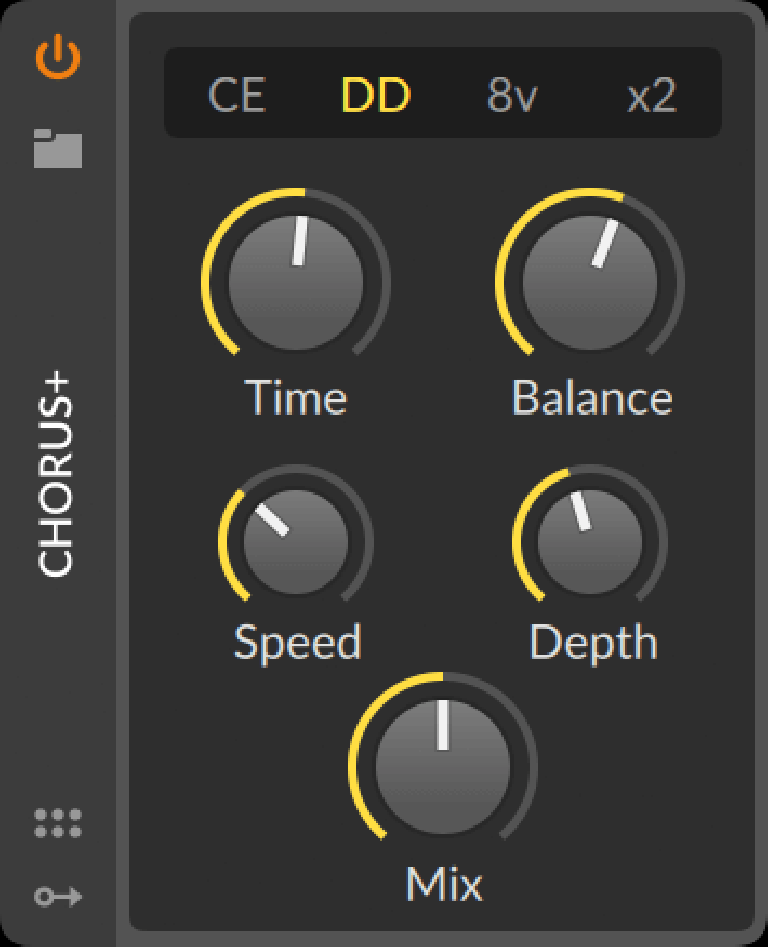 Flanger+ Characters
DP - That digital, scrapy cousin who chews up sound
MX - A firm, pedal-style classic
TFX - Smooth and sparkly, with some edge
WA - Stronger, but subtly delicate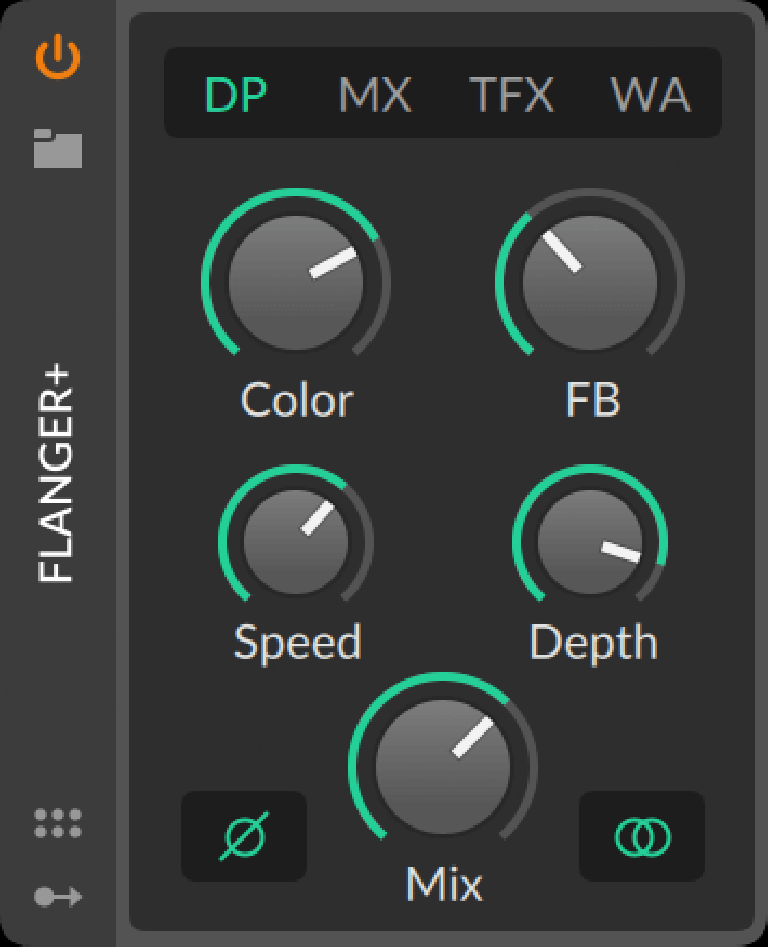 Phaser+ Characters
GS - Our spikey #1 friend
EHx - Classy and smooth, with silky motion
MX - A raspy devil, but solid
MF - Pleasantly greasy and deep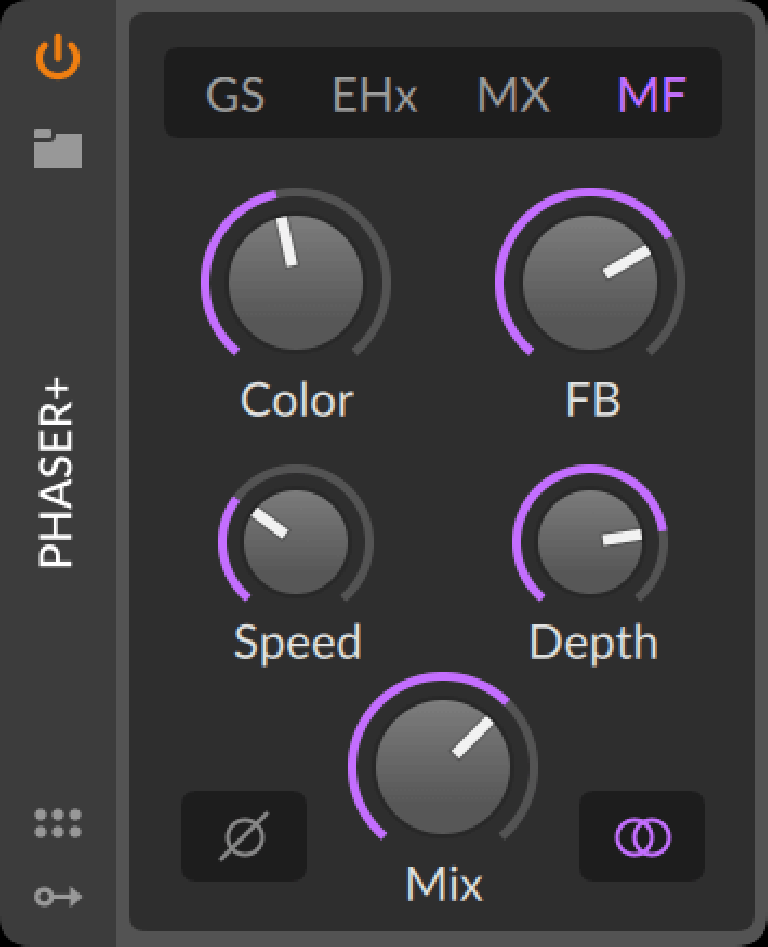 Bitwig spent a lot of time and care shaping each Character, including the LFOs that make each sound move. But you can also "override" Flanger+ or Phaser+ and get direct control. By mixing and matching LFOs, step sequencers, and any of Bitwig's 38 modulator devices, you are free to animate the algorithms and make them your own.

And Chorus+, Flanger+, and Phaser+ are also available as Grid modules. So throw these full effects into any Grid patch, with the freedom to craft a stereo modulation signal or make it fully polyphonic. As always, whatever you can imagine is possible in The Grid.
Note Grid
The Grid is Bitwig Studio's modular sound-design environment, where building instruments and audio effects with Poly Grid and FX Grid is effortless, intuitive, and fun. Bitwig Studio 4.2 introduces a third device: Note Grid. With access to The Grid's 184 modules and polyphonic structure, Note Grid is made to process notes or even generate them.

With the new Note Out module, connecting a gate signal will start outputting notes. Pitch, velocity, and channel can be set manually or with dynamic signals. And since Bitwig fluently speaks MPE, unfolding Note Out allows signals for each note's timbre, pressure, gain, and panning expressions. As with all other Grid modules, Note Out(and CC Out) are available to Poly Grid and FX Grid as well.

Eight musical presets are included today, including new kinds of arpeggiators, swarming polyphonic randomness, modular drum sequencers, and even music-generating patches. The presets are production-ready, and together they show a range of possibilities with Note Grid.
And Some More
4.2 has some further miscellaneous updates to mention.
New mini views for the Oscilloscope and Spectrum devices. With new audio effects in the works, it was especially handy to have mini views for devices that visualize their effects
A new Anti-aliasing option for most Grid Shaper modules
And a new Hard Clip module joining the team
A new Channel-16 modulator. Since Note Grid can sort signals into16 MIDI channels, the new Channel-16 modulator helps you use those groupings on any instrument or plug-in.
And when generating notes with a module like Probabilities, it just made sense to add a Confidence output, good for per-step velocities or just a little self-assurance
Bitwig is now available in French
The changelog and release notes are here.
Availability
Bitwig Studio 4 is out now and it is a free upgrade to everyone with an active Upgrade Plan for Bitwig Studio. All the new features except the sound package 'Notes in Motion' can also be explored in the new 30-day trial version.
Get your official Bitwig Studio Diploma
Get your official Bitwig Studio Diploma in just three days by taking part in an online class with Certified Trainer Thavius Beck.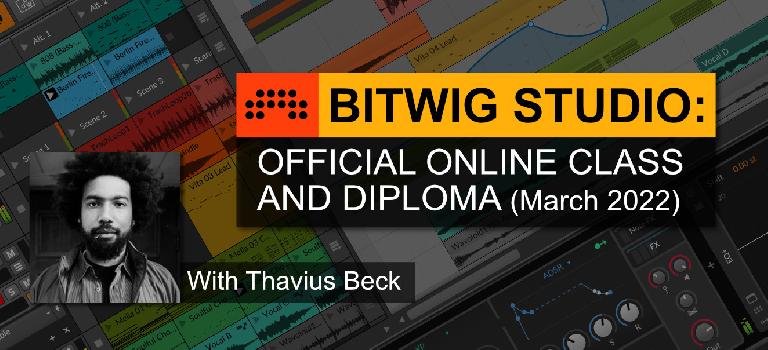 This online class consists of three live interactive sessions, plus four on-demand video courses, including:

Day 1: Basics and Production
Day 2: Mastering the modulators
Day 3: The Grid

Attend the 3 lecture sessions to learn new skills and get mentored by Bitwig Certified Trainer, Thavius Beck. And once you complete the class and pass the final exam, you get the official Bitwig Studio Diploma and a badge on the Bitwig site. All attendees will also receive an official Ask.Video completion certificate.

Sign up now!