Max for Live can be quite intimidating to use but there are some simple and interesting effects that can be created using objects from Max/MSP. In this article we are going to look at one. Degrade~ is a bit depth & sample rate reduction object in Max/MSP that can be used in Ableton via Max for Live. Now there already is a similar plugin in Ableton called Redux that essentially does the same, but we will see how degrade~ can be utilized in a very different way and as a result processes the audio in a very different way.

Note: This article assumes you have Ableton Live, Max for Live and Max/MSP. 30 day demo's of all these applications can be acquired from www.cycling74.com & www.ableton.com
Step 1 - Loading & setting up devices
Open Ableton Live and load a Max Audio Effect (from the Audio Effects folder) into an audio track. This will load Max for Live and you should see a Max for Live splash screen if this is the first Max for Live device you have loaded into the session.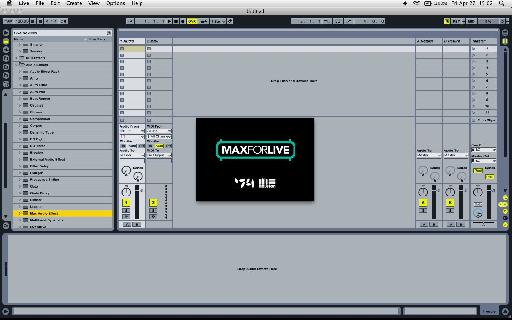 Load a drum loop or any rhythmic loop into a slot on the same audio track that has the Max for Live device. Click the edit button on the Max Audio Effect and it should load up the device in Max/MSP. Any changes you make here will be reflected in Ableton in realtime.
When you hit '