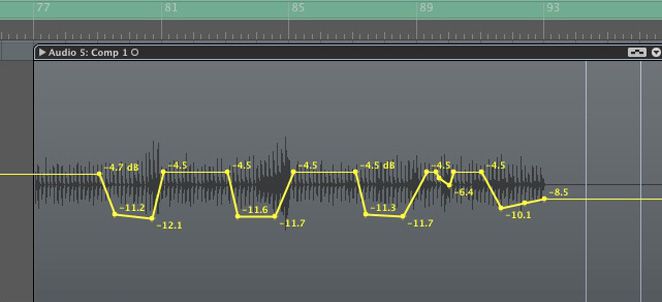 While using compression to even out track levels has long been the 'go-to' method, it has several drawbacks that aren't easily overcome. It can be difficult to get the perfect settings on a compressor to handle every type of volume issue a track may have. I'm sure you've run into a few of these before:
Vocals that have a phrase or word here and there whose level is too low—setting the compressor threshold low enough to 'grab' them causes unwanted noise or other problems in the rest of the track.

Bass tracks with notes or tones that 'poke out' in places.

The compressor itself making things sound flat due to too high a compression ratio, but lowering the ratio causes certain parts to get lost in the mix.

The compressor 'coloring' the sound—even if it's doing the job of evening out the levels properly.
While compression can be your friend and is certainly something I recommend using, it falls short in many ways. Automation, on the other hand, gives you much more control and can make all the difference in the quality of your mixes.
Some may say that automating everything is tedious—you can think of it that way, or you can turn it around and say 'my mixes are worth the extra effort'.
There are a couple different methods that I use when automating mixes—using automation alone or in conjunction with compression. Using only automation, I find, can give you a much cleaner sounding track, as there's no compression affecting the audio, however it can be significantly more time consuming depending on how much level work needs to be done. Compression in conjunction with automation can be useful when you have a relatively even sounding track, but have just a few bits here and there that need some attention.
If you absolutely want the best sound quality, automation only is the way to go. You have complete control over every word, note and nuance of the track.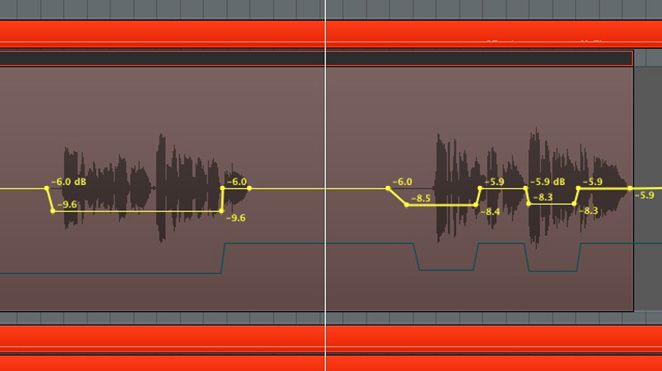 In this screenshot, you can see an example of how I'm using automation to control a vocal track and bring up specific words/phrases. In this case, compression simply wouldn't do what I needed—the bump from -9.6 to -6 at the end of the first phrase or the -5.9 section in the middle of the second phrase would not be possible.
Ok, you say, I want to do this but isn't there an easier way? Up until relatively recently, I would have had to say 'no'—you just have to put in the time. That has changed in the last few years and there now are plug-ins that can make the task of automating your tracks a lot easier. Vocal Rider from Waves, MAutoVolume from Melda Production and Wave Rider from Quiet Art (Pro Tools only) are a few that I've found quite useful. Depending on the type of track you're working with, you may still have to do some tweaks, but they can reduce the amount of time spent on automating considerably. Where they fall short, I've found, is usually with 'perceptual' volume differences—bass tracks come to mind, where a particular note pops out, but it's due to harmonic content in the note, rather than an actual volume difference.
If you're not convinced yet, all I can say is 'try it'—I'm fully confident that there will be a noticeable improvement in the clarity and consistency of your mixes.