Here's an overview of Quantiloop Version 2.0 . You can read our review of version 1 here.
The best Looper for iOS just got beaten by itself. Quantiloop 2 is the ultimate virtual loop pedal for iOS. It offers 4 tracks, 4 play modes, including a new Serial-Master mode as well as 3 assignable input FX and 3 assignable track FX. Effects like tape- stop, reverse and transpose are offered natively while any Inter-App audio effect may be hosted as well. MIDI slave supports offers sample-accurate sync to external equipment and while the new arm mode improves the workflow for live performers.
Building on its history, it still offers a great Inter-app audio capable rhythm track, sample accurate quantization and much more. It's simple operation mimics a hardware looper without the limitations.
Features
4 Tracks
Free, Synced, Serial and Serial- Master Playing Styles
Multiple Quantize Modes
Multiple Stop Modes
Unique Arm Mode
Adjustable Fade Out and Fade In • Unlimited Overdubs
Overdub Decay
Undo/Redo
Auto Record
Rhythm guide with auto-start, auto-stop and count-in
Audible & Visual metronome • Input FX (including transpose, reverb and IAA)
Send start, stop and host sync to rhythm apps
Real-time tempo control
Extensive MIDI control
Assign Tap, Hold and Double Tap actions
Audiobus & Inter-App Audio • Individual outputs
Ableton Link
MIDI clock master
MIDI slave
MIDI program changes
Cloud Import/Export
Unlimited banks of 32 presets • Track FX (tape-stop, fade, reverse, transpose etc. and IAA)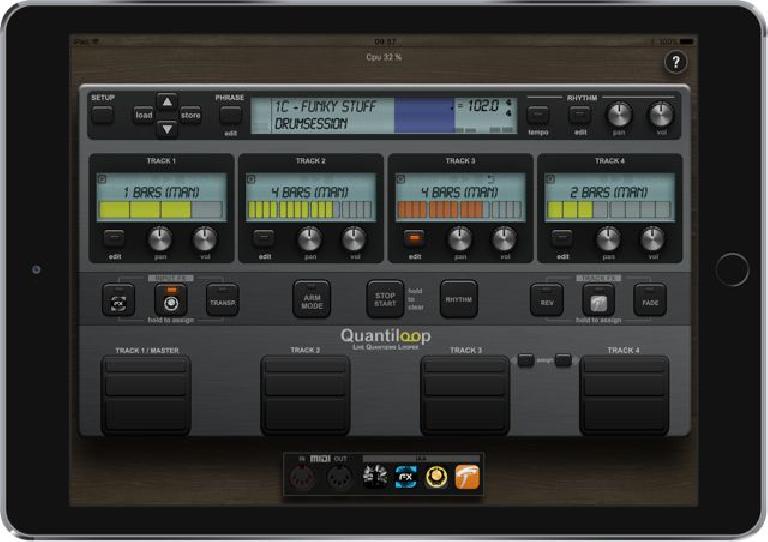 Pricing & Availability
Quantiloop for iPad Version 2.0 is available globally as of January 31, 2017 on the App Store for $9.99/€9,99, and as a free upgrade to existing users.
Requires iPad Mini or iPad 2 (Retina iPad or higher recommended. iOS 8 or later.