2016 is like the year that Kontakt instruments have continued to evolve and advance the platform further beyond the alternatives available. Whether you're looking for realistic orchestral libraries, incredible sound design engines, or emulations of vintage analog synthesizers, there's a Kontakt instrument for you! Here's some of our favorite Kontakt instruments that were reviewed by a range of our authors in 2016. We didn't include Kontakt instrumnts we didn't get hands-on with.
We've split this article into separate pages per instrument with each Kontakt instrument appearing in no particular order... use the Next/Previous buttons below to view all Kontakt instruments in this list.
1. Wave Alchemy Revolution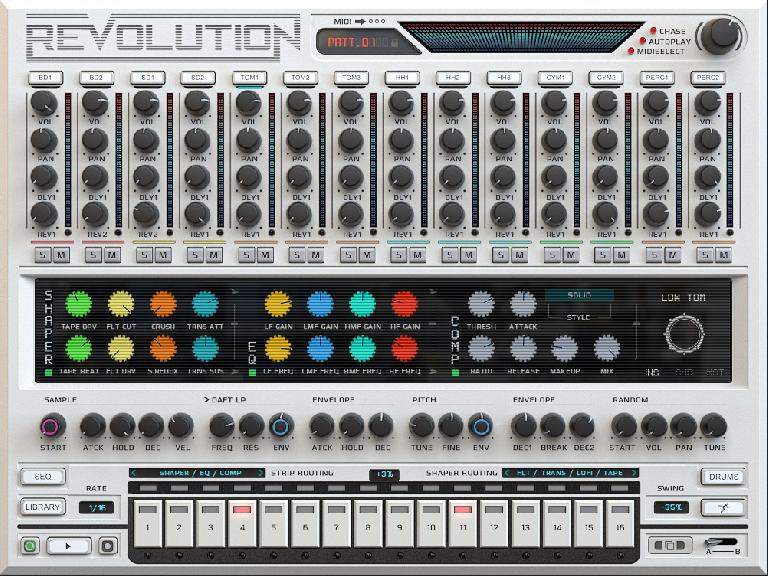 This one squeezed in by a matter of days into 2016 as it was released just prior to Christmas 2016. Revolution's 8 GB sample library is comprised of 41,000 samples taken from 14 classic drum machines, slyly referred to as RV-808, RV-909, RV-606, RV-707, RV-727, RV-505, RV-78, RV-8000, RVSP-12, RvBOY, RvDX, RV-TRAKS, and RV-DRUM. If the titles aren't a dead giveaway, a quick glance at the corresponding drum voice interface should provide any remaining hint needed to determine the source.
Recorded on a pristine signal chain, resampled through a number of character-inducing paths, and programmed with the option of round-robin alternating playback or direct digital reproduction, each drum voice can be set to up to ten different character modes before being tweaked further, instantly allowing a wide range of incarnations for each drum sound.
All this, of course, is presented in a 14-voice drum mixer, where each drum kit can be built from the ground up by mixing and matching from the different machines—808 kick with 505 hats, Linn Drum Snares, and 909 claps, for example. Each drum voice within the mixer has independent volume, panning, delay and reverb sends, along with mute and solo switches. A title button at the top of each drum track selects which drum voice is currently edited.
Available in Native Instrument's free Kontakt Player—meaning it doesn't require a full Kontakt license to operate—Revolution is just about as enticing a virtual drum instrument as one could imagine for those seeking classic drum sounds. The immense sample library itself is top-notch, with sound manipulation via the flexible built-in effects going above and beyond. Factor in the fun and full-featured sequencer along with Native Instruments' NKS keyboard and Maschine integration, and you'd be hard pressed to argue for a better in-the-box vintage drum solution.
Price: £149.95; £119.95 introductory sale price – with cross-grade offers for owners of previous Wave Alchemy Revolution instruments.
Pros: Incredible sound quality, great interface, clever workflow commands, powerful effects, instant sequencing.
Cons: Takes up some hard drive real estate; mixer settings (only) not available for automation in Ableton Live; also, no undo, triplets, or effects sequencing – yet.
Review: https://ask.audio/articles/review-wave-alchemy-revolution-drum-machine-supreme
2. Sample Logic Cinematic Guitars Organic Atmospheres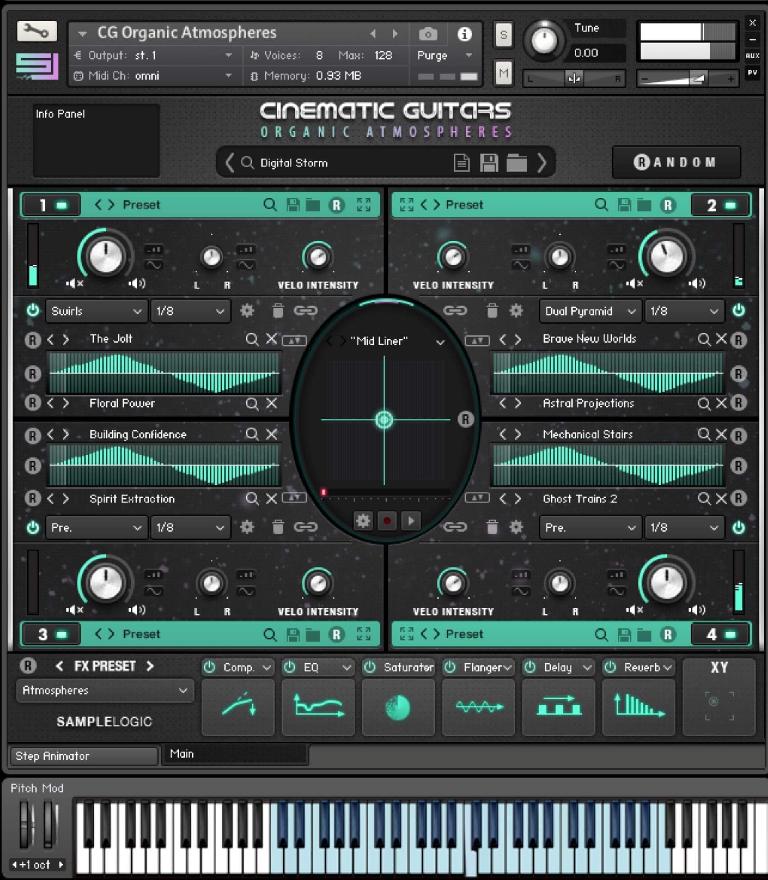 Sample Logic's Cinematic Guitars Infinity is a lot more than a collection of samples, it's an engine and a massive library that contains years of design, creation, and categorization. Cinemorphx builds on the CGI engine and uses common interface elements of CGI to provide a library of ambient and aggressive atmospheres for film composers.
Pegged squarely in the middle is the new Cinematic Guitars Organic Atmospheres library. It's almost as if CGI and Cinemorphx had a baby, and that baby grew up to be an 850-preset sonic monster. Imagine the source material and power of the CGI library but with the focus and direction of Cinemorphx and you've got something close to CG Organic Atmospheres. It's a pretty incredible library of sounds.
CG Organic Atmospheres is a fairly specific tool. If you find yourself creating film cues on a quick turnaround (or at least you wish your turnaround was quicker!), you really can't go wrong here. This collection definitely has a 'sound', and the staggering number of presets and customization options more than provide great value for your money.
3. Heavyocity Vocalise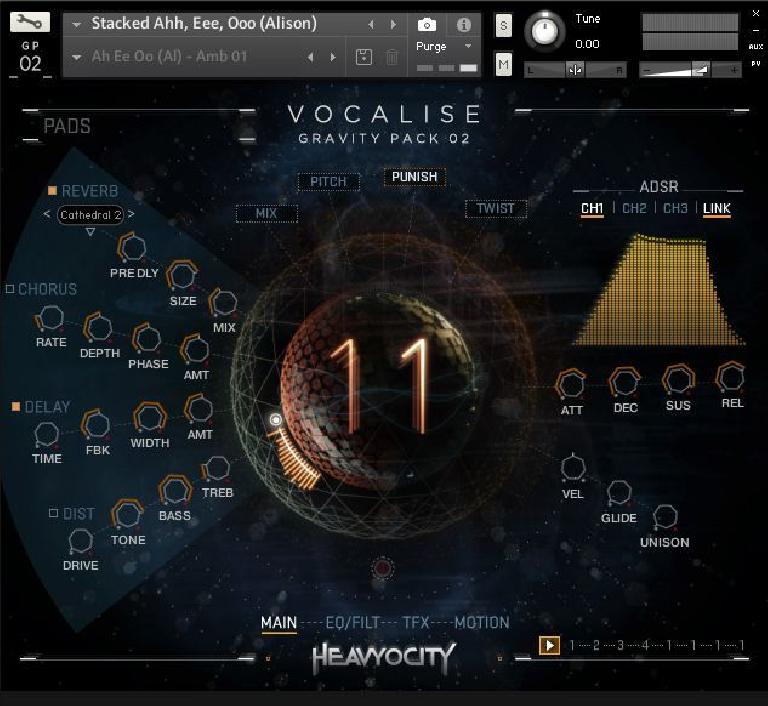 We haven't seen any library that visually, and audibly comes close to Vocalise from Heavyocity.
Vocalise as a library is made up of 4 GB of uncompressed audio, featuring vocalists like Siobhan Magnus, of American IdolSeason 9. In addition to Complex Pads, 120 Single Pads, 16 Sustained and Moving Vowel Pads, and 16 Performance Palettes. But we can't just limit it to patches.
Part of what separates Vocalise would be the unbelievable amount of modulation that can take place through the Motion and Tilt Pages. Through an octave put aside by the developer, key mappings allow an incredible amount of performance options which really do induce massive changes.
Vocalise is amazing in the sense that it is a tweaker's instrument, but it's designed for anyone to tweak. You do not need to be a gearhead to make it work. The workflow is extremely straightforward. And, every time you think that you've finally found something it does not have in terms of modulation, or even an internal effect, you'll often find later that it does have that effect, parameter, or routing.
And, in terms of whether or not this package really will help a budding composer, I would emphatically say yes. Even sound designers will enjoy this, as female vocal blurbs are great for horror games, as well.
Price: An amazing $100
Pros: Powerful Kontakt based instrument that gives you some incredible sampled choirs and gives you the means to manipulate the hell out of them. Suitable for many kinds of performers.
Cons: 4 Gigabyte download, if you consider that a con.
Review: https://ask.audio/articles/review-heavyocity-vocalise
4. Umlaut Audio uBeat Bundle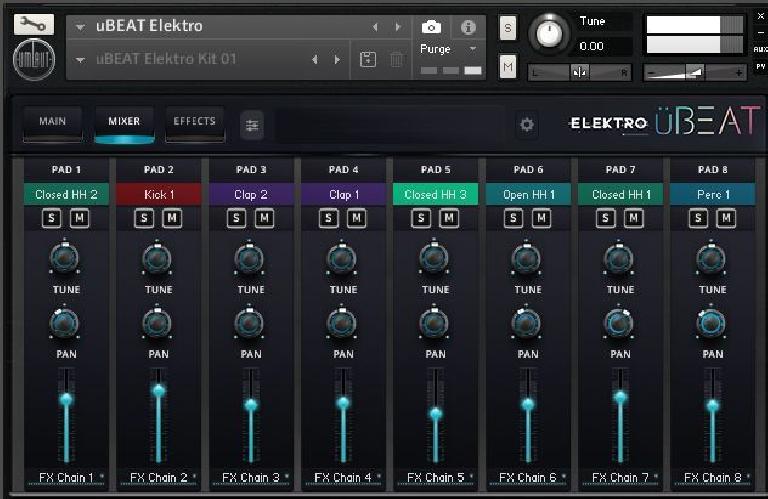 If you're doing Hip-Hop, EDM, Trance, EBM, House, and any other sound that relies on electronic drums, you're really going to want to check out the uBeat Bundle from Umlaut Audio. Despite the slightly questionable product name, it's actually a very powerful drum library featuring three excellent Kontakt instruments that act as both interfaces, guides and players for a sound collection that is absolutely worth way more than what they are selling it for.
We were really impressed with uBEAT. It's got a very current sound that really feels right for what I'm doing, in terms of Electro, and Hip-Hop hybrid sounds of my own. And it gives you enough individual control over each drum that you can quickly tailor any kit within the collection to suit many sounds like pop, film, EDM, Trance, House, Hip-Hop, Trap, Dubstep, and more.
Price: $199
Pros: A well dialed in collection of kits with effects and players that really make beat making fun and educational, while still giving you a highly modern sound.
Cons: Kontakt-based, meaning you need Kontakt 5, or Kontakt player to use this product.
Review: https://ask.audio/articles/review-umlaut-audio-ubeat-bundle
5. Sculptor Live Impacts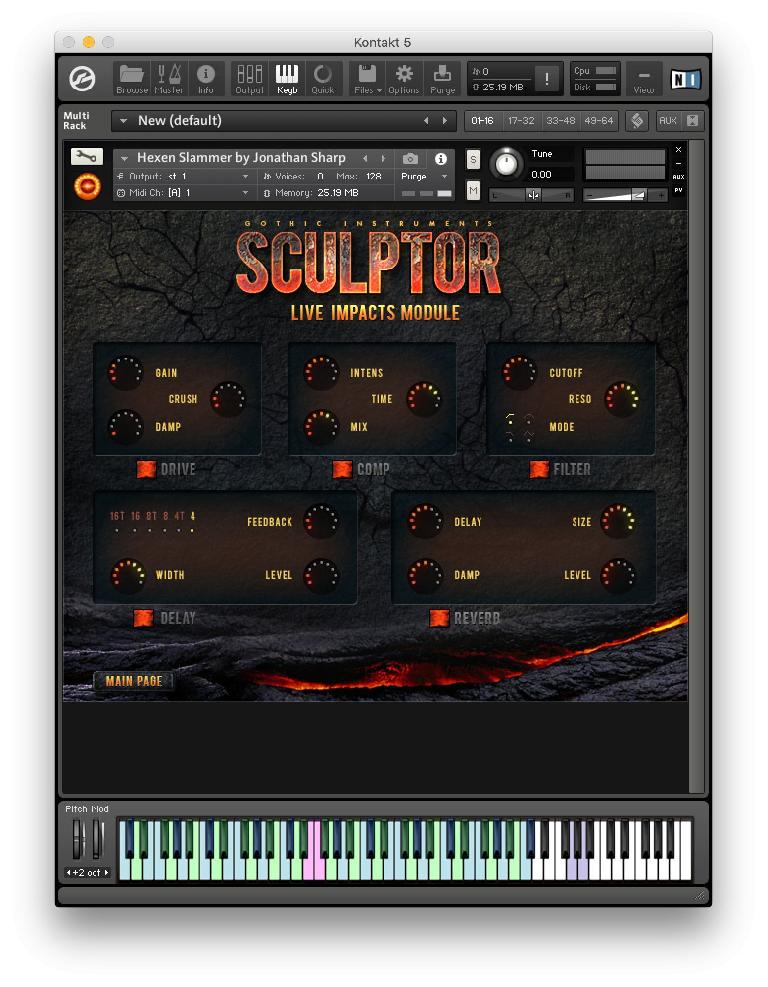 Live Impacts is the first in a new series of sound libraries for Kontakt called Sculptor, developed by Gothic Instruments, the team behind Dronar. Weighing in at around 250 MB it's much more space-efficient than many libraries, due partly to the fact that it makes clever use of its samples. Those samples were recorded by Alessandro Camnasio, a leading sound designer on blockbuster movies like Mad Max and Transformers amongst others, and as if that wasn't a big enough clue, the focus of this library is on high impact sounds and effects.
Live Impacts is a simple-to-use but massive-sounding patch library with a strong focus on action and weighty effects, perfect for movies and game soundtracks. It's probably a bit bombastic for all but the heaviest electronic music but you could certainly incorporate some of its percussion sounds into regular music projects. Having had great fun playing with this first member of the new family, I look forward to seeing what other modules the developers come up with.
6. John Diamanti Fox Solo Clarinet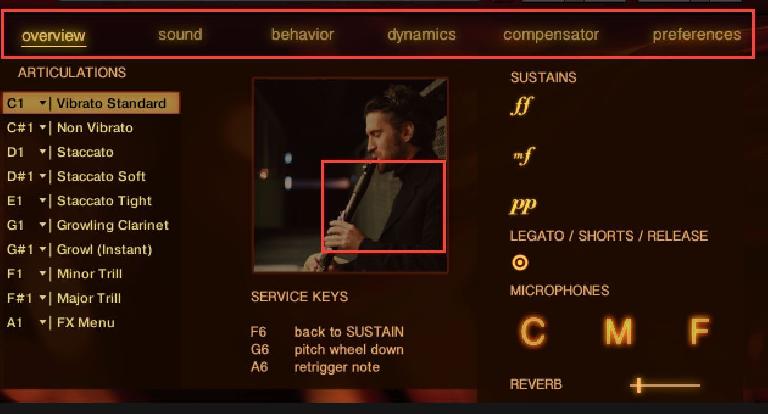 The John Diamanti Fox is a solo clarinet Native Instruments Kontakt instrument that requires the full version of Kontakt. It has three mic positions (close, mid, and far) and three legato articulations, each with three dynamic layers, and with four round robins for the shorter staccato articulations. It also has major and minor trills, a glissando in the upper octave of its three-octave range. All the articulations have keyswitching assignments that you can easily change and create your own (more on that later.) It also has some nice FX and a number of presets. Finally, it has a "Dynamic Control Engine" with scripting that uses scripting to make articulation transitions smoothly.
7. Output Substance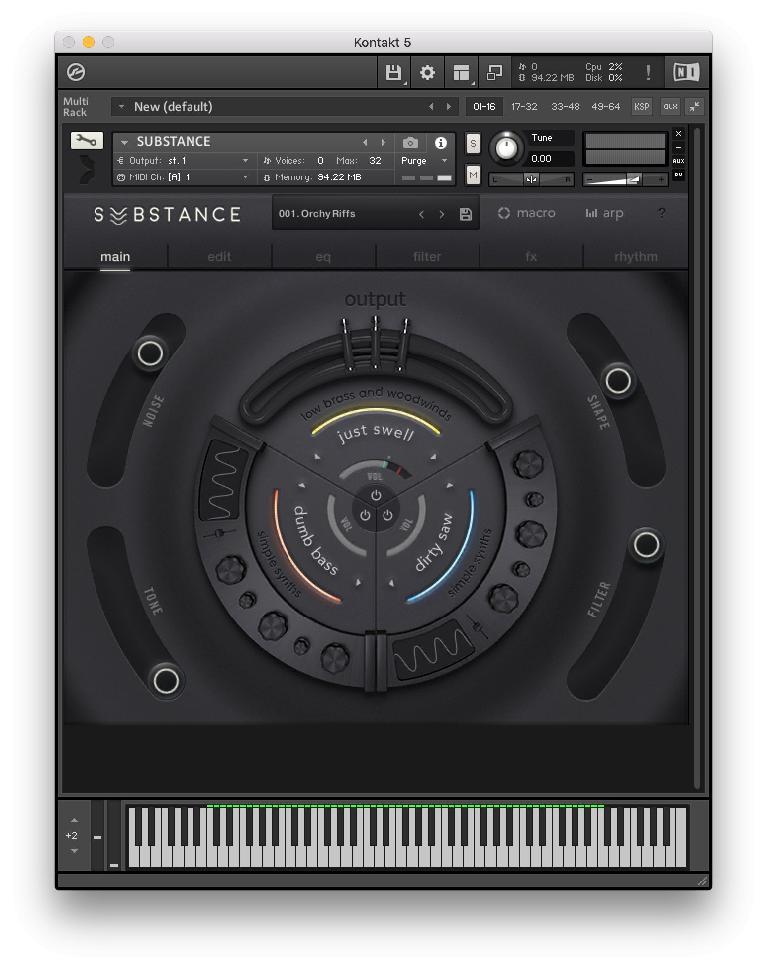 Hollywood, CA—based developer Output has made a name for itself producing unique and forward-looking instruments such as Rev, Exhale and Movement, all of which blend musicality with advanced sound design capabilities. To its growing stable of Kontakt-based instruments, the company now adds SUBSTANCE, a "bass engine" that uses samples and extensive processing tools to provide an almost infinite palette of bass sounds. The focus isn't on emulating any particular model of bass but rather taking a wide range of sources and harnessing the immense power of Kontakt (including the free player version) to provide total control.
The 5 GB library is relatively compact by today's standards and the instrument is self contained, meaning you do all patch loading from within its interface. The Main page is the first you come to and provides quick, easy access to all the most fundamental parameters of a sound. There are three layers in any patch which can all be edited independently and clicking any of these jumps you to its source selection area. Here you can choose from nine categories and within each one, a further nine sources. The sections include subs, bass guitars, hybrids, low brass and many more and these are easy to preview.
Stylistically there's a huge amount you can do with SUBSTANCE. While the most immediately gratifying patches might include the crushing, pulsating dubstep wobbles, there's more subtle fare available too so it's just as good working as a bass instrument for more conventional genres. You'll even get a lot of mileage out of it if you're designing sound, since the processing tools mean it's not difficult to create textures and soundscapes just as easily as pounding basslines. SUBSTANCE is an extremely powerful and awesome-sounding bass toolbox that goes far beyond what you might have used before.
Price: $199
Pros: Powerful but well-designed interface. Incredible sound. Covers practically any genre of music. Quick edit mode is very effective. Advanced editing sections provide serious tools. Make pretty much any bass sound you can imagine. Sensibly priced for such a powerful instrument.
Cons: Really nothing!
Review: https://ask.audio/articles/review-output-substance
8. Sam Spacey Epica Bass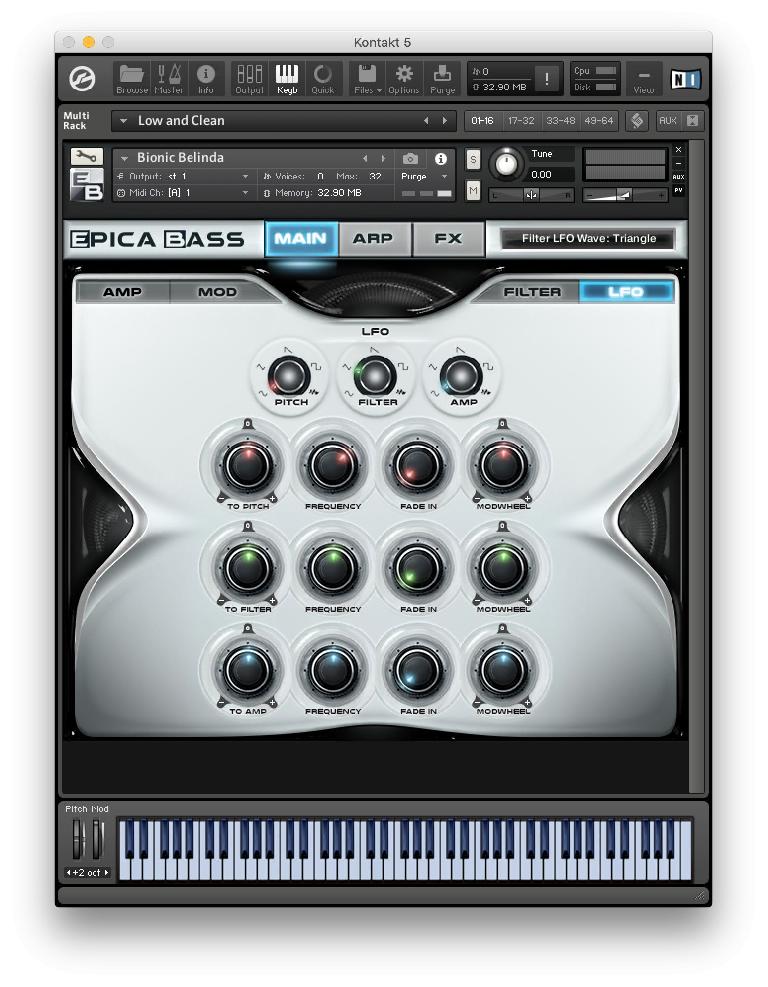 Epica Bass is attractively priced at just £89/around $132 which is not much more than you'd pay to have a real analogue bass synth delivered, if you could even find one on eBay. The point here, of course, is that all the hard work has been done for you. It's made up of 430 instruments and 26,657 samples but only takes up around 5 GB of disk space. This is primarily because the samples, just like the instruments they are taken from, are mono. Bass is one of those sounds that just doesn't work in stereo because it needs to sit at the center of the stereo field and provide the power and weight in a track.
It runs in Kontakt or Kontakt Player and the installation process is painless. Once up and running, you get five separate categories of bass instrument covering a range of types: monophonic, arpeggiated, multis, polyphonic and raw waves. Whichever patch you load is presented in a clean and uncluttered multi-page interface in Kontakt.
The monophonic patches are huge and monolithic, the polyphonic ones work better where a sound is more percussive, since bass chords are something of an acquired taste, although for higher-pitched sounds this is fine. Arpeggiation really brings things to life as does the use of delay and bitcrushing on some of the presets. Multis layer up more than one patch to make even bigger sounds, typically mixing quite different types of sound to do their magic. Finally, the raw waves are also available for anyone who wants to get into the meat of designing their own patches from scratch.
Epica Bass is a fantastic-sounding bass instrument that faithfully captures the power and feel of some legendary hardware units. Suitable for everything from EDM to krautrock and more experimental stuff, it's approachable and easy to work with, and offers plenty of customization options. Best of all, it's very reasonably priced so it's not likely to break the bank.
Price: £89/$132
Pros: Affordable. Authentically captures some legendary bass hardware. Some huge bass sounds. Plenty of customization available Great presets. Easy to get to grips with. Good effects section.
Cons: Go easy on the bass chords!
Web: Time & Space
9. Spitfire Audio Glass & Steel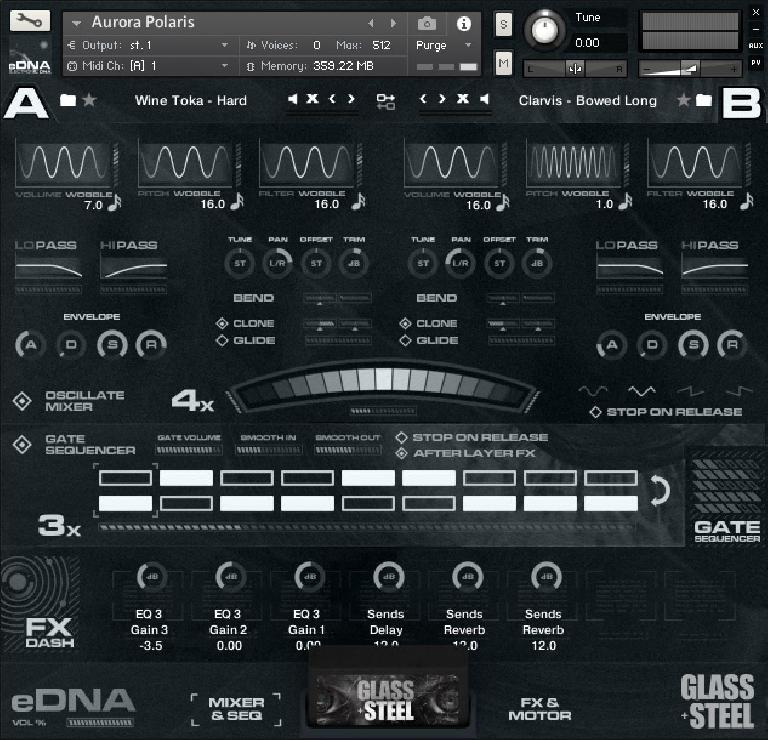 State-of-the-art British sample house Spitfire Audio deliver a fresh sound set for Kontakt, built on their acclaimed eDNA instrument engine. Glass & Steel is constructed from over 3000 meticulously collected samples of the eponymous resonantly tuned materials. Struck, bowed, and otherwise teased into life by acclaimed percussionist Paul Clarvis on Spitfire's Kings Cross sound stage, the resulting collection is full of unique timbres that should appeal to producers of modern techno, industrial, ambient, and everything in between.
With its exhaustive effects and intuitive controls, Spitfire's eDNA engine is clearly an asset to any sound designer. So what about the sounds? With raw samples taken from ceramic mugs, a variety of glass objects, metal bowls, cups and jugs—some variously sampled with and without water—there's a variety of resonant impulses to build from. Ranging from sharp and brittle to mellow and melodious, anyone seeking a harmonic palette outside typical synthesis or instrumentation are sure to find inspiration here. The programed presets, divided into Cinematic Rhythms, Cinematic Systems, Disturbed Morphs, and Hand Blown Pads tended to be a bit too overdone for my personal taste, but there's no shortage of useable drones, plucks, pads, and percussion to get you started.
10. Impact Soundworks Ventus Shakuhachi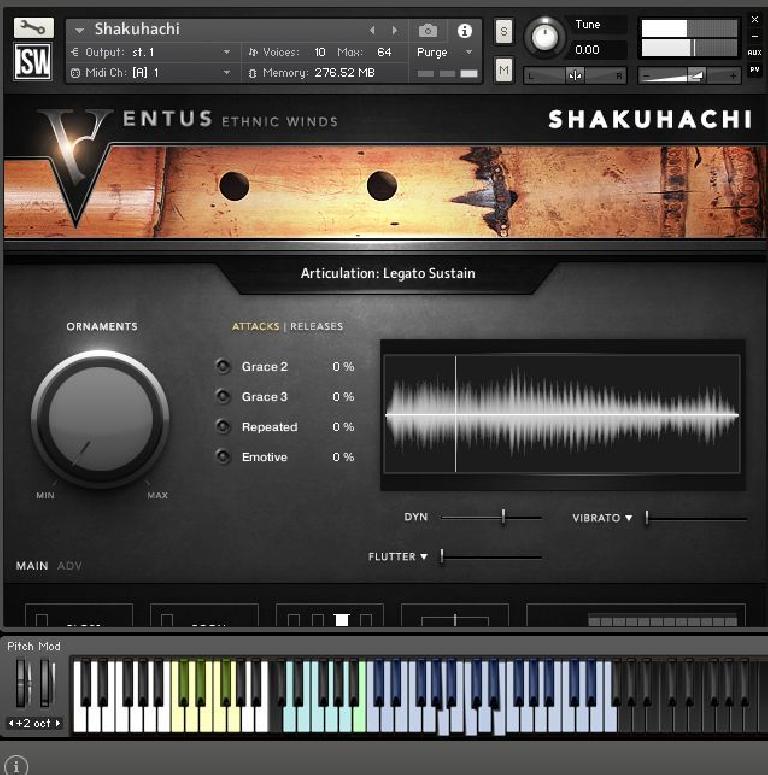 The Ventus Shakuhachi is a great new sample instrument from Impact Soundworks. This is a deeply sampled library of the classic eastern Shakuhachi instrument. And what's even better is that Impact Soundworks have included a new technology called TACT (Tonal Articulation Control Technology) which allows you to generate authentic-sounding phrases with the instrument. The Phrases feature really brings out the character of this instrument and adds realism to the MIDI performance.
The Ventus Shakuhachi is a super rendition of this classic instrument. It has been sampled with great detail, and making use of the features such as the flutter, dynamics and ornaments can really bring out the character of the instrument
11. Orchestral Tools Metropolis Ark 1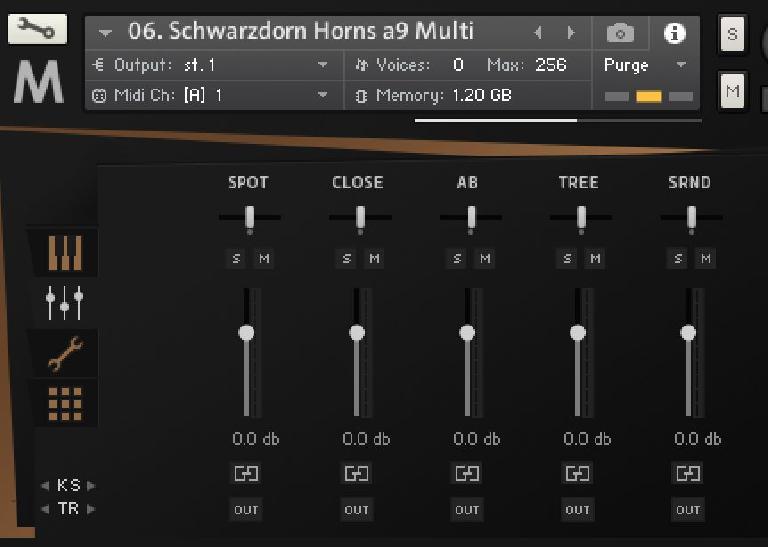 Metropolis Ark 1 a Kontakt based library that is specifically designed to give you HUGE sounds for epic style music. It was recorded in Berlin's Teldex studio, a wonderful sounding venue. It includes high and low strings; high and low choirs; bassoons and contrabassoons; trumpets, trombones, cimbassi, tubas and a smaller and a larger section of french horns; percussion and piano; a guitar ensemble with left and right separate instruments, electric bass, and a drum kit. There are 18 sections/instruments with 160 GB of 24 bit/48k samples, are arranged into "Districts" in keeping with the 1927 epic science fiction film that it is named after.
If you are looking for a complete orchestral collection with a complete set of individual instruments capable of great subtlety, this is not the library for you. It is all about power, control, and executing epic music quickly and efficiently and once you know it well, it will do all that and sound gorgeous doing so. At 549 euros, roughly $625 US, it is not a dirt cheap, no-brainer but a fair price in line with its competition.
Price: €549 EUR
Requirements: Kontakt 5.5 or the Kontakt 5 Player
Pros: Beautifully recorded, can get you the "epic' sound you need quickly but still gives you lots of control.
Cons: If doesn't run the gamut of ppp to fff. It is for loud, louder, and loudest.
I have experienced some bugginess with Capsule on my Logic Pro X- VE Pro 5 rig, but nothing horrible and the very nice folks at OT are working with me to get to the bottom of it as it is not being widely reported and therefore may well be system specific.
Review: https://ask.audio/articles/review-orchestral-tools-metropolis-ark-1
Web: http://orchestraltools.com/libraries/metropolis_ark_1.php