Where 2015 gave us many solid music making apps for the iOS platform, 2016 saw a lot of consolidation and a number of innovative apps further encourage music and producer novice and pros alike to take Apple's mobile platform seriously.
We've split this article into 3 pages, with apps appearing in no particular order... use the Next/Previous buttons below to view all 10 apps in this list.
Steinberg Cubasis 2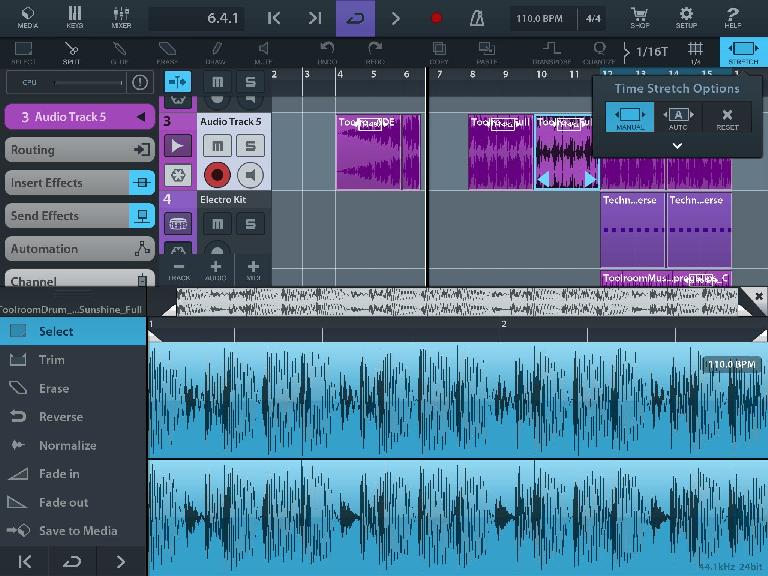 Cubasis was already one of the most capable and approachable DAWs for iPad but Steinberg took things to the next level with version 2. To the powerful MIDI and audio production environment it added a bunch of new stuff including time stretching, pitch shifting, studio grade channel strips, more effects and instruments, MIDI auto quantize and Audio Units compatibility. Pound-for-pound it's arguably the best, most powerful yet most user-friendly DAW you can get for the iPad. While the price may seem high for an iOS app, you're actually getting a lot of bang for your buck. Occasionally discounted especially over holiday periods, it's possible to snap it up on the cheap if you keep your eyes peeled.
Korg iWavestation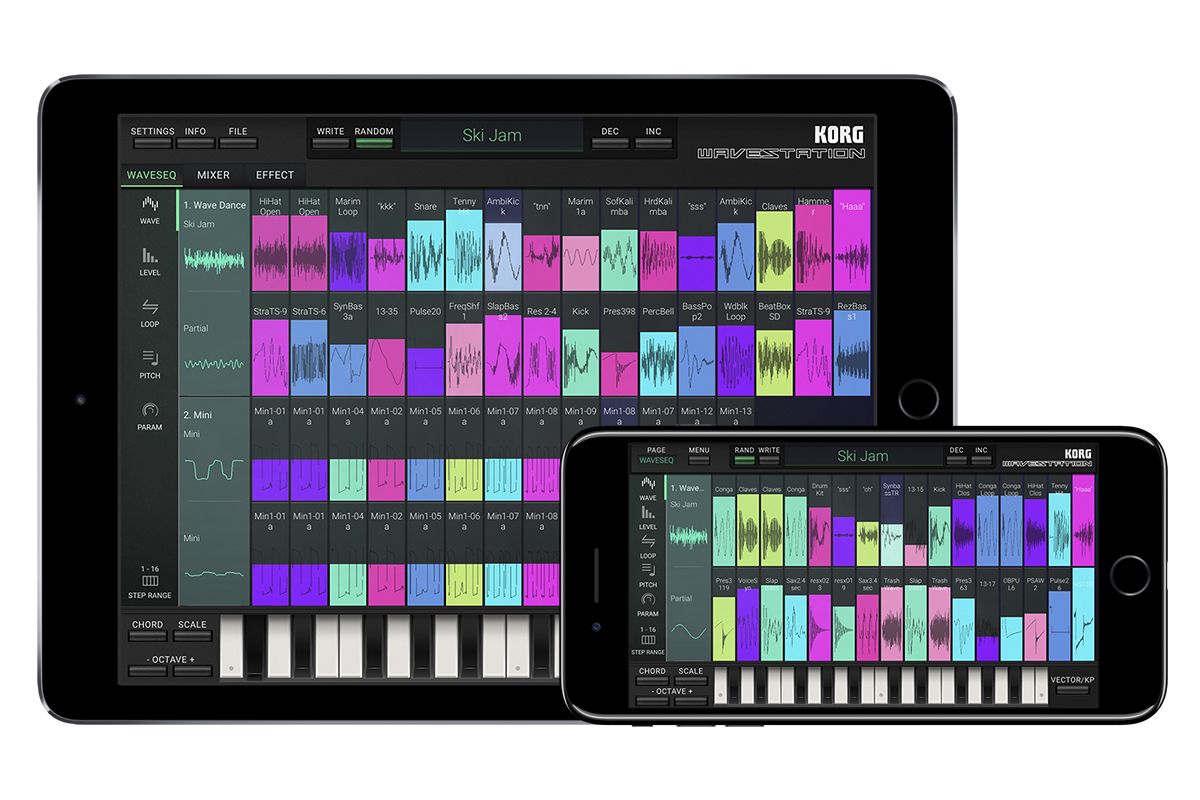 Korg's hardware Wavestation synth was released in 1990 and though it can be heard on countless hit records from that decade, it was never exactly known as the easiest synth in the world to program. Its unique wave sequencing engine could be hard to get to grips with using only the keyboard's buttons. Now decades later, Korg has ported the whole thing to the iPad and iPhone, using the original circuits as the basis for the design of the audio engine. It's a triumph: fantastically well suited to the touch interface, it lets you access every corner of this insanely powerful synthesizer's brain. Layer and sequence waveforms and use the almost endless tweaking tools to create totally unique sounds. We found it hard to put down.
Arturia iSpark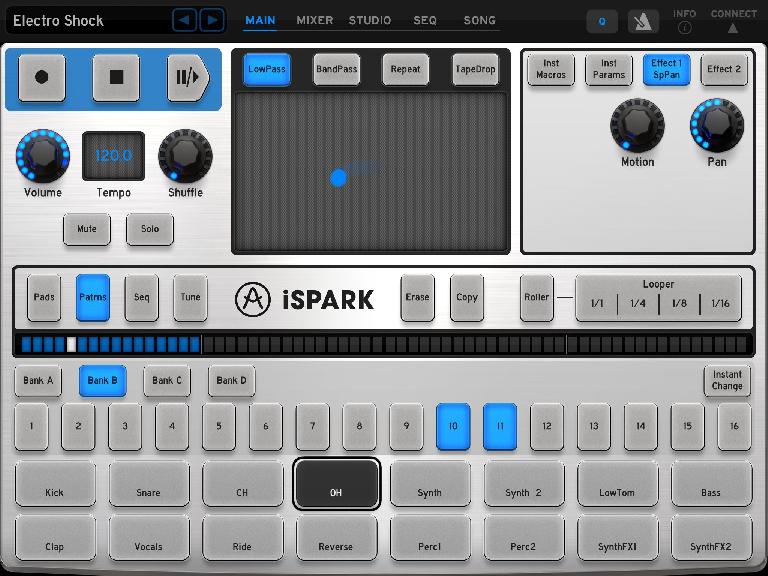 Arguably better suited to the iPad platform than its earlier desktop incarnation, iSpark is a powerful but easy-to-use sample-based sequencing beatbox with a stack of programming, sound shaping and live performance tools on offer. As well as being great fun to use it has a real depth of features, with things like touch-based automation of all kinds of parameters, sample import and editing, an X/Y pad and a kind of DJ mode as well as Ableton Link compatibility for syncing with other apps. It's affordable too, and a great tool for making music anywhere.
Patterning Drum Machine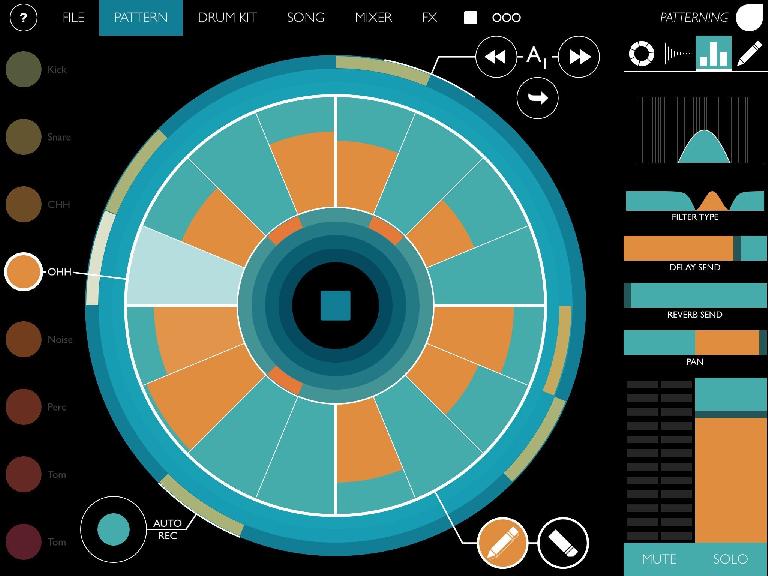 A truly original take on beat-making, Patterning harnesses the strengths of the iPad form factor to provide a new way to work with music. Using a highly stylised, modern design it lets you choose from the many available kits and samples and program them by dragging with your fingers, even adding things like automation as you do so. There's advanced MIDI functionality, full audio export capabilities, Inter-App Audio routing and a gorgeous internal mixer as well as onboard effects. As we said in our review, "Patterning is an amazingly fun and creative app and one that feels perfect for the iPad platform. The look, feel and layout are all first rate and the sounds are excellent. Even beginners will be able to create something that sounds cool, and more experienced users will be able to put together some amazing beats complete with automation and per-drum settings the likes of which you usually need a full DAW setup for."
Imaginando DRC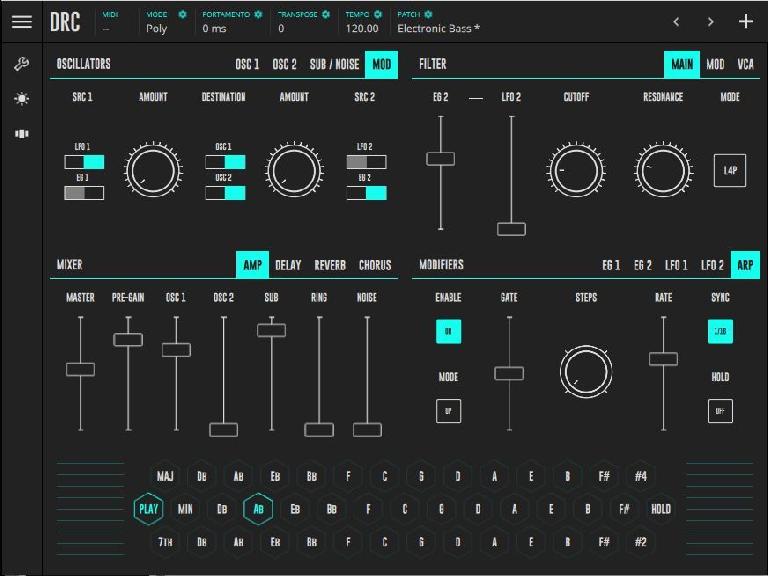 The latest release from independent Portuguese developer Imaginando is a cross-platform (iOS, VST and Android) synth that has cloud-based patch sharing capabilities, two oscillators, a sub, plus a multimode filter. A subtractive synth, it provides plenty of sound shaping controls while at the same time not blinding you with science. Our review concluded "DRC has a great sound, out of the gate, if you're just into buying synths for new presets and 'signature sounds'. If you're a new sound designer, I'd highly recommend looking into DRC, as you can take it everywhere with you, and manage patches between multiple devices."
IK Multimedia Amplitube Acoustic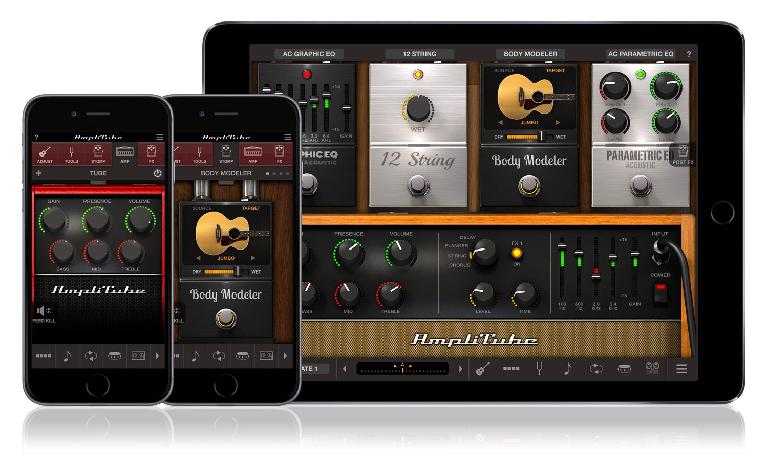 IK Multimedia has been making different flavours of its Amplitube iOS guitar processing suite for some time but this is the first one that has paid particular attention to those with acoustic instruments. Designed to work with the company's hardware iOS guitar interfaces, it is of course compatible with any kind of interface that works with iOS. As well as a bunch of dedicated acoustic amps, cabs and effect pedals you get special tools like a 12-string emulator, "Bass Maker" and Body Modeler for changing the virtual shape of your guitar body. It also has some of the common features of other Amplitubes like a looper, tuner, drum accompaniment and an 8-track recorder, all unlocked using different in-app purchases.
ROLI Noise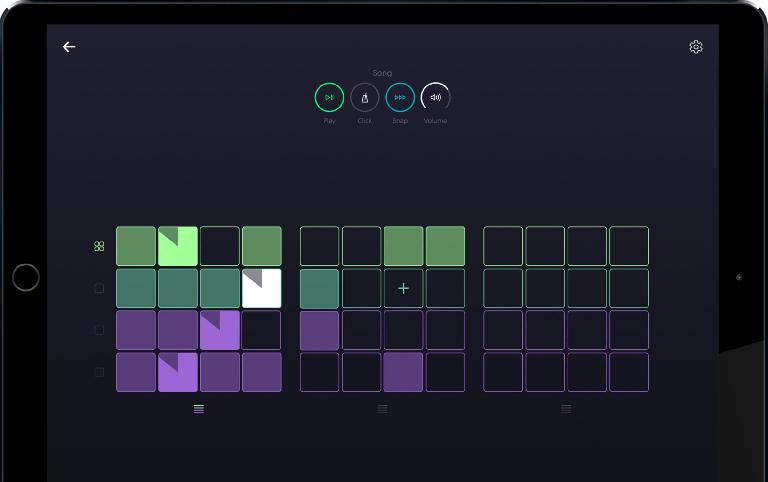 ROLI's Noise app is a typically leftfield take on music making from these pioneers of technology. Using a stack of bundled sounds, you interact with the app's various sections and paint in different kinds of notes, sequences and effects as you go. It doesn't require any musical theory knowledge or even really any conventional playing skills. Even more interestingly the company recently released Blocks, a modular hardware system that pair with the app running on your iOS device to provide intuitive, pressure-sensitive looping, playback and performance control. Taken together it's a fascinating glimpse of the future of music making on iOS.
Blocs Wave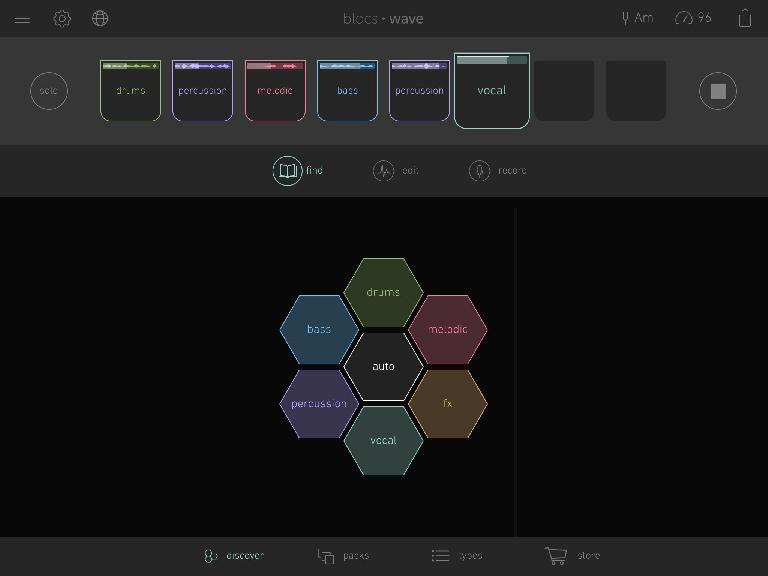 This nifty app from some of the minds behind such well-known apps as Novation's Launchpad for iOS aims to give you a way to quickly and easily come up with new musical ideas which you can then use in other projects either on your iOS device or back on your computer. It's not a song creation tool so much as a sort of groove machine that provides some quick inspiration, though it does have some clever tools in its arsenal. With a hyper-modern interface and tools to edit things like pitch, tempo and timing of loops, you can even slice and rearrange samples. A quick and fun way to compose and work with audio, it has been designed so that even non-musicians can access it easily.
Fugue Machine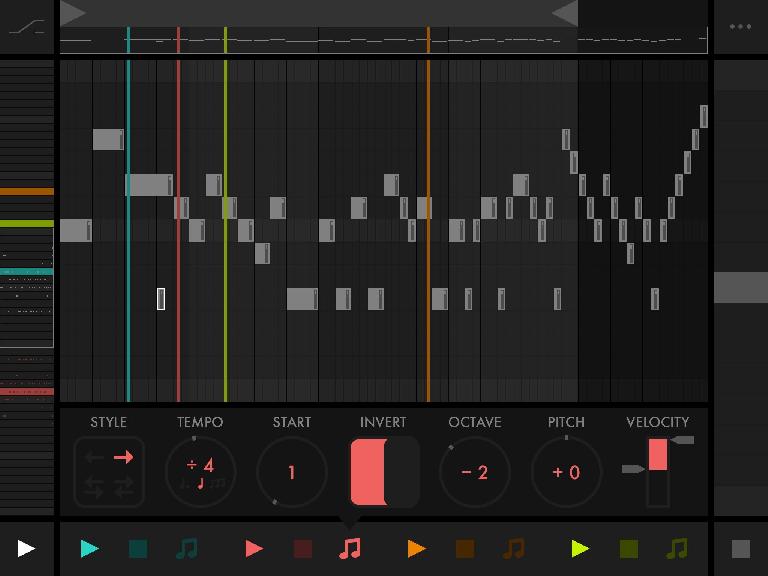 Possibly the only "multi playhead sequencer" you have seen this year, Fugue Machine is an innovative way to come up with new musical ideas, its four playheads able to be stopped and started independently of one another. As well as sequencing the built-in instruments and sounds you can also send and receive MIDI over a wired or wireless connection and use it as a trigger for other devices. Ableton Link is supported and in our review we concluded "this is a very cool and fun app, and you can easily make some great experimental patterns and melodies with it. It's creative and inspiring to use, but can help you generate some more serious ideas too if that's what you need."
Moog Model 15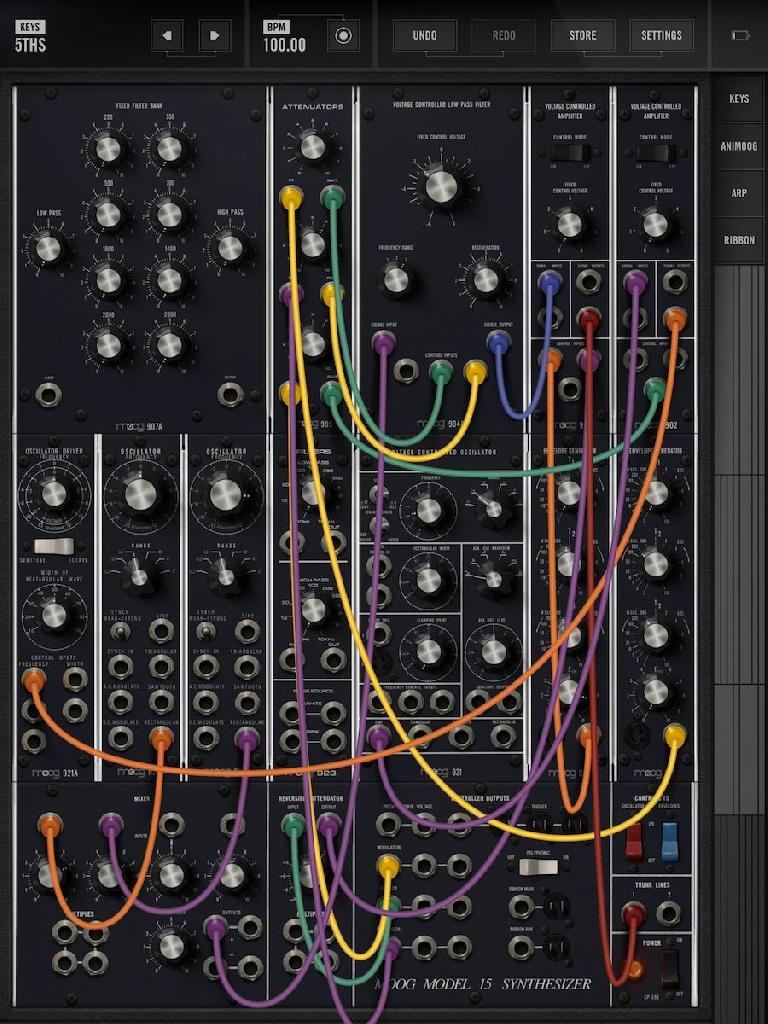 Legendary hardware manufacturers and designers Moog have been helping out those of us without deep pockets by releasing iOS versions of some of their synths at a rather more affordable price. This is a recreation of the Model 15 modular hardware and contains around 20 virtual versions of authentic oscillators, filters, effects, mixers and all sorts of other cool stuff you'd probably never get your hands on otherwise. Beautifully designed, it can work in monophonic or 4-voice modes with taps and swipes allowing you to make patch connections and tweak the very many controls available. It also embraces modern technology with all the latest protocols for getting MIDI in and out, Bluetooth, Ableton Link, 3D Touch support and more. You'll not believe the sheer quality of the sound this app can make.