It's no surprise at this point that Behringer are re-thinking the majority of vintage and iconic synthesizers and drum machines from yesteryear. What is refreshing to see is how they continue to engage directly with the synth communities across the internet asking what we want and how we want it. And that from the CEO, Uli Behringer. There's just not any other major synth brand that behaves in the same way.
Today Uli Behringer asked the interwebs what we thought about Behringer cloning the classic Roland CR-78 drum machine. Better still, there offer is there for someone to help design the housing and if their design is chosen they'll win a soon to be released RD-6.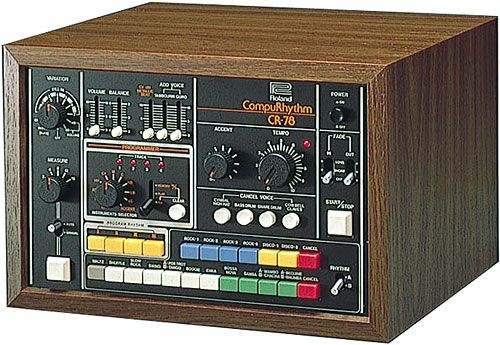 The original Roland CR-78 analog drum machine.
Here's what Uli says:
"We have received many requests to clone a CR78. We assume you'd love to have the original analog sound engines but don't need the rhumba and foxtrot etc. rhythms.
"What would you think if we use the RD-6 casing and sequencer and simply replace the upper section with the instruments from the CR78?
"Perhaps we have some folks here who'd want to sketch something up and so you can all vote for the best design. The winner will get a free RD-6 that'll be soon released."
Here's a few videos of the CR-78 in action:
And here's a video of Thom and Jonny from Radiohead with a Roland CR-78 playing The Numbers live:
The feedback so far from Facebook has been really positive and encouraging. People evidently enjoy being made to feel part of the process of re-creating an iconic drum machine. Obviously we enjoy being asked what we want or prefer. It's just Behringer being polite and doing themselves a favor by finding out what we want to buy from them. Common sense that more brands should take note of.
Click here to comment and tell Uli and Behringer what you'd like to see in terms of a CR-78 clone.
Click here to watch and learn all about synths and synthesis in bite-sized chunk video courses.